Can Anwar Ibrahim Bring Stability Back to Malaysian Politics?
While the November 19 election resulted in a victory for his multi-ethnic Pakatan Harapan bloc, the forces of conservative Malay nationalism have perhaps never been stronger.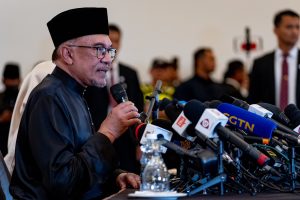 Yesterday, long-time opposition leader Anwar Ibrahim was sworn in as Malaysia's 10th prime minister, completing a remarkable political journey that has involved a period as deputy prime minister, two politically motivated prison terms, and years in the wilderness of opposition.
The 75-year-old's elevation was only fitting, given that his Pakatan Harapan (PH) coalition won 83 of the 222 seats in parliament at the general election on November 19, the most of any bloc. The victory was sweetened further by the fact that Mahathir Mohamad, Anwar's onetime mentor and nemesis, flamed out in the constituency of Langkawi, failing to be elected for the first time in more than half a century.
Anwar's appointment came after a general election that delivered a hung parliament, and five days of negotiations in which his Pakatan Harapan (PH) coalition vied with Muhyiddin Yassin's Perikatan Nasional (PN) bloc for the support necessary to form the next government. In the end, the decision came down to the king, Sultan Abdullah Sultan Ahmad Shah, who appointed Anwar with a mandate to unify a polarized country after a period of political instability that has seen three prime ministers in four years.
"The fact is, the people cannot be burdened by the political turmoil that has no end to it when the country needs a stable government that is able to flourish the economic landscape and development of the country," the palace said in a statement after Anwar's appointment yesterday.
Yet, if Anwar's ascent to the peak of Malaysian politics ended up being the headline story of GE15, it was countered by a seemingly contradictory B-plot: the remarkable success of Parti Islam Se-Malaysia (PAS), Malaysia's foremost Islamic political party. On November 19, PAS won 49 seats, the largest return for a single party. By contrast, Anwar's People's Justice Party (Parti Keadilan Rakyat, or PKR) won just 31. This return was more than double the 18 seats that PAS won at the last election in 2018 and marks its arrival as a national political force.
In many respects, PAS represents the inverse of Anwar's multi-ethnic coalition, which in addition to his PKR also includes the predominantly ethnic Chinese Democratic Action Party (DAP) and the moderate Islamic party AMANAH. In an interview with Reuters before the election, Anwar said that if elected, he would seek "to emphasize governance and anti-corruption and rid this country of racism and religious bigotry." Speaking to reporters after being sworn in yesterday, he promised to rule for all Malaysians. "No Malaysian, regardless of race or religion should be left to feel that they are ignored in any way," Anwar said. "None should be marginalized under my administration."
In contrast, PAS advocates the introduction of Sharia law, advances a notion of Malaysian identity that is narrowly Malay and Islamic, and is suspicious of the country's large Chinese and Indian minorities. Prior to the election, a social media monitoring team at the Kuala Lumpur-based Centre for Independent Journalism (CIJ) identified PAS leaders, including the party's president, Abdul Hadi Awang, as some of the main amplifiers of "divisive, racist, intolerant, and hate-based" narratives during the election campaign. According to CIJ, PAS leaders "have resorted to fear-triggering Muslim voters with phrases like 'going to hell if you vote Pakatan Harapan and Barisan Nasional,' and inciting violence against 'kafir harbi' (enemies of Islam), and for calling Malays to unite and fight against the Chinese (DAP) and Indians."
It would be unfair to doubt that Anwar can bring stability to Malaysian politics and serve out his full term, but the above suggests that he will clearly have his work cut out for him. Yesterday, Muhyiddin Yassin, whose PN Malay nationalist coalition includes PAS, disputed Anwar's appointment, insisting he had gathered the support of 115 MPs – more than then the 112 that is necessary to form the government – ahead of a deadline set by the king for yesterday. As a result, Anwar said that his first act on convening parliament on December 19 will be to submit his government to a vote of confidence, in order to put questions of legitimacy behind him.
Whether this question is constantly reopened depends on the probity of his rivals. But the lines of Malaysian politics are sharply drawn, with those on either side of the line advancing mutually incompatible visions for Malaysian society. As I argued earlier this week, the steep decline of BN and its main component, the once-dominant United Malays National Organization (UMNO), was more a rejection of UMNO's corruption than of the politics of Ketuanan Melayu – Malay supremacy – that it has long represented. While Anwar's brand of cosmopolitan, multi-ethnic politics has scored a victory in capturing the prime minister's office, the Islamic-inflected Malay identitarianism that it opposes has perhaps never been stronger.