Kazakhstan's Multi-vector Diplomacy Shines Amid Conflict
In recent months, Astana has hosted top leaders and diplomats from China, Russia, Europe, and the United States, underscoring its balanced approach to diplomacy.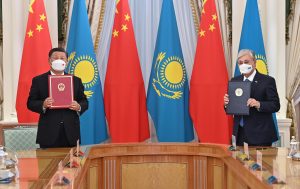 Within the past two months, presidents and senior officials from the Great Powers – China, Russia, and the United States – and also from the European Union have visited Astana. Kazakhstan's well-known multi-vector foreign policy, formulated three decades ago, is helping the Central Asian state navigate the current tense and unpredictable global situation. 
Let us briefly review these recent visits. First, Chinese leader Xi Jinping visited Kazakhstan on September 14. It was his first foreign trip since the beginning of the pandemic in 2020. "Once again, I would like to assure you that the Chinese government pays great attention to relations with Kazakhstan," he said of the visit.
A month later, on October 12, Russian President Vladimir Putin arrived in Astana to attend the Sixth Conference on Interaction and Confidence-Building Measures in Asia (CICA). Before that, Putin and Kazakh President Kassym-Jomart Tokayev had met in Sochi in August and had a telephone call early that month. High-level interactions between Kazakhstan and its two largest neighbors are constant. 
In late October, European Council President Charles Michel visited the Central Asian nation. During his remarks, the senior EU official said, "our relationship is strong and getting even stronger. It is based on trust and mutual understanding." Weeks later, on November 16-17, EU High Representative for Foreign Policy Josep Borrell also visited Astana.
As for the United States, from November 6-11 Assistant Secretary of State Donald Lu visited Kazakhstan, Turkmenistan, and Uzbekistan. In Kazakhstan, Lu met "with economic and business leaders to discuss Central Asia's economic stability and regional connectivity," explained the U.S. State Department. (Lu previously visited the country in May.)
There are several issues to consider regarding these visits. For example, Russia-Kazakhstan relations remain generally strong, not just at the diplomatic level. Bilateral trade reached $24.5 billion in 2021, while the two countries have close defense ties – for example, Kazakhstan participated in the Army Games in August. On the other hand, the Russian government is not pleased that Kazakhstan has refrained from openly supporting Russia's invasion of Ukraine. Russian politicians and celebrities have issued threats against Kazakhstan over this issue.
The relationship with Beijing is similarly complex. While Kazakhstan profits from trade and investment with its neighbor, there have been protests in Kazakhstan in recent years related to China. The reasons are varied, including concerns about Chinese migrants taking local jobs, the situation in Xinjiang, and Chinese enterprises buying land in Kazakhstan.
Kazakhstan's geographical location and regional precedents make cordial and robust relations with Moscow and Beijing mandatory. However, there is plenty of space to engage with the West. Astana and Washington generally have cordial diplomatic relations, but trade and investment are limited, while defense relations are virtually non-existent. After the November 20 elections in Kazakhstan, we can expect bilateral ties to remain generally the same; the White House and U.S. Congress do not appear to be focused on approaching Central Asia more broadly. Occasional visits by Kazakhstani delegations to Washington will continue; however, there is no "catalyst" to bring both governments closer at present.
Given the unlikeliness of greater U.S. involvement, Kazakhstan can continue to look to Europe for diplomatic partnerships and investment. European companies are already very active in Kazakhstan; the problem is that they are focused on Kazakhstan's energy reserves. For example, Italian energy giant Eni has operated in the country since 1992. Several French companies, like Total, Danon, Alstom, and Orano, also operate in the country – Paris and Astana signed a roadmap for economic cooperation in 2021. On the other hand, Astana aims to attract more investment and partnerships toward manufacturing, banking and finance, agriculture (e.g. wheat and barley,) and the cyber sector. Institutions like the Astana International Financial Centre and Kazakh Invest are tasked with attracting new investors, but success remains limited.
The good news is that the recent high-level meetings with top EU officials demonstrate a willingness by Brussels to continue to engage with Astana and strengthen relations; similarly, Astana will not neglect the opportunity to consolidate new agreements and projects with European partners. The challenge is figuring out how to convert this close diplomatic relationship into a practical win-win partnership while simultaneously avoiding (and not angering) Russia. Astana is betting heavily on the Trans-Caspian route to reach the European market, and the data is so far positive. Now Astana must formulate an effective strategy to capitalize on this global geopolitical shift to improve its relations with Europe and secure new trade deals and investments.
As the war in Ukraine enters its winter phase, and occasional threats from Moscow toward its neighbors also continue, we should not expect a radical switch by Kazakhstan and other Central Asian nations to the West. With that said, Kazakhstan's famous multi-vector diplomacy has helped the country navigate the current rough seas caused by the war. In fact, the three Global Powers, plus the EU, have cordial and robust relations with Astana, but Kazakhstani authorities must balance these relations with finesse and foresight. Finally, while diplomatic or defense alliances will not dramatically shift in Central Asia, the consequences of the war have created opportunities for strong trade and investment venture between Kazakhstan and Europe.