The Unraveling of Kazakhstan's Social Contract
The time has come to re-evaluate Kazakhstan's social contract. Is President Kassym-Jomart Tokayev up to the challenge?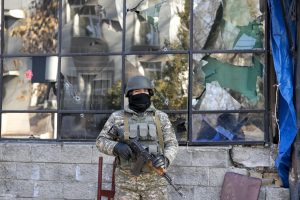 There are many ways to interpret Qandy Qantar – meaning "Bloody January" in Kazakh, a reference to the unrest and violence of early 2022 – and the evident popular dissatisfaction with the state of the political economy in the country. Some may blame the dysfunctional bureaucracy in control of state institutions and mired in graft and corruption. Others may attribute public anger to the absence of economic opportunities stemming from Kazakhstan's resource-dependent economy, which is under the control of politically connected elites. More have pointed to the lack of civic freedoms and limited ability of the public to influence political decisions. These claims are not mutually exclusive, of course, and have garnered public support across the political spectrum. 
One thing has become clear: The old social contact created under Kazakhstan's first president, Nursultan Nazarbayev, is no longer satisfactory to the majority of Kazakhstan's people. The time has come to re-evaluate it, and the biggest question is if President Kassym-Jomart Tokayev up to the challenge.
Tokayev's "appointment" to the presidency in 2019 took place after Nazarbayev, who had been in power for nearly 30 years, stepped down. Nazarbayev's last year in office was turbulent as more people, dismayed over living conditions and the stark inequality between the elites and regular people, protested against the government. But Tokayev's rise to power did not assuage the growing frustration. The Oxus Society's protest tracker shows that all but 47 of the 780 protests that occurred in Kazakhstan between January 2018 and December 2020 came after Tokayev ascended to the presidency in March 2019. 
Social dynamics are changing in Kazakhstan, and the Tokayev regime has engaged in various attempts to alleviate this public pressure. It's important to consider what led to this situation exploding into view in January 2022 and evaluate whether Tokayev can navigate through this turbulence effectively.