Australian Returns 9 Antique Buddha Statues to Thailand
The Canberra resident Murray Upton said his father obtained the statues while working as a railways engineer in the south of Thailand in 1911.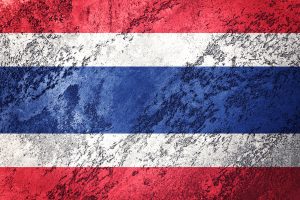 An Australian citizen has returned nine wooden Buddha statues to Thailand after more than a century in his family's possession.
The return of the diminutive carved statues, each of which stands around 10-15 centimeters tall, was coordinated by Thailand's Ministry of Foreign Affairs, which handed them over to the Ministry of Culture's Fine Arts Department in a ceremony yesterday.
The antiques, which are thought to have been made by local artisans in the southern city of Trang, were donated by Canberra resident Murray Upton, who said he inherited them from his father, who obtained the statues in Thailand in 1911, according to a report by the news site Thaiger.
Upton's father was a surveyor and engineer for the Southern Siam Company, which built the Southern Railway linking Thonburi and Phetchaburi in the early twentieth century. When he learned the potential value of the statues, both historical and financial, Upton contacted the Thai embassy in Canberra and told them that he wanted to return them to Thailand. The repatriation came after the U.S. government facilitated the return to Thailand of a 500-year-old nearly solid gold Buddha crown.
While there are no indications that Upton's statues were improperly acquired, at least by the standards of the time, they are the latest in a growing number of repatriations of art to Southeast Asia from Western museums and private collections. Among the most prominent destinations is Cambodia, whose decades of conflict and upheaval saw many priceless works of Khmer statuary looted from remote, jungle-clad temples, smuggled over the border to Thailand, and sold illegally on the international art market.
In August of last year, officials in New York have returned 30 Khmer cultural artifacts to Cambodia, years after they were "stolen from Cambodia as part of an organized looting network." Last month collector James H. Clark, the founder of Netscape, returned several statues to Cambodia. These followed the return of 27 looted antiquities in 2021.
In the case of Cambodia, many of the returned artifacts have been the result of a thoroughgoing American investigation into the activities of the late British antiquities trader Douglas Latchford. Prior to his death in August 2020, U.S. prosecutors indicted Latchford for illicitly trafficking in ancient Khmer artifacts, claiming that he had "built a career out of the smuggling and illicit sale of priceless Cambodian antiquities, often straight from archaeological sites."
Last June, ABC reported that many works of dubious provenance made their way to Australia via the Chinese-Thai art dealer Peng Seng (aka Arthorn Sirikantraporn). According to the report, Peng "worked with accused art smuggler Douglas Latchford to falsify provenance details and help smuggle items" to Australia. Many were displayed and sold at the now-shuttered David Jones Art Gallery, which counted many prominent collectors among its roster of clients.
The Cambodian government claims that many more looted works obtained and sold by Latchford still fill the collections of some of the world's most prominent museums, including the Metropolitan Museum of Art in New York.
While the small collection of Thai Buddha statues in Murray Upton's possession was likely not as rare or culturally singular as the much older treasures of Angkorian civilization, he should be applauded for volunteering their return – a step that some of the world's most prominent art institutions continue to resist.