Imprisoned Former Malaysian PM Turns to UN in Bid for Freedom
Lawyers for Najib Razak have filed a petition with the U.N. Working Group on Arbitrary Detention, claiming "rushed justice."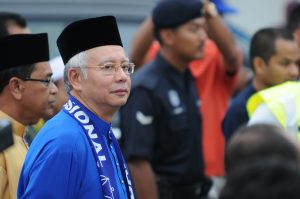 Malaysia's former Prime Minister Najib Razak is turning to the United Nations in a bid to spring himself from prison, five months after beginning a 12-year prison sentence for his role in the 1MDB corruption scandal.
Najib's lead lawyer Shafee Abdullah said yesterday that the disgraced former leader, who served in office from 2009 to 2018, said that his team had filed a petition with the U.N. Working Group on Arbitrary Detention (UNWGAD), requesting his release or a retrial of his corruption case.
UNWGAD is a body of independent human rights experts tasked with investigating cases of arbitrary arrest and detention.
According to a report by Malaysia Now, Shafee told reporters that in dismissing Najib's appeal against his conviction in August, the Federal Court "failed to accord him a reasonable opportunity to argue his case and denied his lawyers adequate time to prepare it." He said that the final days of Najib's appeal, during which time the former leader discharged and replaced his entire defense team, had amounted to "rushed justice."
"The court did not allow his defense team even to make submissions in the appeal against his sentence of 12 years' imprisonment," Shafee added. "In essence, Najib had been sent to jail without the opportunity to defend himself at the Federal Court."
In August, Malaysia's top court upheld a 2020 graft conviction and 12-year prison sentence linked to the looting of the 1MDB state fund, stating that his appeal was "devoid of any merits." This earlier ruling had found him guilty of abuse of power, criminal breach of trust, and money laundering for illegally receiving $9.4 million from SRC International, a former unit of 1MDB.
The UNGWAD cannot rule on Najib's guilt or innocence, but if it finds that the trial was unfair, it could bring pressure to bear on the Malaysian judiciary to reopen the case.
While it can be expected that Najib's legal team seeking to pursue every last legal avenue, however unlikely, to secure his release, crying foul to the U.N. body on arbitrary detention can only be described as an act of breathtaking cynicism.
UNGWAD, after all, is the very same U.N. body that expressed its concerns about the Najib administration's own gaming of the judiciary, including its imprisonment on politically motivated sodomy charges of opposition leader (and now prime minister) Anwar Ibrahim. In mid-2015, Anwar filed a complaint to UNWGAD, which subsequently issued an opinion describing Anwar's detention as "arbitrary" and calling for his immediate release. It said Anwar's treatment in prison had violated international prohibitions against "torture or other cruel, inhuman or degrading treatment." Anwar ended up serving three years of a five-year sentence, before being released in 2018.
The implied parallel between Najib's plight and that of Anwar, who was widely viewed as a "prisoner of conscience" interned for the political convenience of those in power, will no doubt rankle with many Malaysians.
That said, the move does have a definite whiff of desperation, given that Najib has exhausted all of the available means of domestic appeal. But whether or not the U.N. body accepts the submission of his lawyers, the issue in question could scarcely be more important: Whether those with wealth and power in Malaysia are truly subject to the law.