The International Effect of Taiwan's Local Elections
Taiwan's local officials can, and often do, set their own course with regards to China and other countries.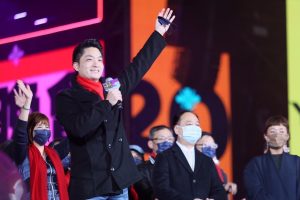 As 2022 was ending, the officials elected after Taiwan's 9-in-1 local elections, held on November 26, took office. These elections attracted a great deal of attention around the world.
Since 2014, nine different types of elections, from metropolitan leaders to chiefs of villages, have been held on the same day in Taiwan. No national representative is elected on this day, which means a lot: Issues traditionally at the core of presidential elections, such as international matters or the relationship with China, are usually left aside by voters when casting their ballots for the local polls.
This time around, the Kuomintang (KMT), the opposition party at the national level, gathered more than 50 percent of votes cast, and more than 61 percent of votes in mayoral elections. Many have analyzed the results with an eye toward placing bets on who is likely to run in the upcoming 2024 presidential election – a risky exercise, given the tenuous relationship between national and local elections in Taiwan.
However, these elections do endow newly elected and incumbent officials with tools to pursue subnational diplomacy, which is critical for a polity characterized by its lack of official international representation. As the pressure from China is increasingly felt even at the local level, what can city diplomacy tell us about where Taiwanese parties will stand in the future?
The Overlooked Toolbox of Taiwanese Subnational Diplomacy 
Once partnerships are established, city-to-city exchanges are generally overlooked by the central government. Yet these relationships are important, and local officials have demonstrated their ability to take advantage of this leeway.
Taipei has long promoted people-to-people exchanges through its language-scholarship scheme for students of sister cities, or through visits to promote tourism and corporate interests, like the Taipei mayor's recent trip to Okinawa, Japan. Tainan city took advantage of the recent sister city agreement signed with New Orleans in the United States to strengthen bonds between two of their respective universities. At the peak of the pandemic, cities like New Taipei or Tainan donated masks to their sister cities.
Moreover, events like the 2017 Universiade, the yearly Taipei Smart City Summit and Expo, or regular events with international partners help make sure cities and their inhabitants are part of some international conversations, despite the diplomatic isolation of Taiwan as a whole.
More than their mere scope of action, these agreements and events have a performative objective by building up the international networks and experience of the Taiwanese leadership. Unlike national-level politicians, mayors are not prevented from meeting their foreign counterparts due to diplomatic reasons. Thus, they are free to travel anywhere, including to Japan and the United States, two of Taiwan's most crucial allies. Two of Taiwan's former presidents, Ma Ying-Jeou and Chen Shui-Bian, benefited from these experiences as mayors.
That said, the pressure exerted by China on foreign cities willing to partner with their Taiwanese counterparts is more and more visible. China has been reported to exercise pressure on U.S. and Japanese cities considering ties with Taiwanese localities. At times, China entices them instead to sign agreements with Chinese metropolises, often including a clause committing the foreign cities to the "one China principles."
Refusal to abide by these rules brings consequences. The recent example of Prague is the most eloquent. Its sister-city agreement with Shanghai was cancelled after the Czech capital signed a similar one with Taipei in 2019.
For now, cities have been able to adapt, notably by changing the name of the agreements, such as Kyoto and Tainan's recent "Agreement for Promoting Interactions." Yet, the durability of this makeshift solution is unknown.
Local Insights on Political Parties' Attitudes Toward China
Historically, mayors aiming at higher political offices have used their positions to promote their ideas, even against those of the central government. Chen Shui-bian, as mayor of Taipei from 1994 to 1998, aimed to demonstrate Taiwan's "distinctiveness" from China during his visits abroad, as opposed to the policies of the then-Kuomintang (KMT) government.
More recently, Mayor Ko Wen-je of the Taiwan People's Party (TPP) insisted on holding the 2022 edition of the Twin-City Forum between Taipei and Shanghai last July, despite wide criticisms from the ruling Democratic Progressive Party (DPP).
What are the new mayors likely to advocate for after the most recent November election?
This is where things get complicated, as party lines are not quite set for 2024. The KMT is still struggling to find a common stance with regards to China, and its cross-strait links remain controversial, as exemplified by KMT Vice Chair Andrew Hsia's controversial China tour in August last year.
The TPP, a newcomer in national politics, initially pledged to go beyond pan-Green and pan-Blue divides. Yet, it has alienated some of its DPP-leaning proponents, notably by claiming that "the two sides of the Taiwan Straits are one family" at a city diplomacy forum.
Yet, the DPP may face the biggest challenge – first, because its attempts to bring China into the debate for the 2022 local elections resulted in an electoral pushback. Initiatives like the "never surrender pledge" or presidential support for opening an International Affairs Office in Taipei or in New Taipei faced tough criticisms, and did not bring support at the ballot box. Moreover, the apparent weakness of China's attempts to meddle in the 2022 elections, compared to 2018, did not help to push forward the DPP's discourse.
Second, and maybe more importantly, party positionings with regards to China are moving. During the debate between the three main contenders in Taipei's mayoral race, Chiang Wan-an of the KMT mentioned the Republic of China, but also declared that it was in his DNA to defend Taiwan's democracy and rule of law. Independent candidate Huang Shan-shan, who was backed by the TPP, stressed that democracy and authoritarianism cannot coexist.
Unification with China is decreasingly attractive for many Taiwanese voters, as surveys have now shown for years. Thus, if other political parties appoint candidates whose approach to cross-strait relations is more nuanced than in the past, Tsai Ing-wen's party may struggle to set itself apart on China issues in 2024.
Subnational diplomacy may therefore be used as a tool for candidates willing to clarify their positions on this issue and practice their diplomatic skills. The way KMT mayors, including new Taipei Mayor Chiang, will make use of city-level diplomatic tools will be important for shaping and signaling where the party is heading. Some prospective presidential candidates are even expected to lean into subnational diplomacy to improve their credibility, such as New Taipei's re-elected Mayor Hou You-yi of the KMT.
On the other hand, the policies and actions of Hsinchu city's newly elected Mayor Kao Hung-an of the TPP could be key to better grasp where her party stands. As the chip war is raging between the United States and China, the way she plans to use her close ties with some semiconductor industry tycoons to turn the city into an "international tech hub" will certainly be telling.
Altogether, the capacity of pan-Blue parties to pressure the DPP and Taiwan's national leadership on China policy, through the subnational diplomacy enacted by local officials, could tell us more about 2024 than we initially thought.