Yoon Says North Korea Poses 'Serious Threat'
In an interview with the Associated Press, the South Korean president called Pyongyang's nuclear arsenal a direct threat to the South.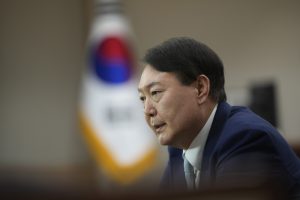 South Korean President Yoon Suk-yeol said North Korea's missile tests and its ambition to increase its nuclear arsenal pose "a serious threat," according to the Associated Press.
In an exclusive interview with the AP on Tuesday, Yoon highlighted the importance of coordinating a joint response with the United States and Japan to cope with the North's missile launches.
As North Korea conducted a record number of missile launches last year – at least 65 missile launches – Yoon reiterated his firm stance over the North's missile tests, in keeping with previous conservative presidents of South Korea. Rather than reaching out to North Korean leader Kim Jong Un to renew the stalled inter-Korean dialogue, like Yoon's predecessor Moon Jae-in did, he vowed to strengthen the military alliance with the United States. Consequently, South Korea and the U.S. conducted extensive joint military drills last year as a response to the unprecedented spate of the North's missile tests.
Noting that "[w]e've seen a miscalculation leading to serious wars many times in history," Yoon also stated that the North's missile launches pose a threat not only to the South but also to the United States and Japan, considering the North's long-range ballistic missile launches last year.
In December, five North Korean drones came across the inter-Korean border for the first time since 2017 and flew at least five hours in the South's airspace. One of them is believed to have flown in the northern area of Seoul, the capital, nearby Yoon's residence. As the South's military failed to shoot the drones down or otherwise field an appropriate response in a timely manner, Yoon ordered the creation of a new military drone unit, and the South Korean military vowed to beef up its defense capabilities against such North Korean provocations. Yoon also mentioned that South Korea needs to "prepare for a war with overwhelming superiority" to achieve peace.
In August 2022, three months after he took office, Yoon proposed his main policy on North Korea: an "audacious initiative" meant to induce Pyongyang to take steps to denuclearize. By introducing possible economic packages Seoul can offer if Pyongyang shows its willingness to denuclearize the country, Yoon tried to bring Kim Jong Un back to the negotiating table.
However, Kim Yo Jong, the powerful sister of Kim Jong Un and the main voice on inter-Korean relations, harshly slammed Yoon's initiative – and the president personally – days after he proposed the policy. Kim Yo Jong pledged that there would be no dialogue with the Yoon administration, whose term runs through 2027. Considering her firm response, it appears Yoon's hawkish remarks – including comments on a preemptive strike against North Korea and the redeployment of U.S. tactical nuclear weapons on the South's soil – during his presidential campaign might have soured Pyongyang against him even before he took power.
According to Yoon, all hotline channels between the two Koreas have been cut off by North Korea. Despite Moon's efforts to reactivate the communication channels between the two sides, North Korea blew up a joint liaison office in Kaesong in June 2020 in a show of anger after a South Korean civil society group – led by a North Korean defector – launched leaflets lambasting the Kim regime across the inter-Korean border. Since then, Pyongyang has not answered Seoul's attempts to make contact.
Since the Hanoi Summit between then-U.S. President Donald Trump and Kim Jong Un broke down in February 2019, North Korea stepped back from the negotiating table. Now North Korea demands that Washington and Seoul make concessions first if they want to renew the dialogue. Pyongyang's indifference over the nuclear talks with Washington and Seoul stems from the Hanoi breakdown – North Korean leaders see Trump's unilateral walkout as the main reason for the breakdown of the nuclear talks.
In his interview with AP, Yoon said no country, including South Korea, knows why North Korea is conducting missile launches and other provocations, while adding that "North Korea could have its own internal reasons." However, he clearly stated that if North Korea keeps carrying out "unlawful" provocations, it will witness the security cooperation between South Korea, the United States, and Japan being strengthened further.
In an interview with the South's Chosun Ilbo published last week, Yoon said South Korea is in talks with the United States over joint planning and joint execution for U.S. nuclear assets. Yoon reaffirmed this in his interview with AP, saying that the discussions with the U.S. are under way, and plans such as "tabletop exercises, computer simulations and drills" on "delivery means for nuclear weapons" were proposed. Considering the follow-ups from Seoul and Washington over Yoon's initial comments, the two countries appear to have been in discussions to conduct more exercises to enhance the joint commitment against the North's growing threats in the past few weeks.
According to Seoul's Defense Ministry, it is planning to conduct a discussion-based table-top exercise with the United States in late February. Holding an 11-day combined drill with the U.S., conducting a final stage test of South Korea's indigenous solid-propellent space rocket and launching its first military reconnaissance satellite are among the ministry's major tasks for this year. The Defense Ministry is also solidifying the "three-axis" system to respond better to the North's direct provocations.
As Seoul and Washington plan to stage more extensive drills in the coming months, Pyongyang will likely test more advanced and new nuclear missile programs to show off its capabilities as a tit-for-tat measure. Also, it will seek room to cooperate with Beijing and Moscow to confront the South-U.S.-Japan security cooperation in the region.