China's 3 Pathways to Green Steel
China's steel industry is a crucial part of its decarbonization efforts – and thus the fate of the global fight against climate change.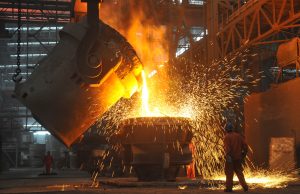 On February 6, China published the 2022 China Climate Bulletin. The report noted that the country recorded the second highest annual mean temperature in history in 2022. Indeed, last year's spring, summer, and autumn temperatures were the highest since records began. During the press conference releasing the Bulletin, Jia Xiaolong, deputy director of China's National Climate Center, stressed the importance of remaining alert to "low-probability, high-impact" climate events, such as the heat wave that hit China in 2013, which brought temperatures above 40 degrees Celsius in at least 40 cities and counties.
There is no plausible path to mitigating climate change without China, the world's largest carbon emitter, reducing its carbon footprint. Among China's major GDP drivers, few play a more critical role in the country's decarbonization efforts than the steel sector. It contributes around 17 percent of China's annual emissions, second only to power generation. For some perspective, China Baowu Steel Group – the world's largest steel producer – put more carbon dioxide into the atmosphere than the entire country of Pakistan did in 2020.
There are three main options for Chinese steel producers to reduce emissions. First, they could try to replace traditional, coal-based blast furnaces with electric arc furnaces (EAF), which utilize renewable electricity and high-quality steel scrap, making steelmaking more environmentally friendly. The challenge, however, is that the more prevalent this method of production becomes, the higher the demand will be for high-quality scrap, which is only available in certain regions. That will drive up the cost for steel production.
A second option would be to install carbon-capture equipment at existing steel plants. Ideally, this technology could allow steelmakers to continue running their plants without significantly affecting the climate. Essentially, this would be a business-as-usual approach with added costs. However, carbon-capture projects at steel plants are still at the pilot stage, and it will take continued investment to drive down this technology's cost to make it a viable large-scale solution. 
The final pathway is the adoption of green hydrogen-based technologies. To be sure, green hydrogen remains a nascent industry and its production depends on the renewable power supply. To scale up the former will require a continuous decline of the latter's prices. Yet, if green hydrogen can be produced on an industrial scale, it can play a crucial role in lowering the steel industry's CO2 emissions.
That is precisely what the Chinese steelmakers have been aiming to achieve. Of China's six world-leading steel players, half have already begun investing in hydrogen technologies to decarbonize their productions. For instance, on February 15, 2022, Baowu began the construction of a new, green hydrogen-fueled electric arc furnace in Zhanjiang, Guangdong province. The project is scheduled to be completed by the end of 2023, and it will be Baowu's first zero-carbon electric arc furnace. 
Additionally, in November 2021, the company unveiled a Global Low-Carbon Metallurgical Innovation Alliance and a fund that will put $5.5 million annually toward low-carbon metallurgy research, including hydrogen. The alliance is a force to be reckoned with – it consists of 60 members from 15 countries, including steel companies such as ArcelorMittal and Shougang Group, as well as mining companies such as BHP Group and Rio Tinto Group. 
Furthermore, Ansteel Group, another prominent steelmaker in China, announced a technological breakthrough of using a green hydrogen-based process to produce steel in 2022, potentially giving the company a new valuable intellectual property from which it could profit for years to come. Others, such as HBIS Group, has also started construction of the world's first hydrogen metallurgy demonstration project in Zhangjiakou, the hydrogen pilot city in Hebei province.
Despite these ongoing developments, the road ahead is likely to be difficult. On the one hand, hydrogen-based technologies and steel production remain immature and costly. Indeed, it will require a high level of continued investment to scale up on both the production and consumption sides. On the other hand, however, experts have estimated that, by turning to hydrogen, China could save nearly $2 trillion between 2020 and 2060, compared to using other clean energy solutions to achieve industrial carbon neutrality. In addition, renewable electricity costs are decreasing, further diminishing the costs of green hydrogen production and enhancing its potential to scale up.
That said, government support, both at the central and the local levels, will be the key to sustaining this trend. To that end, Chinese President Xi Jinping's goals for China to hit peak carbon emissions in 2030 and reach carbon neutrality in 2060 can potentially bring about two spillover effects. First, the political pressure that it creates will help sustain financial support for future green hydrogen experimentations. As a result, the Chinese steelmakers will feel more comfortable to tolerate the high risk in their investments on uncertain hydrogen applications. 
Ultimately, given their size, how the Chinese steelmakers green their productions will have profound implications for China's transition to a low-carbon economy – the pace of which over the coming decades will be critical to the world's fight against climate change.