From Hope to Despair in Myanmar
From 2015-2020, Myanmar seemed on the cusp of a meaningful transformation. Then the coup set the country back decades.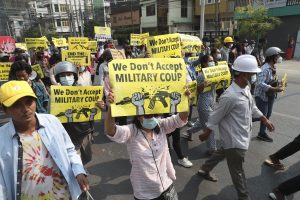 In the years since we began publishing The Diplomat Magazine in December 2014, few countries in Asia have seen as dramatic a reversal of fortunes as Myanmar.

In Issue 12 (November 2015), Jurgen Haacke described then then-upcoming elections as "a critical step into a somewhat uncertain future." A little more than a year later, Christina Fink reflected in Issue 28 (March 2017) on the first year in power for the National League for Democracy (NLD) with Aung San Suu Kyi at its head, noting the huge challenges the civilian government was wrestling with, from the economy to ethnic violence and a stalled peace process, to finding a new balance between civilian and military leaders. 

In the years that followed, we tracked myriad developments in Myanmar, from its evolving relations with China and, of course, the seemingly never-ending Rohingya crisis. And then in February 2021 what political progress had been made in Myanmar dissipated as the military reasserted itself, again arresting Aung San Suu Kyi and pushing civilian leadership to the sideline once more.

In the following article, Zachary Abuza charts the path Myanmar has taken over the last decade, following a road from hope and nascent progress back to despair.

– Catherine Putz
The Hope
In 2008, a devastating cyclone hit Myanmar leading to the death of over 138,000 people. The military government that had been in power almost continuously since 1962 was preoccupied with running a referendum for their handwritten constitution.
Most people at the time were highly dismissive of the generals' new charter, which was designed to keep them in power. The constitution gave the military 25 percent of the seats in both chambers of parliament, awarded them a vice presidency, and granted them control over three key ministries: Defense, Interior and Border Affairs. There was no civilian oversight over the military, whether for personnel decisions or budgetary allocations. There were ample provisions and low bars for declaring a state of emergency. The military had a veto on any constitutional amendments, which required 75 percent approval.
Nonetheless, even this small, gradual move toward democracy led to significant economic growth, as foreign investment entered the country and telecommunications became widespread. The economy stabilized after years of high inflation, which had led to the mass demonstrations in 2007, known as the Saffron Revolution. Millions of people were lifted out of poverty in the process. According to the World Bank, GDP grew from around $30 billion in 2008 to $70 billion by the time elections were held in 2015.
In 2010, the National League for Democracy – which had never been banned, but was highly constrained with its senior leaders arrested or in exile –  boycotted the elections, convinced that not enough had changed. And yet, two years later, the NLD was convinced enough of the political reforms that it ran candidates in a by-election, winning 37 of 46 contested seats. 
By 2014, there was palpable excitement that the military was serious about its commitment to hold open elections: A widely shared photograph of President Thein Sein and Aung San Suu Kyi, the long imprisoned but recently freed Nobel Prize laureate, posing beneath a portrait of Aung San, the country and military's founder and her father, was a symbol that was lost on no one.
It's hard to overstate just how far the country has fallen since then.