India's Key to Keeping the Status Quo on Its Border With China
India's current security strategies vis-à-vis China are inadequate, but with a deterrence-by-detection strategy, the nation has a chance at maintaining its de facto border.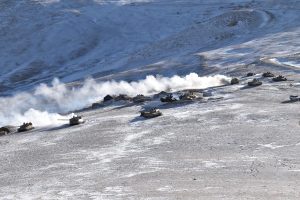 On January 20 of this year, in a report submitted to the All-India Conference of Director Generals, Ladakh police officers divulged that India had lost access to 26 out of 65 of its Patrolling Points along the country's disputed border with China. Furthermore, since May 2020, Indian intelligence reports have found that China has occupied nearly 1,000 square kilometers of what was previously de facto Indian territory through militarization and fortified infrastructure projects.
Unable credibly to threaten a victory against China in war, India, in partnership with the United States and other Quad members (Australia and Japan), needs to question its current strategies and adopt a new strategy of "deterrence by detection" to escape from China's fait accompli trap.
Established in April 2020 by Thomas Mahnken, Travis Sharp, and Grace Kim from the Center for Strategic and Budgetary Assessments, the concept of deterrence by detection is presented as a strategy to tackle the twin issue of sub-conventional gray zone aggression and fait accompli gambles. It is the idea that one's "adversaries are less likely to commit opportunistic acts of aggression if they know they are being watched constantly and that their actions can be publicized widely." The authors argue the deterrence by detection will "generate and maintain real-time situational awareness that can contribute to solving the fait accompli challenge."
In an effort to rethink the U.S. and its allies' deterrence strategy during an era of renewed great power competition, Mahnken, Sharp, and Kim recommend the strategy's implementation across the Indo-Pacific region. In later reports, they specifically suggested its adoption by India along the Line of Actual Control (LAC) as a response to the May 2020 skirmish at Galwan.
Executing this strategy would require an intelligence, surveillance, and reconnaissance (ISR) network comprised of a set of systems that are "cost-effective, persistent, and interoperable" by a wide range of allies, both regional and global. The paper recommended the utilization of unmanned aerial vehicles (UAVs) as one option for executing deterrence by detection. In the context of India and China, greater cooperation on artificial intelligence (AI) technology, cyber technology, and more extensive visible surveillance networks throughout the border region can be also explored.
Combined with tactful diplomacy, this deterrence strategy can allow India to escape from China's fait accompli trap, since it will allow New Delhi to preserve its political autonomy in the face of great power competition without provoking China's ire. While India has demonstrated prowess in effectively reacting to Chinese provocations at the border, a pattern has started to emerge whereby China comes back and entrenches its position on previously Indian-held territory, and India is left to adjust to this new presence. Until India's strategy changes, this pattern will repeat itself, establish new precedents, and result in a border determined on China's terms.
Despite being the United States' "vital partner" in safeguarding the Indo-Pacific region, India has understandably restrained itself from visibly intensifying this security partnership to its full potential since China might become provoked and increase its transgressions at the LAC, which India cannot afford.
Although India and the United States have undoubtedly increased security cooperation in recent years, most of this is limited to intelligence sharing and arms sales. Likewise, it has also been India's long-term policy to protect its political autonomy from the pulls of great power competition. Therefore, high dependence on the U.S. is not advisable for New Delhi.
Some analysts claim that India has recently pivoted toward "strategic docility" in order to moderate the security dilemma. A prime example is Prime Minister Narendra Modi's statement that "no one has intruded into our territory" following the 2020 Galwan skirmish. While he later clarified that the statement was an expression of gratitude toward the Indian Army for pushing out transgressors, the comment was criticized as ignoring the incursion made by China.
Any such deliberate docility, either diplomatically or otherwise, would be very ill-fated for India in the long run. Strategic docility may buy time for the incumbent government to focus on the 2024 general elections; however, in the meantime, it could embolden China to claim a stronger precedent for the future occupation of more Indian territory. In such a case, it would be much harder or even unrealistic to reverse such a fait accompli.
Current strategies that focus primarily on improving conventional deterrence – or even being strategically docile to avoid escalations – are woefully inadequate in protecting India's territorial integrity in the long term. On the other hand, if they were to be executed alongside a deterrence-by-detection strategy, India has a shot at deterring China at the border without provoking harsh aggression from Beijing. Under this strategy, India, the United States, and other Quad allies can partner to visibly deploy high-quality UAVs, advanced sensor networks, and persistent border coverage, all while framing these developments as an extension of pre-existing intelligence-sharing partnerships instead of a novel security pact.
Despite China's strong capabilities for heavy surveillance, this strategy differentiates India from the former and affords it a comparative advantage because it involves the real-time broadcasting of footage to wider and more global audiences. To be sure, it is imperative that India takes special care to not fall into the trap of being viewed as the aggressor for this to be effective.
A deterrence-by-detection strategy will require robust cybersecurity infrastructure and a very deliberate communications plan. It is also worth noting that, even with U.S. support, it will take time to build these capabilities and test them at the LAC. According to military expert Pravin Sawhney in his book "The Last War," China is far more experienced in using AI in its military compared to India. Thus, it will take time for this strategy to achieve results.
Even so, through the right funding and concerted knowledge-sharing efforts between Quad members, a more rapid acceleration of the development of AI technology and advanced sensor capabilities is possible. Moreover, a long-term strategy like this may be exactly what India needs to achieve a single-focused, consolidated, and efficient set of actions that can rival China's gradual build-up of infrastructure in the region.
There are already many opportunities available for India to incorporate deterrence by detection. India and the United States are currently concluding a $3 billion drone deal, through which India will receive 30 MQ-9B armed drones. According to Mahnken, Sharp, and Kim, MQ-9B drones also happen to be the "most suitable [equipment] for the long-endurance, wide-area surveillance missions required" for deterrence by detection.
Interestingly, it is also likely that the four foundational India-U.S. defense accords are now ready to be implemented. Among them, the Basic Exchange and Cooperation Agreement intends to facilitate Indian access to cutting-edge U.S. military intelligence and communications technologies, which can help India strengthen its geospatial technology along the LAC. Finally, both countries have also recently increased cooperation on the development of critical and emerging technologies.
Overall, the outcome of India's burgeoning partnership with the United States is unclear. However, one thing does seem certain: If India does not explore new security strategies, it is at high risk of losing territory at the border to China. All things considered, deterrence by detection is a great place to start.