It's Time to Appoint a US Special Envoy for Semiconductors
A special envoy's first job would be to establish a singular voice for U.S. semiconductor policy to address existing tensions in its international and domestic approaches.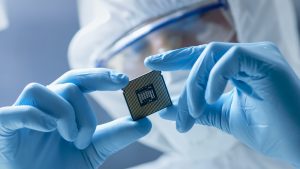 A seismic shift in U.S. semiconductor strategy is at risk of short-circuiting. The cause? Disconnected diplomacy.
Semiconductors emerged from relative obscurity to the top of national security-related policy discussions last year, such that they were highlighted in U.S. President Joe Biden's most recent State of the Union address. However, though messaging is forefront, it is not coordinated. Like the semiconductor supply chain, this issue is complex, with both domestic and international implications.
A successful U.S. semiconductor strategy, therefore, requires a special envoy for semiconductors.
Think about it: For an issue that is a top priority for the United States, messaging comes from the Commerce Department, State Department, and the White House, with no clear line of responsibility. While the United States created a special envoy for critical and emerging technology, this position has a broader mission, which includes biotechnology, AI, and quantum. Semiconductors are important enough to warrant a dedicated person at the State Department.
In the absence of a gatekeeper, the United States has still moved ambitiously in the past year to secure semiconductor advancements. In August 2022, national security imperatives enabled bipartisan passage of the CHIPS and Science Act, which includes $52 billion worth of investments for onshoring semiconductor manufacturing. Following this, Washington unleashed its most aggressive export controls on China yet. The October 7 rules cut off access to high-end chips that could accelerate China's military capabilities, and they included notable restrictions on U.S. persons who help support chip development and production.
These actions have become the centerpiece of the United States' tough stance on China. However, despite being among Washington's strongest actions, their effectiveness is not guaranteed. This is because the U.S. has pursued its semiconductor strategy without leveraging its greatest strength: its allies. 
A special envoy for semiconductors could demonstrate U.S. leadership without acting unilaterally. Recognizing the country's own dependency on its allies for certain parts of the semiconductor supply chain, such as South Korea's memory chips and Japan's raw materials, proactive and streamlined engagement would assure allies of U.S. commitment, spurring cooperation to further collective interest.
Despite the Biden administration's stated prioritization to revitalize alliances, the U.S. semiconductor strategy to date has proved otherwise. Hence, a special envoy's first job would be to establish a singular voice for U.S. semiconductor policy to address existing tensions in its international and domestic approaches.
Internationally, a special envoy for semiconductors must be the authority on export control coordination. Currently, various U.S. officials have actively courted Japan and the Netherlands – both key semiconductor equipment makers – to convince them to impose similar export controls. Although reporting indicates the three governments have reached an agreement, none has formally announced the details. The Netherlands may even take months to implement their ban, with Dutch officials indicating that export controls will not mirror U.S. rules.
Likewise, the United States issued one-year exemptions to countries like South Korea. While rightly acknowledging that immediate disentanglement would cripple their businesses, exemptions only delay the intended effect of export controls. As additional export controls are considered, the United States must be clear and upfront about its objectives and expectations from allies and partners. This includes ensuring expectations are implementable and reasonable to allies and partners, something only a seasoned diplomat can do.
Domestically, a special envoy for semiconductors must communicate that the United States does not seek to directly compete with allies by investing in manufacturing at home, but rather cooperate with them. This assurance is important given the first application for CHIPS Act subsidies will begin to be launched this week, and insufficient messaging has already started to fragment supply chain efforts.
For example, although the Taiwan Semiconductor Manufacturing Co. (TSMC) committed to building two semiconductor fabs in Arizona, Taiwan worries about maintaining its leadership at home. This has caused Taiwan to pass its own Chips Act to sustain local investment. With countries such as South Korea and Japan, as well as the European Union (EU), announcing their own domestic investments into the semiconductor industry, a subsidy race could undercut the collective goal of supply chain resiliency. While U.S. officials have engaged the EU to avoid this possibility, responses to the Inflation Reduction Act should serve as a cautionary tale of what could come without proactive and clear diplomatic outreach. 
Beyond crystalizing diplomatic messaging on these issues, a special envoy for semiconductors can prioritize three actions.
First, this individual can define what "friendshoring" means in practice. While countries can continue bolstering resilience domestically, the reality is that it will be impossible to replicate an entire supply chain within one country, due to inefficiency, cost, and talent shortages. Establishing an agreed upon framework for "friendshoring" will enable allies to maximize existing strengths and coordinate resources.
Second, a special envoy for semiconductors can ensure new semiconductor partnerships, such as Vietnam, Singapore, and India, are successful. This individual can build the diplomatic channels and identify the gaps associated with moving aspects of the supply chain. Moreover, to ensure supply chain resiliency, this individual can convey expectations about validating vendor trustworthiness.
Finally, a special envoy for semiconductors can be the single, leading U.S. voice in international fora where these conversations are already underway, such as the U.S.-EU Trade and Technology Council and the Quad. This will ensure consistency in messaging and reduce the likelihood of conflicting or duplicative approaches.
Navigating geopolitics requires relationships – especially with chips. The United States must seize this opportunity to lead by appointing a dedicated special envoy for semiconductors.