Setting Indonesia's Navy on a Course Beyond 2024
The Minimum Essential Force modernization program ends next year. Does TNI-AL have a plan for what to do next?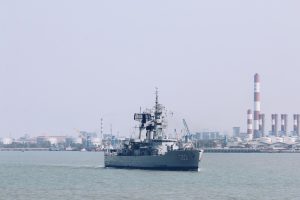 In late December, Indonesia appointed Admiral Yudo Margono as the new commander of the Indonesian Armed Forces (TNI), replacing General Andika Perkasa, who served from 2021-2022. Yudo is the first senior naval officer to hold the position in 13 years, and the third overall in the history of the armed forces. The appointment of a naval officer to the highest rank of the armed forces raises the possibility that the country will focus on developing its naval capability amid the current global uncertainty.
During his time as naval chief of staff, Yudo oversaw the modernization of the Indonesian Navy (TNI-AL) through various agreements and Letters of Intent, and the inauguration of various surface vessels, in line with the 2024 deadline of TNI's Minimum Essential Force (MEF) modernization plan. However, there is still some uncertainty of what the future for TNI will be after the MEF deadline, let alone the future trajectory of TNI-AL.
Voices in and around the defense establishment have set their sights on establishing a blue water navy by 2045, the centennial of Indonesian independence. By then, the Navy has envisaged that it will fulfill its target of possessing 274 naval vessels and 137 fixed and rotary-wing air assets. Currently, TNI-AL possesses around 148 naval vessels and 76 fixed and rotary-wing air assets spread across three fleets.
Yudo and the Naval High Command face several key challenges to realizing the plan for a post-MEF armed forces.
First, there is a discrepancy in the development of the country's naval fleets. The current naval force structure divides the navy into three separate fleets, roughly covering the western, central, and eastern parts of Indonesia. Prior to this restructuring, TNI-AL was divided between western and eastern fleets.
Historically speaking, western Indonesia has seen more development than the eastern regions. It has better infrastructure, a more concentrated urban population, and more industrial/economic centers. This leads to a more established military development within the subregion. In addition, western Indonesia has seen a higher concentration of international maritime navigation compared to the east.
This means that TNI concentrates most of its capabilities on combating security issues in the west, at a time when maritime security concerns are growing in the east, which functions as Indonesia's gateway to the Pacific Ocean. Nontraditional security issues dominate the agenda, with Illegal, Unreported and Unregulated fishing being predominant in the Timor, Aru, and Arafura seas. Eastern Indonesia has also historically served as a springboard for would-be refugees attempting to enter Australia via the Timor Sea.
In addition, the rising influence of China in the Pacific Ocean has renewed major power efforts to vie for "control" over the Pacific Island states. Beijing's soft-power push into the Pacific has involved investment through its Belt and Road Initiative, as well as security arrangements in various fields, such as cybersecurity and law enforcement cooperation. It is thus sensible for TNI-AL to put equal emphasis on its eastern presence.
The second challenge is that of increasing TNI-AL's maritime domain awareness, and its intelligence, surveillance, and reconnaissance capability. One of the main functions of a navy is constabulary actions, which in modern times have evolved into the notion of maritime security. Although the definition and ownership of maritime security is debatable, it has been pointed out that "maritime security operations lie at the uncomfortable nexus between maritime law enforcement and naval warfare." Nonetheless, navies do have a crucial role in maritime security, especially assisting in early detection and reconnaissance of potential maritime insecurities.
Indonesia's vast maritime domain means that it needs constant surveillance to deter border intrusions, unsafe passage/navigation, and various security issues. TNI-AL's maritime patrols are carried out by dozens of patrol boats, supplemented by a handful of maritime patrol aircraft of the naval air wings, and the Air Force patrol air wings.
Moreover, TNI-AL also faces issues of endurance for many of its vessels. Take for example the Sampari-class offshore patrol vessel, a vessel that was domestically designed and built by the state-owned shipbuilder PT PAL. The ship is designed, in peacetime, to conduct routine patrols across Indonesia's maritime domain, and deter any security threats that might arise from illicit activities.
Yet the vessel has attracted several criticisms, including for a design flaw that allows it to be easily detectable by enemy radar, its unreliability in navigating high waves on the ocean due to the vessel's size and lack of fin stabilizer, and its low endurance of only five days. The latter issue in particular has proven to be detrimental, meaning that TNI-AL would need dozens, if not hundreds, of similar vessels to maintain a constant presence across its maritime domain.
Furthermore, TNI-AL would also need to constantly equip its sailors and officers with the required level of competence in improving maritime domain awareness. In this instance, Indonesia has had considerable external assistance, such as from the European Union's CRIMARIO program. Honing a navy's surveillance and reconnaissance capability is thus as important as its capability to conduct warfighting.
The third challenge is the increasing threat from new technology. In January 2021, an Indonesian fishermen discovered what looked to be an underwater unmanned vessel (UUV) in the waters of the Anambas Islands, fairly close to the South China Sea. The drone resembled a torpedo, with a propeller on its end, and it was engraved with Chinese characters. At the time, this was the third discovery of a Chinese UUV within Indonesian waters since 2019.
Such activity has caused concern among the Indonesian public, especially since there is no way to know why these UUVs were sent into Indonesian waters.
These sort of incidents highlight the growing threat posed by new technologies, even during peacetime. The ability of the navy to detect surface vessels is sometimes undermined by the action of several vessels voluntarily switching off their Automatic Identification System (AIS) but the challenges are infinitely greater in the case of underwater drones, which are designed to operate as stealthily as possible.
International law has proved inadequate to regulate the use of these devices. The 1982 U.N. Convention on the Law of the Sea (UNCLOS) makes no reference to UUV activities for marine research. The use of underwater drones was acknowledged by the U.N. Division of Ocean Affairs and the Law of the Sea in its 2010 guidelines; however, neither UNCLOS nor the guidelines distinguish civilian maritime research from military research.
At present, TNI-AL has two ways to counter the growing threat of underwater espionage carried out by UUVs. It needs to develop capabilities in underwater detection through the study of hydroacoustics, and consider the idea of setting up a permanent sonar system for the continuous detection of underwater movements. Next, it has to push the Indonesian government to establish local regulations to control the use of UUVs, and to deter any future use of such equipment within Indonesian waters.
Time, unfortunately, is a luxury that TNI-AL may not be able to afford, given that Yudo will only serve as TNI commander for one year. It is thus highly advisable for TNI-AL to use this year wisely to lay the foundations for the modernization of the navy, especially if it is serious about achieving a blue water capability in the years to come.