The Japan-South Korea Thaw Is Far From a Done Deal
Japan's Kishida and South Korea's Yoon are ready to mend relations, but both leaders face problems back home.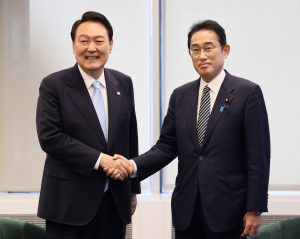 In 2018, the South Korean Supreme Court ruled that two Japanese companies would have to financially compensate 15 Koreans who had been forced into labor toward the end of World War II. Japan responded by categorically refusing, arguing that the ruling violated the 1965 Treaty on Basic Relations Between Japan and the Republic of Korea, which unequivocally settled the forced labor issues from the Japanese vantage point.
The stiff response from both governments had basically closed the door on diplomatic dialogue, forcing their relations to go into a downward spiral. As a result, Japan and South Korea's relationship reached arguably their worst state since diplomatic normalization.
However, the proposed settlement announced by South Korean Foreign Minister Park Jin signals that the fraught relations between the two neighboring countries are about to see a turnaround. Park laid out a plan where, on behalf of the Japanese firms ordered by the court to pay damages, the South Korean government would instead compensate the plaintiffs exploited as forced labor, by establishing a foundation and gathering donations through it. South Korea's compromise settlement was received warmly by Japanese Prime Minister Kishida Fumio, stating that his government "appreciates" the measure South Korea proposed.
Nonetheless, even though a tentative agreement was reached between Seoul and Tokyo, and both leaders are eager to make it a success by meeting with one another later this week, a more potent task still lies ahead. Realizing amity in Japan-South Korea relations involves a more burdensome task for both leaders: convincing their own people, who still view their counterpart nations with great venom. And that's not all. For Kishida and South Korean President Yoon Suk-yeol, an equally difficult task will be to persuade their own domestic antagonists, who have the power to make their job difficult – even possibly sabotaging the deal that has been made.
For Yoon, the deal with Japan arrived at a time when tensions among South Korea's progressives are heating up. Recently, Yoon approved a motion to arrest Lee Jae-myung, the leader of the largest opposition party in South Korea, after Lee was accused of corruption by the Seoul Central District Court. The motion was rejected by only one vote in parliament. The outwardly political act by Yoon to consent to the arrest of his number one political rival, who nearly defeated him in the 2022 presidential election, has further alienated Yoon's staunch critics in the progressive camp.
If the trend continues, the oppositional zeal to counter Yoon's policies could grow stronger. Should the progressives gain power in the next election cycle, Yoon's entire legacy, including   his plan to amend relations with Japan, would go under scrutiny. That has been the case with previous agreements that successive South Korean administrations agreed on between Japan.
Already, Yoon's critics have voiced their rejection of the plan that would possibly amend relations with Japan. Several polls have suggested that about 60 percent of the Korean people disapprove of Yoon's plan, which basically absolves Japan of responsibility by not demanding direct compensation from the Japanese companies involved in forced labor. As a sign of the opposition, anti-government protests erupted where people decried the government's plan as "foolish" and "humiliating."
While Yoon faces his progressive critics on the oppositional side, Kishida has to convince his own conservative allies, who assisted his ascent to the premiership, to consent to the deal proposed by South Korea. Kishida has been under the significant influence of the Abe faction, the largest faction within the ruling Liberal Democratic Party. Like their eponymous assassinated leader, Abe faction members have coalesced behind a conservative agenda.
In order to win the LDP presidency, Kishida, a self-described "dove," had to adopt a line similar to that of former Prime Minister Abe Shinzo, who had advocated for a more hawkish defense policy. In order to gain the support of Abe faction members, Kishida retracted his previous position by promising to bolster defense spending and acquire counterstrike capabilities when he became prime minister – a promise on which he followed through.
At times, the need to court LDP conservatives puts Kishida out of step with the Japanese mainstream. Although 65 percent of the Japanese public – and 58 of his party's rank and file – approve of same-sex marriage, Kishida has been hesitant to embrace it, which shows how conservative LDP members have held his administration hostage. During Diet deliberations, Kishida has raised concerns that the adoption of same-sex marriage will "change society" and also insists that banning same-sex marriage is not discriminatory.
After the settlement from South Korea was shared with Japan, LDP conservatives made it clear that they would not easily compromise with the Korean government. Conservative firebrand Sugita Mio – who was criticized in the Diet for her past comments characterizing sexual minorities as "unproductive" – had stated that Kishida should not engage with the Korean proposal while there are still unresolved issues. The issues she raised included trade and territorial disputes, and the 2018 radar lock-on incident, where the Japanese Self-Defense Force alleged that a South Korean naval vessel pointed fire control radar at their aircraft.
Aoyama Shigeharu, a former news commentator, and nationalistic policymaker, told Sankei Shimbun that accepting the South Korean proposal meant that "the Japanese government will be forced to take on the story that the Korean people were forced into labor." The revisionist views that Aoyama presented  – which are prevalent among Japanese conservatives – imply that groups within the LDP don't even recognize that the wartime labor dispute is a problem in the first place, making it nearly impossible for Kishida to find a middle ground with them.
The final resolution of the forced labor dispute will not depend on the result coming from the negotiating table, but on the success of both Yoon and Kishida in persuading individuals and groups that are most opposed to the deal within their respective countries. Both leaders will face significant pressure from within their countries that will exhaust their political capital and risk their political survival.
Whether Kishida and Yoon ultimately resolve the issue for the sake of the mutual interests of the countries that they represent, particularly to deal with the threat of China, will depend on how badly they want it.