Unpacking Geopolitical Competition and Energy Security in Central Asia
A U.S. Senate subcommittee recently explored U.S. policy toward Central Asia amid the war in Ukraine and intense concern about global energy security.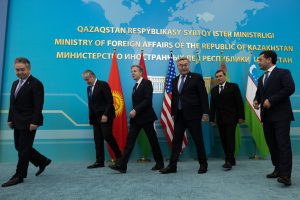 In light of U.S. Secretary of State Antony Blinken's recent trip through Central Asia and the one-year mark of the Russian war in Ukraine, a Senate subcommittee held a hearing this week to explore the geopolitical and energy security dynamics at play in Central Asia. 
The Senate Foreign Relations Committee's Subcommittee on Near East, South Asia, Central Asia, and Counterterrorism convened on March 8 to hear testimony from Assistant Secretary of State for South and Central Asia Affairs Donald Lu and Geoffrey Pyatt, assistant secretary of state for energy resources.
In his opening remarks, subcommittee chairman Senator Chris Murphy (D-Conn), framed the moment as critical, with Central Asian countries realizing that relying on Russian President "Vladimir Putin to guarantee your independence is a really, really bad bet" and the United States "rethinking whether the ways we have dealt with these nations needs to change" in light of the withdrawal from Afghanistan.
Senator Todd Young (R-Ind), the subcommittee's ranking member, echoed Murphy's opening and remarked, "I believe we are at a crossroads in our relationship with the region and we must seize the opportunity to be the partner of choice."
In their testimony both Lu and Pyatt highlighted the ways in which Russia's actions in Ukraine, and their effects on the global economy and energy markets, also affect Central Asian perceptions of Russia and their economies. While presenting challenges — such as concerns about secondary sanctions and rising food and fuel prices — this also provides an opportunity.
In responding to a question from Young regarding waning Russian influence, and opportunities for other partners — Turkey, Iran, India, and so on — Lu replied, "The best thing Central Asians can do is take what all of us have to offer and take the best deal."
"Secretary Blinken told his Central Asian counterparts that the United States sees the hardship in Central Asia caused by Putin's war of aggression, and we want to help," Lu said in his testimony, highlighting $41.5 million in new assistance provided to Central Asia in 2022, used to promote food security, retrain workers, assist the private sector, and "pilot new trade routes that do not go through Russia." The State Department is seeking to add $20 million this year to support those programs. 
"We want to show that we are a reliable partner that acknowledges the hardships caused by Russia's war of aggression."
In his opening, Murphy expressed a desire to identify a "digestible series of objectives for our engagement in the region." One place to start, it seems, would be with the Jackson-Vanik Amendment of 1974, which rendered certain countries ineligible for normal trade relations due to restrictions on emigration (specifically that of Soviet Jews seeking to leave the USSR). After the breakup of the Soviet Union, the amendment remained in place over a wide swath of countries. Ironically, the amendment was repealed as it applied to Russia in 2012, but most Central Asian countries — Kazakhstan, Uzbekistan, Tajikistan, and Turkmenistan — remain subject to its provisions. (Kyrgyzstan was granted normal trade relations back in 1998 and is no longer subject to the amendment.)
Murphy specifically asked about Kazakhstan, Uzbekistan, and Tajikistan; Turkmenistan is far from a good candidate to repeal the amendment given continued reports of severe restrictions on entry and exit from the country.
Lu said Jackson-Vanik was raised in each of Blinken's meetings with his Central Asian counterparts. "It is a real drain on the sense of trust between our countries."
Turkmenistan was much-discussed in the hearing, particularly in reference to energy security and the difficult dynamics of engaging with the country. 
Murphy asked Pyatt what policy tools are available to shift Turkmenistan, acknowledging that Ashgabat is a problem with no simple solution. "There's not a lot of reason for Turkmenistan to change," he remarked, highlighting China's dominant, and domineering, role as Turkmenistan's largest buyer of natural gas. He asked, specifically, about the prospects of linking Turkmenistan to Europe.
Pyatt commented that significant infrastructure would need to be built to connect Europe and Turkmenistan and recalled discussing this exact issue with Turkmen Foreign Minister Raşit Meredov 10 years ago, "which tells you how embedded some of the challenges are."
In a follow-up, Young asked for an assessment of Turkmenistan's vulnerability to economic coercion by China, to which Pyatt replied that the country was "vulnerable to malign influence from both Russia and China."
In his opening, Murphy referenced the difficult dynamic between engagement with Central Asian countries and their, at times, repressive governments. "[O]ur policies in Central Asia do need to be realistic and our eagerness to build new ties should not unnecessarily tie us to despotic regimes there," he said. Lu touched on human rights in his testimony, acknowledging the challenges — referring to the "snail's pace" of progress — but highlighted Uzbekistan's elimination of child and forced labor and recent court cases in Kazakhstan in which police were held accountable for torturing detainees.
In the question and answer section, Senator Tim Kaine (D-Vir) asked about the region's response to China's policies in Xinjiang and also about whether and how the subject of the unrest and violence in Karakalpakstan was raised during Blinken's travels in the region. Lu harkened back to his time as U.S. ambassador to Kyrgyzstan: "I was surprised to find very little interest in the Kyrgyz republic about the genocide happening [in Xinjiang]… They were not willing to raise their heads, to call out what's happening there." He characterized this as a clear product of economic coercion: An unwillingness to anger Beijing yielded such silence.
On the matter of Karakalpakstan, Lu said Blinken did raise it with Uzbek officials, stressing the need for accountability for both protesters and police. While a second trial of protesters is underway now in Bukhara, to date little has been said officially regarding police accused of abuses during the unrest. Nevertheless, Lu said "we were assured that there would be open and transparent trials also for police and either security forces, some of whom have already been arrested for excesses committed in Karakalpakstan."
Central Asia is uniquely positioned between what U.S. strategic documents characterize as a present menace and a future threat (Russia and China, respectively). Although the region gets little attention in mainstream U.S. foreign policy coverage, it's clear that the U.S. government is thinking carefully about how to approach the region in the wake of the Afghan withdrawal, in light of the war in Ukraine, and with an eye toward competing with China.
In his opening remarks, Murphy noted that in the 30 years since the Soviet Union's collapse, "our support for the independence, sovereignty and territorial integrity of Central Asian countries" has been a cornerstone of U.S. policy. 
"Russia's brutal war of aggression in Ukraine reminds us that the words, these principles, of sovereignty and independence, they have real meaning – especially for a region long dominated by Moscow."