Vietnamese, Chinese Vessels in Close South China Sea Encounter
According to navigation data, a Vietnamese Fisheries Surveillance vessel and Chinese Coast Guard ship came within 10 meters of each other.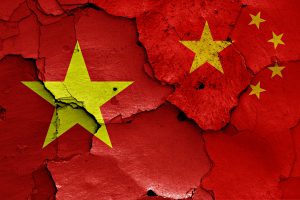 A Vietnamese ship had a tense encounter with a Chinese vessel inside the country's Exclusive Economic Zone (EEZ) in the South China Sea on Saturday, according to vessel-tracking data.
The incident, based on vessel-tracking data from Marine Traffic, a ship-tracking website, took place as Vietnam Fisheries Surveillance vessel KN-278 tracked Chinese Coast Guard (CCG) vessel CCG-5205 as it traversed Vietnam's EEZ. Under international law, a state has exclusive access to the natural resources in the waters and the seabed of its 200-nautical-mile EEZ.
According to a graphic produced by the Project Myoushu at the Gordian Knot Center for National Security Innovation at Stanford University, CCG-5205 entered Vietnam's EEZ on March 25, south of Vanguard Bank, a submerged feature near the boundaries of the Vietnamese and Indonesian EEZs, two weeks after leaving Sanya on China's Hainan island.
At this point, KN-278 "initiated shadowing operations" and the two vessels engaged in a cautious pas de deux around the EEZ, which China claims under its expansive "nine-dash line" claim.
After remaining at a distance of around 2 kilometers through the night of March 25/26, at around 7 a.m., KN-278 "briefly caught and passed CCG-2505 moving southeast, with the two ships coming within 10 meters of one another on parallel courses before they separated." Some two hours later, CCG-2505 exited Vietnam's EEZ.
In comments to Radio Free Asia, Ray Powell, the head of Project Myoushu, which examines Chinese "gray zone" activities in the South China Sea, said that the incident was likely a "very tense engagement." "The Vietnamese ship was pretty bold given the difference in size – the Chinese ship is twice the size of the Vietnamese ship," Powell told the U.S.-funded broadcaster.
Interestingly, during the shadowing mission, the CCG ship crossed two Russia-operated oil and gas blocks that are under development with Vietnam. As Reuters reported, one of the two blocks is operated by Russia's state-controlled oil firm Zarubezhneft, which is also a shareholder. The second is operated by a subsidiary of PetroVietnam, the country's state-owned fossil fuel company, with the Russian firm Gazprom as a shareholder.
China has a long history of encroaching inside the EEZs of rival South China Sea claimant states, which include Vietnam, Malaysia, the Philippines, and Brunei, as well as Indonesia, which does not consider itself a formal claimant, even though Beijing's "nine-dash line" overlaps with portions of its EEZ. The purpose of such missions is to assert and concretize China's "nine-dash line" maritime claim, which lops off large portions of all of these nations' EEZs.
According to data from the Vietnamese research organization South China Sea Chronicle Initiative (SCSCI) that was cited in the Reuters report, Chinese coast guard ships have sailed directly into energy exploration blocks operated or owned by Russian firms in Vietnam's EEZ about 40 times since January of last year. Many of these have followed "nearly identical routes" from Vanguard Bank to the two Russian-controlled blocks, some 50 nautical miles distant.
As long as China keeps up such encroachments – and there is no indication that it plans to end them anytime soon – it is only a matter of time before there is a serious collision.