Xi Bets on His Own Personal Diplomacy in Russia, Ukraine
Not lacking for self-confidence, Xi's decision to insert himself into Russia-Ukraine mediation presents outsized opportunities and risks for Beijing, especially in Europe.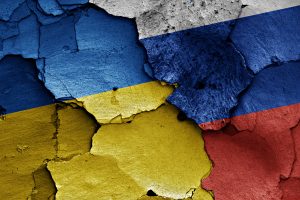 Flush with confidence after playing a seemingly successful hand in China's Middle East diplomacy, Chinese leader Xi Jinping is moving to a higher-stakes table and placing an even larger bet on the resolution of the Russo-Ukrainain war. According to reporting from the Wall Street Journal, Xi will travel to Moscow next week, then speak with Ukrainian President Volodymyr Zelenskyy. The visit will be Xi's first trip to Moscow since June 2019 and his first conversation with Ukraine's leader since the Russian invasion on February 24, 2022.
Xi's decision to seek an active role in the mediation process brings immense opportunities and risks for Beijing. Mediation could secure important diplomatic, geopolitical, and economic benefits for Chinese interests. On the other hand, Xi's personal diplomacy could easily backfire, especially in Europe. While Xi has proved he is extraordinarily shrewd operator in Chinese domestic politics, the strongman's heavy-handed diplomacy and idiosyncratic zero COVID policy raise doubts about his ability to play cards skillfully in Europe.
Beijing's Negotiation Objectives 
Xi's aims in mediating Russia-Ukraine talks appear to be fivefold: establish China as a leading, potentially indispensable, diplomatic force; maintain Russian President Vladimir Putin atop the power vertical and ensure Russia's continuing pro-Beijing alignment; prevent further deterioration to technological, political, and economic ties with Europe; create or exploit fissures within the Western alliance system and between the West and the developing world; and enable a more conducive external economic environment. Xi's objectives are achievable, but often in clear tension with one another.
Xi will find it easiest to ensure Putin's continuing rule in the Kremlin and Moscow's pro-Beijing alignment. Barring an unexpected military disaster in Ukraine or a financial meltdown within Russia, Putin or another like-minded, pro-Beijing securocrat will continue to rule in Moscow for the foreseeable future. Still, Xi may have some (minor) difficulties managing Moscow: Russian elites (perhaps especially at Gazprom) are impatient with Beijing's caution in inking long-term contracts, while some nationalists in the Russian force structures will chafe at any restrictions imposed by Beijing.
Xi's mediation initiative will also likely find some success in elevating the prestige of Chinese diplomacy, particularly in the developing world. Moscow and Beijing's narratives about the causes of the war have found traction outside of the West, restrictions on Russian fertilizers are harming the West's image, and polling data indicate many in developing countries believe the conflict in Ukraine is not their problem. More broadly, a significant portion of the international community is open to alternatives to the rules-based international order, especially on discrete issues, and will welcome China's growing diplomatic influence, including in Russia-Ukraine mediation.
Beijing hopes the process of war resolution will put a floor under China-Europe relations and, ideally from Xi's perspective, create gaps in Western unity. While there are differences over how to best manage the China challenge, the West – from Kyiv to Brussels to Washington – has shown a significant amount of unity and shared purpose throughout the conflict. Europe will likely continue to take a highly critical view of China, constraining Xi's ability to return relations with the EU to anything approaching the status quo antebellum.
Indeed, there is a real possibility that Xi will overplay his hand in negotiations and associate himself too closely to Putin, further damaging perceptions of China across Europe, especially eastern Europe. There is ample precedent: Xi's diplomatic heavy-handedness has antagonized China's neighbors in the Indo-Pacific. The Philippines agreed to expand U.S. forces' presence in the country, while recent polling indicates 80 percent of South Koreans have an unfavorable view of China. Xi's interactions with democracies in Asia do not bode well for his foray into mediation talks with Europe.
While Xi's increasingly contentious relationship with democracies will constrain his ability to secure political gains in Europe, he may nevertheless secure some important wins for Chinese economic interests if fighting in Ukraine is sharply reduced. A "frozen conflict" would stabilize the economies of Ukraine, Russia, and the EU, lower world commodity prices, and support Chinese exports. Moreover, some level of de-escalation might enable Beijing to lower tensions with Europe over technology, although it may be too late for China to triage its semiconductor relationship with the Netherlands.
De-escalation could further benefit Beijing's economic interests by enabling Chinese companies to resume investments into the Russian market, at lower risk of sanctions. In the wake of the invasion, Sinopec paused its investment in Russian petrochemicals, while Huawei disbanded its Russian enterprise business team in December. While the Russia-to-China Power of Siberia-2 natural gas pipeline is of dubious economic value, Beijing might prefer to ink a deal and bolster its energy security objectives. Sharply reduced levels of violence in Ukraine would very likely ease restrictions on Chinese-Russian trade and investment ties, although many sanctions will remain in place.
Of course, "frozen conflicts" can become unfrozen very quickly; any number of issues could prevent an agreement or reignite conflict. Kyiv and its backers in Washington and Brussels will not be eager to reach a settlement with a dictator who launched an illegal war resulting in hundreds of thousands of casualties, while Moscow's forcible transportation of civilians from Ukraine to Russia – prohibited under the laws of war – will continue to outrage Ukrainians and other Westerners. Finally, the issue of Crimea will remain extremely fraught; neither side can formally accept the loss of the peninsula due to domestic politics.
Wars are easy to start, but difficult to terminate. Xi's recent apparent diplomatic success in the Middle East may have led him to underestimate the challenges presented by Russia-Ukraine mediation.
Xi's Gamble in Ukraine 
While Xi possesses considerable Chinese domestic political skills, his recent track record bodes poorly for international mediation. Xi's disastrous mismanagement of zero COVID raises questions about how he receives and processes information about the world around him; his maximalist, confrontational style has alienated democracies; and his reluctance to engage in serious Russo-Ukraine peace talks for over a year has soured perceptions of Beijing across Europe and the broader West.
Xi's entrance into the Russia-Ukraine war could yield significant benefits for Chinese national interests, as he defines them. Beijing's latest diplomatic initiative could further entrench its position as leader of the anti-U.S. bloc, maintain Moscow's pro-Beijing tilt, and improve China's standing in the developing world.
Yet there are real risks. If Xi begins to "own" the mediation process, he could associate China even more closely with Russia, ultimately drawing Moscow and other anti-Western states into Beijing's orbit while pushing Europe further away. Xi's diplomatic gamble may further clarify distinctions between the Washington/Brussels-led democracies and a smaller, but powerful, Beijing-Moscow axis of autocracies.