Yoon and Kishida Are Fumbling South Korea-Japan Rapprochement 
With Yoon and Kishida less than ideal midwives to a new relationship, there's a real need for Washington to help move things along.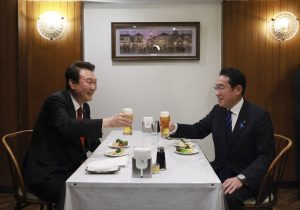 South Korean President Yoon Suk-yeol managed to briefly get the world's attention last week when he traveled to Japan for talks (and beers) with Japanese Prime Minister Kishida Fumio. Relations under the previous left-leaning President Moon Jae-in were openly combative, with Moon not visiting Japan bilaterally during his term. So this summit sent a strong signal that with conservatives in power in Seoul, both sides would now be cooperating much more closely.
That's big news. South Koreans typically have very negative views about former colonizer and neighbor Japan. Despite South Korea and Japan both being U.S. allies, some polls have even showed a majority of South Koreas saying they would support Pyongyang over Tokyo in a war between the two.
But there's been something of a national vibe shift. Scenes of North Korea's Kim Jong Un crossing the DMZ and joining Moon for hugs, talks, dinner and festivities in 2018 were met with enthusiastic optimism. There was real buzz, for example, around the prospect of South Koreans soon being able to take a train to Europe. But the Korean public has now seen that whole process play out, with Kim's summits with Donald Trump and everything else, and nothing has changed. The Kim regime is still firing off missiles and raising tensions.
Accordingly, the public became more supportive of taking a tougher line toward the North. This is not enough to push the public toward seeing Japan that much more positively, but it has created some apathy toward improving security cooperation with Japan. Now, Yoon can show some understanding of Japan's need for "counterstrike" capabilities in the face of the threat from the North, without it becoming a cudgel for the South Korean left.
China is perhaps the even more significant push factor. Attitudes toward China are at rock bottom. Much of that is due to a perception that Beijing is not treating South Korea with respect. That makes disrespect coming from Japan relatively less salient. Koreans have also been repulsed by what has happened in Hong Kong and are taking note of Beijing's threatening approach to Taiwan.
Russian President Vladimir Putin and the people of Ukraine also deserve a lot of credit for the shift* in Korean attitudes. Russia's invasion of Ukraine has Koreans thinking seriously about security, and Ukraine's heroic resistance with U.S. support has inspired new appreciation for liberal democracy and the U.S. alliance.
Koreans are still worried about the economic implications of bad relations with China, and there is still skepticism toward U.S. motives. But overall, the growing anxiety around China is making both policymakers and the public more open to rapprochement with Japan.
Still, reaching out to Japan is far from easy. Burning through considerable political capital, Seoul has agreed that Japanese companies being directly liable for wartime forced labor compensation is off the table. After reaching the limit of what it can do, Seoul now hopes Tokyo will step up. This might take the form of a new, clearer apology for the pre-1945 history, voluntary payments to forced labor victims, or some kind of economic arrangement favorable to South Korea. It could even be Japan using its leverage in Washington to push for an expanded role for South Korea in international forums, or Korea-friendly concessions related to the CHIPS and Science Act or the Inflation Reduction Act.
These expectations are not being matched the Japanese side. Tokyo is without doubt extremely concerned about China's combination of growing military muscle and "dare to struggle" approach to foreign policy under Xi Jinping. But that didn't make Japan willing to compromise over compensation claims.
Tokyo appears to have settled on a view of Seoul as untrustworthy. The thinking seems to be that if Japan makes any concessions now, the next Korean president won't keep the ball rolling, and Tokyo will be left exposed and worse off. There's also likely a belief that taking a tough approach got results and therefore conceding too much, too quickly would be a mistake.
This displays a worrying lack of strategic self-mastery in Tokyo. Before World War I, the British leadership put aside their deeply felt antipathy toward the French and Russians to focus on the rising German naval threat. In contrast to the "sharp discipline" the British displayed then, Tokyo is waiting for Seoul to do the work: a much easier — and much more dangerous — game.
Still, as long as the pressure from Beijing continues to rise, there will be increasing impetus to find a way out of the zero sum struggle over pride and humiliation the two countries are locked in. But it will be a long, fitful process.
Yoon doesn't have the power to single-handedly re-orient South Korea's approach to Japan. It would be an achievement even just to get cooperation back to where it was before the Moon administration, and then have it stay there after Yoon's term ends in 2027.
Yoon's visit is actually counterproductive in this respect. Instead of drawing the Korean public's attention to the relationship, he should've gone anywhere but Japan after the announcement on compensation. Ideally, he would have gone to Europe to be feted as a statesman and sign major export deals — even visit Ukraine. Meanwhile, Washington would be publicizing concessions on the IRA and CHIPS Act, preferably even a little at Japan's expense.
That doesn't mean Yoon's government shouldn't be explaining the rationale of why it is important to move forward with Japan. But standing next to Kishida after having made a major concession is the singularly worst place to do it.
And if Yoon had to go to Japan now, he should have eaten Korean beef at a Zainichi Korean restaurant, not Japanese omurice. Instead of photos of beer glasses, we should've seen the two men visiting a Korean Japanese school together. Kishida should be showing the Korean people that Yoon's outreach is being reciprocated. Instead, the poor optics just add to the impression that Yoon is making a one-sided concession. It makes it that much easier for the left to attach the pungent stigma of pro-Japan flunkeyism to the whole thing.
With Yoon and Kishida less than ideal midwives to a new relationship, there's a real need for Washington to help move things along. Unfortunately, the Biden administration doesn't seem to have any idea of how to do that beyond publicly praising it. This only further draws Korean public attention to it, and brings with it all the baggage of subservience to the United States.
Ironically then, whether this visit represents a new era of cooperation depends more on what happens in Beijing and Pyongyang than anywhere else. It is China's and North Korea's continued ratcheting up of a sense of shared threat that brings the two sides together — in spite of the underwhelming leadership in Seoul and Tokyo.
*Corrected spelling.