China Says India Border Stable, Contrasting With Indian View
Beijing would like India to put aside the border dispute and normalize relations.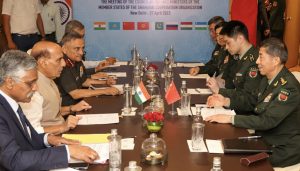 China's defense minister says conditions along the tense, high-altitude border with India are "stable overall," in sharp contrast with the far more pessimistic view from New Delhi.
The remarks from Li Shangfu came in a statement issued shortly after a meeting Thursday with his Indian counterpart Rajnath Singh in New Delhi. "China and India have far more common interests than differences," Li was quoted as saying.
"At present, conditions on the China-Indian border are stable overall," Li said. The sides should "take a long-term view, put the border issue at an appropriate place in bilateral relations, and promote the normalization of the border situation as soon as possible," he said.
In its own statement, India's Defense Ministry quoted Singh as saying China had eroded the "entire basis" of ties between the countries by violating bilateral agreements, in reference to a nearly 3-year-old standoff involving thousands of soldiers stationed along their disputed border in the Ladakh region.
The development of China-India relations "is premised on the prevalence of peace and tranquility at the borders" and all border issues need to be resolved in accordance with existing agreements and commitments, the ministry said in a statement.
The differing tone of the statements reflects India's desire to draw attention to what it says is the deployment of a large number of Chinese troops, their aggressive behavior, and attempts to unilaterally alter the border status quo between the countries.
China, for its part, has tried to downplay moves to consolidate its border presence and often portrays the frictions as part of deliberate U.S. attempts to sow discord between the two nuclear-armed Asian giants.
A clash three years ago in Ladakh killed 20 Indian soldiers and four Chinese. It turned into a long-running standoff in the rugged mountainous area, where each side has stationed tens of thousands of military personnel backed by artillery, tanks, and fighter jets.
Days before Li's visit, top Indian and Chinese army commanders held an 18th round of talks in an attempt to work out a disengagement of troops from tense areas. Such discussions have helped lay protocols to avoid clashes but have done little to nothing to resolve the larger issue.
Both India and China have withdrawn troops from some areas on the northern and southern banks of Pangong Tso, Gogra, and Galwan Valley, but continue to maintain extra troops as part of a multitier deployment.
A Line of Actual Control separates Chinese- and Indian-held territories from Ladakh in the west to India's eastern state of Arunachal Pradesh, which China claims in its entirety. As its name implies, the demarcation line divides the areas of physical control rather than territorial claims. But China and India also disagree on where the LAC lies. India accuses China of attempting to shift the line through repeated incursions.
India and China fought a bloody monthlong war over their border in 1962 and tensions have remained high in the region ever since, with the dispute at times fueling strong anti-China sentiment in India.
According to India, the de facto border is 3,488 kilometers (2,167 miles) long, although China promotes a considerably shorter figure.
In all, China claims some 90,000 square kilometers (35,000 square miles) of territory in India's northeast, including Arunachal Pradesh with its mainly Buddhist population.
In the western sector, India says China occupies 38,000 square kilometers (15,000 square miles) of its territory in the Aksai Chin Plateau, which India considers part of Ladakh, where the current face-off is happening.
Li is visiting New Delhi to attend a meeting of the defense chiefs of the Chinese and Russian-dominated Shanghai Cooperation Organization on Friday.
The group, formed originally to constrain U.S. influence in the region, consists of China, India, Pakistan, Russia, Kazakhstan, Kyrgyzstan, Tajikistan, and Uzbekistan.