Malaysian Court Refuses Former PM's Bid For 1MDB Verdict Review
The Federal Court rejected Prime Minister Najib Razak's request, with a judge describing him as "the author of his own misfortunes."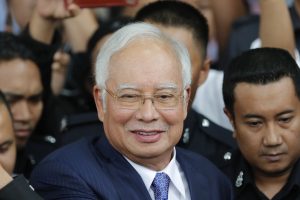 Former Malaysian Prime Minister Najib Razak will remain in prison – at least for the time being – after the country's top court on Friday dismissed his bid for a review of a corruption conviction relating to the multi-billion-dollar state fund 1MDB.
In August, Malaysia's top court upheld a 2020 graft conviction and 12-year prison sentence linked to the looting of 1MDB, stating that his appeal was "devoid of any merits." This earlier ruling had found him guilty of abuse of power, criminal breach of trust, and money laundering for illegally receiving around $10 million from SRC International, a former unit of 1MDB.
Najib's legal team subsequently appealed the ruling, arguing that he did not receive a fair trial, in particular, that his new legal team was not allowed enough time to study the case documents.
In Friday's hearing, the Federal Court's five-judge panel voted 4-1 against reviewing its decision, saying that it found "no failure of justice," Judge Vernon Ong said.
"In the final analysis, and having regard to all circumstances, we are constrained to say that the applicant was the author of his own misfortunes," Ong was reported as saying, as Najib watched on blankly.
The 1MDB scandal, which was first reported by the Wall Street Journal in 2015, was without parallel in Malaysian history. U.S. and Malaysian investigators estimated that around $4.5 billion was siphoned from 1MDB between 2009 and 2014 by high-level officials of the fund and their associates, including, allegedly, Najib. Prior to his sensational defeat by a reformist coalition in May 2018, he used all the powers at his disposal to stymie the investigations into 1MDB, including replacing Malaysia's attorney general, sacking dissenting cabinet members, and threatening independent media organizations that reported on 1MDB with lawsuits. In rejecting Najib's first appeal in December 2021, judges described his actions as a "national embarrassment."
Najib, who was in office from 2009 to 2018, would now seem to have exhausted the available avenues of legal appeal, but his defense counsel Muhammad Shafee Abdullah told reporters it was "not the end of the matter yet," adding that the presence of a dissenting judge opened up the possibility of a full review. According to The Associated Press, Justice Abdul Rahman Sebli said in his dissent that the court must be confident in its administration of justice, and "spent more than an hour explaining why he saw a miscarriage of justice in the handling of the final appeal last year."
Even failing any legal appeal, Najib has recourse to a potential political resolution in the shape of his application for a royal pardon, which, if granted, could see him released from prison. At the same time, the 69-year-old former leader Najib also faces three other trials related to graft at 1MDB and other government agencies. Last month, the High Court acquitted him of audit tampering in an additional case related to 1MDB.
This slew of ongoing cases, in addition to Najib's deep pockets, continuing political prominence, and resolve to explore every legal loophole and half-chance available to him, ensures that Malaysia's largest corruption scandal will continue to dominate the headlines for months, if not years, to come.