Strengthening the Economic Pillar of the South Korea-US Alliance
For decades, the alliance primarily centered on security, political, and people-to-people ties. Then KORUS changed the game.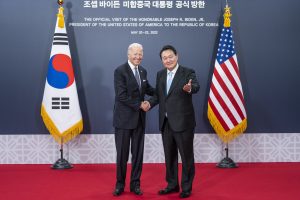 As South Korean President Yoon Suk-yeol arrives for his state visit to the United States, it's remarkable to reflect on how strong and multi-faceted the South Korea-U.S. bilateral alliance has become. Over the past 70 years, Washington and Seoul have effectively worked through difficult issues, while setting up mechanisms to address future challenges. The economic pillar of the alliance is a case in point.
Until 2007, the alliance primarily centered on security, political, and people-to-people ties, while economic matters, particularly trade, were largely contentious. The South Korean market remained largely closed to foreign competitors as Seoul imposed high tariffs, implemented Korea-unique standards, and nurtured national champions in key sectors like autos and semiconductors. Consequently, South Korea-U.S. trade negotiations were often marked by acrimony and rarely resulted in lasting success.
The tide began to shift when South Korea signed its first Free Trade Agreement (FTA) with Chile in 2003, followed by an ambitious vision for additional FTAs. By 2006, the United States topped South Korea's FTA negotiation list, with both countries, for their own reasons, ready to engage in comprehensive trade talks.
Surrounded by powerful economic neighbors, Seoul recognized that to stay competitive, it needed to reform and liberalize, including its protected agriculture market. After successfully concluding a series of FTAs, the United States sought additional agreements in Asia. South Korea's eagerness to engage and reform made it an attractive partner.
While the FTA held the potential to break important new ground in the South Korea-U.S. alliance, it also carried significant risks. It was uncertain whether Seoul had the political muscle to pull a deal off, particularly when it came to taking on its agricultural sector. Moreover, given the comprehensive scope of FTAs, it was not a given that South Korea could make the extensive legislative and regulatory adjustments to comply with the agreement's intellectual property, technical standards, transparency, and labor commitments.
On the U.S. side, opposition from labor and the auto industry cast doubt on whether the Korea-U.S. Free Trade Agreement (KORUS) could secure Congressional approval.
The risks of failure were high, but failure was not an option. A collapsed agreement would have been a massive setback to the alliance, as economic frictions would undoubtedly spill over to other areas, with both countries potentially playing the blame game. This pressure drove negotiators to find common ground on seemingly intractable differences, with certain matters elevated to the leaders of both countries for resolution.
Despite reaching an agreement in April 2007, KORUS was still not out of the woods. It underwent a tough renegotiation during 2010-2011, securing congressional approval in March 2012. Later, it faced another serious challenge when U.S. President Donald Trump threatened to withdraw from the agreement.
When it comes to the economic leg of the alliance, KORUS is just the beginning of the story. Its 10th anniversary last year was marked by robust growth in trade and investment flows, highlighting the economic and commercial benefits provided by the agreement. Since KORUS took effect, total trade between the two countries has increased by over 60 percent and Korean foreign direct investment in the United States has more than tripled.
Importantly, KORUS established a foundation for bilateral cooperation on economic security matters, including supply chain resiliency, cooperation on advanced technologies, and export controls – all topics which are expected to be a key of the Biden-Yoon summit.
First, KORUS helped to foster closer relationships between American and Korean companies, including greater supply chain connectivity. The surge of Korean investment in the United States, particularly in the auto, semiconductor, and battery industries, can trace its roots to KORUS.
Second, KORUS established numerous government committees overseeing implementation and developments in specific issue areas, including a Joint Committee at the ministerial level. These regular meetings offer a platform for discussing and coordinating on emerging issues, such as clean technologies, technical standards for advanced technologies, non-market economy practices, and supply chain connectivity.
Lastly, KORUS has produced a cadre of American and Korean government officials who now view South Korea-U.S. economic relations with the art of the possible, paving the way for expanded cooperation and fresh thinking.
For alliances to remain durable and relevant, they need to be refreshed, expanded, and reshaped to tackle new challenges. With KORUS providing the economic foundation of their alliance, the United States and Korea have a strong basis for leading and cooperating on economic security matters. Presidents Biden and Yoon have an important opportunity to step up collaboration on these consequential matters for the months and years ahead.