For Locals, India's Coal Rush Means a Black Future
For the communities most directly affected by coal mines, their day-to-day reality is far from being green.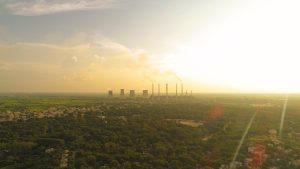 On April 3, India's Prime Minister Narendra Modi expressed his "happiness" over the highest ever coal production in his country's history. Indian coal reserves are so vast that they exceed internal demand and they can even be exported. Yet, in all international fora, Modi maintains that India is ready to cut its emissions and to become a "lead player in the global green energy market."
The contradiction between green commitments and reality on the ground couldn't be starker. For the communities most directly affected by coal mines, the high-level discussions on renewable energy are nothing more than empty promises. Their day-to-day reality is far from being green. The forests in their territories are being destroyed. Pollution is eating up their lungs. And for the future generations living here, the future looks black.
One of the areas most affected by the coal rush is Singrauli, in the northeastern state of Madhya Pradesh, also known as the "Power Capital of India." This precious territory is covered by dense forests of sal (Shorea robusta), commonly known as sakhua, and other valuable trees. The landscape is marked by hundreds of different shades of green and brown, small and big rivers, beautiful mountain caves, the sarai putu mushrooms, and bright palash (Butea monosperma) flowers. Nearby, there are a series of ecologically sensitive areas: the Sanjay Gandhi National Tiger Reserve, the Elephant Pathway, the tribal protected area of Kusmi block, and the Guru Ghasidas National Park. The biodiversity found in Singrauli and its surroundings is exceptional.
But the beautiful, precious forests of Singrauli risk disappearing, because of the black gold hidden in their womb. In 2011, then-Cabinet Minister of Environment and Forests Shri Jairam Ramesh had refused to allow coal mining in this area, recognizing the risks that mining would pose. But with the demand for coal rapidly increasing, the need to protect this area doesn't seem to be a priority anymore. On November 3, 2022, India held its biggest ever coal mine auction: Licenses were granted for 141 new coal mines, including 30 in the state of Madhya Pradesh.
For the communities in Singrauli, the new mines will worsen their already dire situation. According to a 2018 report, published by the governmental think tank Niti Aayog, Singrauli is ranked 99th out of 101 in the list of the least developed districts in India. It has been designated as one of the "aspirational districts" that require special interventions. But the economic interventions needed to lift this district out of poverty cannot be based on coal mining, as this will only lead to climate catastrophe. It will also uproot thousands of families and push them to the margins.
Most local communities here are Indigenous. Their livelihoods depend on the forests and the access to natural resources in their land – which is transferred from generation to generation and is crucial for them. Coal companies claim mines provide employment for many people, but by destroying the forests in these territories they are destroying the future of these agrarian communities. Indigenous people are left without jobs, land, and livelihood. The process for getting fair compensation is very complex, and hundreds of people have already been forced to settle in so-called rehabilitation colonies that have no basic amenities.
Moreover, mining projects are being imposed without any type of consultation with affected community stakeholders. Local communities are left in the dark, without any information about the mines being opened in their territory and any opportunity to have their say. In a context of widespread corruption and greed, their interests are being ignored and their rights are being crushed.
Some local activists – especially among the older generations who still consider the forests a sacred place – are trying to speak out against the environmental impact of coal mining, to raise awareness, and inform the younger generations. But many organizations and human rights defenders are now too afraid to speak out, because of the widespread crackdown on civil society. Several non-governmental organizations – including international ones like Greenpeace, Amnesty International, and Oxfam – have had their licenses to operate in India already revoked.
Activists protecting the environment, instead of being criminalized, should be supported and encouraged. If the Amazon forests are the lungs of the world, then Singrauli's pristine and dense sal forests – the oldest ones in Asia – are India's lungs. Sacrificing these forests in the name of national interests will not bring real development. It will lead to more profits for private companies, but it will harm everyone else: The local indigenous communities in Singrauli first, but also all those around the world who are already facing the consequences of climate change.
India's need for more energy may be considered legitimate by some. But the current average plant load factor of thermal power plants is 56.63 percent. With 43.37 percent of existing capacity remaining unused, there is no reason to deprioritize the health and wellbeing of Indian citizens by mining still more coal. Coal burning is the biggest source of air pollution in India, which causes premature death of about 1.7 million Indians every year and makes millions more severely sick.  
Clean and sustainable energy paths are the future of this planet. They are rapidly growing, becoming cheaper and more accessible. Instead of new coal mines, we need more investments to go in this direction. And we need to stop considering energy as a commodity that can be sold just to make more profits: Access to energy should be considered a right, without excluding those who can't afford it. Renewable energy production can easily be community based and led. It is crucial to advance social justice; we cannot afford a type of energy transition that replicates the same old mistakes, sacrificing the health, livelihoods and wellbeing of Indigenous and marginalized communities to protect the interests of the political and economic elites. We need an energy transition that is first and foremost just – to protect the rights of the people in Singrauli, and the rights of us all.