In Japan, an Uphill Climb for PM Kishida's 'New Capitalism'
The Kishida administration is pursuing a more inclusive "stakeholder capitalism," but aside from its grand vision it doesn't have many details to offer.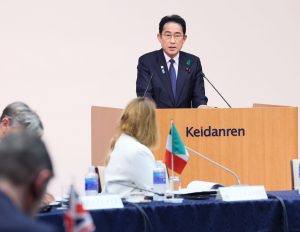 Prime Minister Kishida Fumio's new capitalism seeks to supplant the long-standing neoliberal policies that have dominated Japan since the 1980s, including the country's more recent shift to "shareholder capitalism." Instead, the Kishida administration is pursuing a more inclusive  "stakeholder capitalism" and aims to stimulate a "virtuous cycle of growth and distribution" to increase wages nationwide and revitalize a slowly eroding middle class.
Today, the Kishida administration faces significant economic challenges amid an increasingly complex regional security and geopolitical environment. Japan's most pressing demographic and societal challenges, including a rapidly aging population, declining birth rate, and workplace gender inequality, have also put added pressure on the country's economy and welfare state. While Japan weathered the COVID-19 pandemic better than most nations, its economy shrank by 4.5 percent in 2020, and the pandemic revealed strategic vulnerabilities in the country's supply chains, particularly for oil and natural gas, that have been further exacerbated by Russia's 2022 invasion of Ukraine.
Given this context, what specific issues does Kishida's new capitalism seek to address, and what are the main challenges that the administration must overcome to implement effective policy?
Kishida's new capitalism is divided into separate growth and distribution strategies intended to boost Japan's economy and equally distribute the returns from that growth within Japanese society, hence a "virtuous cycle of growth and distribution." To help realize his vision, the Japanese prime minister assembled a Council of the New Form of Capitalism Realization consisting of cabinet ministers and 15 private-sector experts, seven of whom are women. In June 2022, the council published the 34-page Grand Design and Action Plan, containing a wide range of policy recommendations addressing everything from startups to the agricultural sector.
Although the idea of new capitalism is expansive and ambitious, it also lacks many of the details required to implement effective policy. For example, the Grand Design will promote innovation by "establishing start-ups" and creating "an environment for existing large companies to engage in open innovation" with the aim of increasing the number of startups tenfold. However, many of the finer details regarding how Japan will achieve these lofty ambitions still need fleshing out. While Kishida has the right intentions, his administration must do more to articulate new capitalism's objectives with actionable measures if he intends to mobilize support for the concept.
New Capitalism on Wages, Labor, and Income Inequality
Japan's income inequality has worsened in recent years, exacerbated by corporate deregulation, lack of structural reform, inadequate wage increases, and the COVID-19 pandemic. In 2018, out of 37 OECD member states, Japan ranked 27th in income equality. Kishida's new capitalism acknowledges the pay gaps between men and women and regular/non-regular workers – a step that previous administrations have also taken. Now it will be crucial for his administration to implement policies that effectively address these inequalities.
During his LDP presidential campaign, Kishida introduced the "Reiwa Era Income Doubling Plan" as a measure to boost wages and strengthen Japan's middle class, borrowing a page from former Prime Minister Ikeda Hayato's "Income Doubling Plan." Yet, little progress has been made regarding implementation.
Kishida also has the serious challenge of overcoming the influence of Keidanren, Japan's largest business organization, and stronger factions like the Seiwa Seisaku Kenkyukai, formerly led by the late Abe Shinzo. During his first press conference as prime minister, Kishida proposed increasing the tax on capital gains and dividends as a means of addressing the issue of growing income inequality in Japan. This move received significant backlash from both his party and the private sector, resulting in Kishida retracting his statement a week later. In a subsequent press conference, Kishida clarified that he currently has no intention of amending the financial income tax.
Still, his economic blueprint continues to face pushback. Following the publication of the Grand Design in June 2022, Tokyo Shimbun called his redistribution strategy a "huge step in the wrong direction," while Yomiuri Shimbun concluded that the design was confusing the direction of Kishida's original policy. Some economists have even described his new capitalism as a form of socialism.
Nonetheless, the fact remains that the Japanese leadership, including the Koizumi and Abe administrations, has ultimately failed to increase worker's wages for the last three decades. That in turn has had drastic macro-level consequences for consumer spending, income equality, business competitiveness, and even population growth. When Abe left office in 2020, monthly wages had only increased by 1,100 yen in his eight years in office, even after implementing tax breaks for companies that increased workers' wages in 2018.
According to Richard Katz, between 1995-2017, Japan's productivity grew by 30 percent, matching 11 other developed countries, yet worker earnings fell by 1 percent. Katz argued that this can be attributed to the weakening bargaining power and declining number of labor unions, as well as the increase in non-regular workers over the years.
Contrarily, Japanese corporations have witnessed consistent growth in the 21st century. In his study, Shigeki Morinobu found that between 2000 and 2020, "the combined ordinary profits of Japan's large corporations rose 91.1 percent (up 17.7 trillion yen)." Within that same span, he found that cash and deposits rose by 85.1 percent, dividends by 483.4 percent, and savings by 175.2 percent, increasing by 154.1 trillion yen. Meanwhile, corporate personnel expenses decreased by 0.4 percent and capital investment fell by 5.3 percent.
In sum, the Kishida administration is keenly aware that Japanese corporations have not played their part, instead engaging in cash hoarding. That has contributed to wage stagnation, the rise of non-regular workers, and the disparity in income many Japanese female workers face. As Kishida has alluded to in the past, the trickle-down effect promised by neoliberalism hasn't benefited Japanese workers and has, in fact, worsened income inequality in the country.
New Capitalism on Digitalization and Innovation
Kishida also faces the daunting task of addressing Japan's deficiencies in the digital realm, which were amplified by the COVID-19 pandemic as school and work shifted online. In his "Vision for a Digital Garden City Nation," Kishida outlines four key initiatives aimed at achieving rural-urban digital integration and transformation. Key pillars include building up Japan's digital infrastructure to support hard-to-reach areas and addressing Japan's talent deficit in digital and technological skills.
According to the IMD's 2022 Competitiveness Rankings, Japan ranks dead last in businesses' ability to use big data and analytics and 62nd out of 63 countries in talent with digital skills. New capitalism seeks to address this by establishing a "program to annually train 450,000 personnel" in digital skills and vocational training with the aim of reaching 3.3 million people in total by 2026. Kishida's Digital Garden City concept ultimately strives to improve Japan's innovative capabilities and startup scene to drive Japanese economic growth. This is crucial for Japan as it still lags far behind in the number of innovative firms relative to countries like the United States. According to a 2021 report by Yosuke Yasui, only 16 percent of Japan's total firms engage in product innovations, compared to 30 percent of U.S. firms.
Part of the reason Japan lacks innovative firms is because of their preference for quality-enhancing R&D investment, which improves the quality of existing products and services, over creative R&D investment, which aims to bring forth new products and services. Compared to the United States, the percentage of quality-enhancing R&D projects is far greater in Japan, accounting for roughly 65 percent of all R&D. By contrast, less than 10 percent of Japanese R&D goes toward creative R&D investment. In the United States, around 25 percent of all R&D projects involve creative investment, with under 50 percent directed toward quality-enhancing R&D.
Though the Kishida administration offers policy recommendations regarding the digitalization of Japan, they face the challenge of also modernizing Japan's top-down conservative corporate culture, compounded by Japan's iron triangle (the LDP, keiretsu, and bureaucracy), which is known to be risk-averse. These dynamics have ultimately prevented Japan from realizing its full potential in technological mobility, innovative capability, and the creation of a truly cutting-edge startup scene.
New Capitalism's Challenges Moving Forward
To realize his new capitalism, Kishida must overcome vast domestic barriers and influences. One of these hurdles is the legacy and lingering influence of former Prime Minister Abe. Kishida has the option of maintaining the status quo, pushing forward Abenomics' three arrows: aggressive monetary policy, fiscal consolidation, and structural reform. However, if the prime minister wishes to implement new capitalism, it will require some divergence from Abe's policies.
Yet that may prove politically difficult. While currently undergoing a leadership reshuffle following the death of Abe, Seiwa Seisaku Kenkyukai is also the largest faction in the LDP with 97 members and often bears substantial influence on the party's decision-making relative to Kishida's faction, Kochikai, which currently holds around 40 members and ranks fourth in size.
The Kishida administration also has the problem of placating Japan's corporate sector, keiretsu companies, and the Keidanren. As previously discussed, Kishida's first press conference and following retraction of his statement regarding the implementation of a capital gains tax was a telltale sign of the challenges ahead. While working to appease and garner support from a wide range of interest groups, the prime minister cannot lose sight of the original goals outlined in the Grand Design.
The Kishida administration's pursuit of economic security within the context of Japan's regional security also brings up many questions. As Japan faces huge economic decisions that could ultimately impact national security, such as its involvement in the Sakhalin-1 oil and gas project with Russia, it is up to the Kishida administration to find a middle ground that balances both Japan's economic interests and its national security. Moreover, the Kishida administration must flesh out the details for some of the lesser-emphasized aspects of the new capitalism concept, such as his Reiwa Era Income-Doubling Plan and Japan's efforts to combat climate change.