Sri Lankan Ports Need Investment and China Steps In
Several Chinese delegations have traveled to Sri Lanka in recent months and Chinese investments could spike, prompting alarmist reporting in the Indian media.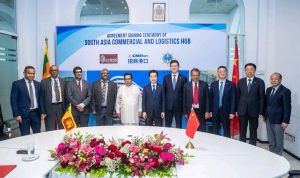 Despite innumerable warnings from the U.S. and its allies that China is the root of Sri Lanka's economic woes, and that Chinese infrastructure development projects create security dilemmas for India, Colombo went ahead recently to sign an agreement with a China Merchants Port Holdings (CMPH)-led consortium to build a $392 million South Asia Commercial and Logistics Hub (SACL) at the Colombo port.
This project is said to be South Asia's largest port-related logistics complex. A press release to mark the agreement said that the project "aligns with Sri Lanka's national development strategy to transform the country into a major logistics center, identified as a key sector and a driving force for economic development in the National Policy Framework (NPF) 2019."
Sri Lanka Ports Authority (SLPA) and private sector firm Access Engineering each hold 15 percent stakes in the project as well. The logistics hub is an eight-story, 5 million square foot facility with a storage capacity of 530,000 cubic meters (CBM). The construction of the facility is likely to commence in the second half of this year and be completed by the end of 2025.
The SACL is situated next to the Port City, also funded by the Chinese and the CBD Business Centre. It will also be linked to the Bandaranaike International Airport by the Port Access Elevated Highway.
"The five million square foot complex will offer the full gamut of logistics-related facilities and services such as Less than Container Load (LCL), Multi-Country Consolidation (MCC), Container Freight Station (CFS), General warehousing and various other value-added services," the press release said.
The establishment of the center will improve the Port's logistic and warehousing facilities and services, thereby boosting its competitiveness and reinforcing its position as a hub.
Sri Lanka aspires to be a regional logistics hub and over the past few decades, successive governments and private sector partners have poured billions of dollars into its ports. However, despite Sri Lanka's lofty ambitions, its ports lag behind many countries and significant investments are needed to make it competitive.
In April, the World Bank released its Logistics Performance Index (LPI) and Sri Lanka scored an overall LPI score of 2.8. India had a score of 3.4. Sri Lanka also had a Logistics competence and quality score of 2.7 and an Infrastructure score of 2.4. Sri Lankan scores were similar to Rwanda and Solomon Islands and even Namibia has a better overall score.
Sri Lanka's Sunday Times noted that the country's port facilities are "nowhere near the top 10 high-caliber performers in world trade logistics services, although a parade of national leaders is continuing to peddle the myth of a global or even regional logistics hub, cargo hub, shipping hub and the like."
In the World Bank's Container Terminal Performance Index-2021, Colombo was placed 24th, higher than Jawaharlal Nehru Port (54) and Chennai (79) in India.
In the past few decades, a port's commercial success stems from a productivity advantage in conventional cargo-handling services, the value-added services it offers, or a blend of both.
Thus, the most productive ports are the ones that can handle large volumes of cargo and/or significantly reduce unit costs through efficient management and customers view value-added logistics services as an integral part of the supply chain. Given this trend, it is also obvious that in the future only the ports that have advantages in productivity and value-added service will prosper, while the ports that cannot will fall by the wayside. Therefore, Sri Lanka needs significant investments in its ports to ensure that they remain competitive and emerge as logistics hubs.
However, commercial viability is not the only reality in which Sri Lanka operates. Sri Lankan geopolitical analyst Asanga Abeyagoonasekera, who is a senior fellow at The Millennium Project, told The Diplomat that while the Chinese investments make sense in a commercial sense, they often draw the ire of the U.S. and India because Sri Lanka does not communicate its intent.
Indian journalists obviously see the SLCL as an example of China tightening its grip on Sri Lanka. As noted in a previous post, such reporting feeds into the narrative that China can use its port infrastructure in Sri Lanka and other South Asian nations for military use and that this poses a grave national security threat to India.
Sri Lanka's strategy for addressing Indian concerns has involved giving Indian companies large-scale projects to counterbalance Chinese-funded ones. However, the Indian projects in Sri Lanka, almost all involving the Adani Group, are not adequate to meet Sri Lanka's infrastructure investment needs.
The World Bank and the IMF have been moving away from infrastructure development for decades. Therefore, despite what their ideological beliefs are, Sri Lankan leaders ultimately end up turning to China for investments.
China was closed for almost three years due to their zero-covid policy and since lifting restrictions, Chinese companies, state-affiliated and private, have been traveling across the world for new business opportunities.
In recent months several such delegations have arrived in Sri Lanka and Chinese investments will probably spike leading to mass hysteria in Indian media. It is up to Sri Lanka to ensure that India and the U.S. understand that these investments are indeed commercial in nature.