Modi Tests Bipartisan Support in Washington for India-US Ties
The end of shared values and a shift to a more transactional relationship have several implications for both countries.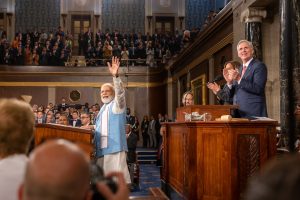 India's Prime Minister Narendra Modi has been to Washington many times before, but never with as much pomp as this week.
Modi was accorded a "state visit" – Washington lingo for the highest-ranking visit by a foreign dignitary, extended only to a handful of world leaders and the closest of U.S. allies each year. That meant receiving a 21-gun salute, replete with marching bands and honor guards, and a gala state dinner at the White House afterwards.
But with such hefty honors comes heightened scrutiny.
For a good two decades, India has been cited as a happy beneficiary of bipartisan support in Washington, despite rocky Cold War relations. Democrats and Republicans of all kinds have extolled India's credentials as a liberal democracy and used those shared values as justification to pursue a century-defining partnership.
That was undeniably tested this week. In the lead-up to Modi's visit, over 70 Democrat lawmakers signed a letter to U.S. President Joe Biden, asking him to question Modi over what they said were "independent, credible reports" on India's shrinking political space and rising religious intolerance. "We do not endorse any particular Indian leader or political party," the letter added, "that is the decision of the people of India – but we do stand in support of the important principles that should be a core part of American foreign policy."
Meanwhile, a handful of progressive Democrats publicly protested the decision to invite Modi to the U.S. Congress and said that they will boycott his speech. A New York Times reporter later said that "there were empty seats in the House as lawmakers gathered for Modi's speech, indicating that far more lawmakers … decided not to attend."
Even former President Barack Obama weighed in on the side of the progressives. In an exclusive interview to CNN, released just as Modi was arriving in Washington, Obama said, "If the president meets with Prime Minister Modi, then the protection of the Muslim minority in a majority-Hindu India, that's something worth mentioning."
Other events during Modi's visit did not serve to assuage these concerns directly. State visits customarily include a press conference featuring the U.S. president and his guest. That posed a problem for interlocutors on both sides, given that Modi has rarely agreed to unscripted media appearances.
Ultimately, negotiations between U.S. and Indian officials resulted in a more limited press conference than is ordinarily held during a state visit. But that only fanned more flames in the American press: almost all reports about the press conference then focused on Modi's reluctance to answer questions from the media, the imprisonment of various journalists in India, and India's falling stock on global press freedom indices.
The consequent dissonance was palpable in Washington this week. Although Modi referred repeatedly to "democracy" and shared values in his public addresses, most analysts who favored closer ties called on Biden to overlook differences over rights and values in favor of transactional interests. Obama himself took that view: even as he called on Biden to bring up minority rights in India, Obama said, "But you have to do business with them because they're important for national security reasons [and] a range of economic interests."
To most long-time watchers of India-U.S. ties, none of this would sound surprising. But in many ways, each of these developments reflects a stark paradigm shift in the bilateral relationship – signaling the end of an era of bipartisan support in Washington based on shared values.
That sentiment does seem to resonate with the broader public as well. Although India as a nation still enjoys popular support in the U.S., Americans increasingly see Modi as a controversial figure.
This March, Pew conducted a survey to measure how Americans view India. While over half of the total respondents expressed a favorable opinion of India, the jury was divided on Modi. About 40 percent said that they had never heard of the Indian prime minister. But of those who had heard of him, 37 percent expressed little or no confidence in his global leadership and only 21 percent showed approval.
The end of shared values, the dilution of bipartisan consensus in Washington, and a shift to a more transactional relationship have several implications for both India and the U.S. To most critics in the U.S., the relationship must now demonstrate far greater gains than lucrative defense exports to India. For Biden, that means getting India to wean itself off coal, reduce trade barriers, and push back against China and Russia in more meaningful ways.
The stakes have now gone up, and to that extent, Modi might have just ushered in a new era in India-U.S. ties.