New Zealand's Deft Realpolitik on Display
Newly strengthened military ties with Fiji and Japan contrast with the amicable meeting between Prime Minister Hipkins and Chinese leader Xi Jinping.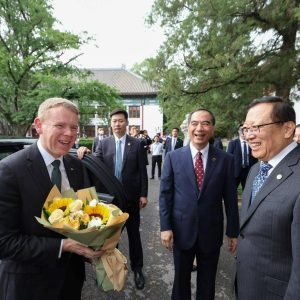 New Zealand displayed all the successful components of realpolitik in June, as the nation strengthened military ties with Fiji and Japan, whilst also managing to have a meeting of "great significance" with Chinese President Xi Jinping. 
The former, which involved an agreement between New Zealand Defense Minister Andrew Little, and Fijian Minister for Home Affairs and Immigration Pio Tikoduadua, is significant for the Pacific region. The latter, which saw New Zealand Prime Minister Chris Hipkins hosted by the Chinese leader in Beijing, made Hipkins the first leader from one of the "Five Eyes" nations to visit the Chinese capital in an official capacity since the beginning of the pandemic. 
Both diplomatic meetings come at a time of tension in the region, with the major powers – especially the United States and Australia – applying significant diplomatic pressure to ward off Chinese advances. 
Last year, Solomon Islands signed a security pact with China. The repercussions included outbreaks of violence in different provinces, and a diplomatic recalibration from the United States and Australia that the was reminiscent of the "Domino effect" worries of the Cold War. 
Despite Pacific countries declining to sign up to a sweeping regional economic and security deal that China proposed, the region has seen the United States open new diplomatic missions in Solomon Islands and Tonga and negotiate a security deal in PNG, whilst Australia has already signed one with Vanuatu and is negotiating a similar deal with  PNG – albeit both have been summarily delayed. 
However, in Fiji, it seems that a move away from Chinese partnerships is more likely in the long run. The Fijian prime minister, Sitiveni Rabuka, has stated that he is reviewing a police exchange agreement with China – signed by the Fijian military dictatorship in 2011 – which saw Chinese officers deployed to Fiji whilst simultaneously seeing members of the Fijian police force being trained in China. 
Since being elected six months ago, Rabuka's coalition has shown skepticism around the country's close ties with Beijing, telling media in January that he saw "no need" for the agreement to continue, though at the time, no firm decision had been taken. 
In this context, the signing of a Status of Forces Agreement (SOFA) between New Zealand and Fiji is a step that seems beneficial for both parties. 
"This agreement reflects the value New Zealand places on our relationship with Fiji and is important for our militaries to work together more effectively, including during our frequent exercises, and humanitarian assistance and disaster response cooperation," Andrew Little said in a statement after the signing. 
The media release also noted that a statement of intent was signed, outlining the priorities for defense cooperation between the two nations. These priorities include training, maritime security, and disaster and humanitarian response coordination. 
Rabuka predicted the signing of the agreement when he spoke to reporters in Wellington during a diplomatic visit in early June.
"The agreement will allow defense officials to undertake engagement in different areas including capacity building and upskilling and exposure to new technologies interoperability and technical support among other," he said at the time. 
It comes after the two nations signed a partnership statement last year, which will see a closer relationship in areas such as security, protecting shared interests, and economic resilience.
Reuters reported that Rabuka was calm on the militarization of the region, saying it was only a worry if diplomacy failed. 
"I am sure we can continue our neighborly cooperation and keep away discussions of other military interests in the region," he said.
For New Zealand, there is a sense that they are managing to keep relationships with everyone in the region in check. The signing of the SOFA with Fiji may be seen in international circles as a small diplomatic chess move, but they have a vision of the whole board. 
In early June, Andrew Little was in Singapore to sign a military agreement with Japan, which comes in the wake of the Asian power increasing its defense budget in order to mediate threats from China and North Korea. 
Despite this, Xi seemingly had no qualms in welcoming Hipkins. 
There would have been concerns that the trip could be derailed when it was revealed in The Australian that New Zealand's foreign minister, Nanaia Mahuta, had reportedly received an "epic haranguing" from her Chinese counterpart, Qin Gang, in Beijing in March. Geoffrey Miller noted that that the report wasn't denied, with Mahuta confirming the meeting had been robust in nature. 
Nonetheless, Hipkins left Beijing with the Chinese government stating that New Zealand was the "'frontrunner' in China's relations with developed countries." Chinese media, including the Global Times said Xi "attached great importance to the relationship between China and New Zealand." 
Perhaps this was because, in a perfect example of realpolitik, Hipkins declined to follow the example of U.S. President Joe Biden and label Xi a "dictator." Nor did he use the bombastic rhetoric of former Australian Defense Minister Peter Dutton, which had a "reds under the bed" vibe and negatively impacted his Liberal party's relationship with both Chinese-Australians as well as the Chinese government as a whole.
There is an argument that New Zealand may be going too far to appease a major power with a questionable human rights record. However, by keeping its relationship with China open, whilst simultaneously displaying a willingness to operate under the ANZUS banner in the Pacific, New Zealand is better placed diplomatically to maintain peace and strong relationships than many other nations. For how long this will last, with a Chinese government that isn't used to seeing partners operate against its wishes, remains to be seen.