US and China Hold Top-Level Talks, But Their Rivalry Remains Unchecked
U.S. Secretary of State Antony Blinken set low goals for his visit to Beijing this week, and he met them.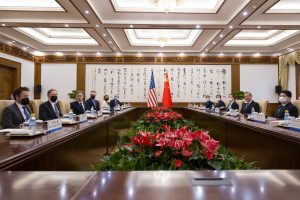 The United States and China may be back to talking at a high level, but their battle for global power and influence remains unchecked and mutual suspicion still runs deep.
U.S. Secretary of State Antony Blinken set low goals for his visit to Beijing this week, and he met them. About the most the rivals can hope for these days is to stop things getting much worse.
Blinken pointed to difficult days ahead, while China's Foreign Ministry warned the relationship was in a downward spiral.
"It was clear coming in that the relationship was at a point of instability, and both sides recognized the need to work to stabilize it," Blinken said of the reason for his trip. "And specifically, we believe that it's important to establish better lines of communication, open channels of communication, both to address misperceptions, miscalculations and to ensure that that competition doesn't veer into conflict."
The two-day visit to the Chinese capital helped restore top-level ties, but China rebuffed a U.S. request to resume military-to-military contacts. Neither government appears convinced of the other's honesty.
While the two countries say they're not enemies intent on harming each other, they're not pretending to be friends.
After meeting with Chinese President Xi Jinping on Monday, Blinken acknowledged entrenched differences. "We have no illusions about the challenges of managing this relationship. There are many issues on which we profoundly, even vehemently, disagree," he said.
Xi sounded a similar note, but suggested that the rivalry could be overcome.
"The competition among major countries is not in line with the trend of the times and cannot solve the problems of the United States itself and the challenges facing the world," he told Blinken. "China respects the interests of the United States and will not challenge or supplant the United States. Similarly, the United States should also respect China and not harm its legitimate rights and interests."
Danny Russel, the top U.S. diplomat for Asia during the Obama administration who is currently vice president of the Asia Society Policy Institute in New York, said these so-called "negative assurances" – that China respects the U.S. and is not looking to displace the United States. and that the U.S. is not trying to contain or hinder China – are important to prevent a collapse in ties.
"Both sides clearly used the visit to help stabilize the relationship, which has been lurching toward dangerously intense confrontation," he said. And, although both the U.S. and China mentioned specific disagreements, especially about Taiwan, Russel said that "the public statements by the two sides were notably positive, particularly by recent standards."
But Washington and Beijing remain deeply suspicious of each other's actions and intentions.
From the U.S. perspective, China's rise has challenged its global position.
Washington is racing to repair and shore up its relationships in regions where China has made inroads, particularly Africa and the Indo-Pacific, where the U.S. has opened or plans to open at least five new embassies this year.
Behind the scenes, the United States believes China has ulterior and perhaps nefarious motives.
An internal U.S. State Department document prepared earlier this year that focuses on China's role at the United Nations and other international organizations said Beijing "believes that the People's Republic of China must dominate and shape international institutions, standards and values in order to advance both its domestic and global agenda."
"It views the established rules and norms in the U.N. system and other international organizations as privileging Westerns countries, supporting liberal democratic principles, and posing a threat to its monopoly on domestic political power and assertive global ambitions," said the document, which is marked "SBU," which means "sensitive but unclassified" and was obtained by The Associated Press.
The document accuses China of having "undertaken a systematic campaign to subvert existing principles and standards, promote authoritarian ideology and policy (and) reprioritize economic development over human rights and democratic governance."
In addition, it says China is working "to undermine or reshape international law and standards, institutions, and values to legitimize its own development and governance models, including related to human rights (and) using its economic and political influence to compromise institutions' transparency, effectiveness, independence and alignment with foundational norms and values."
From the Chinese perspective, the United States is clinging to fading glory as the world's lone superpower, and seeking to sabotage China's development and growing international stature by sowing mistrust about Beijing's intentions.
China's top diplomat Wang Yi demanded on Monday that the U.S. stop "hyping the 'China threat theory'" and "urged the United States not to project on China the template that a strong country must seek hegemony."
He also said China should not be judged "in the vein of traditional Western powers," concluding that a change of perspective "is the key on whether the U.S. policy towards China can truly return to objectivity and rationality."
The rivals are now trying to negotiate more visits: Chinese Foreign Minister Qin Gang agreed in principle to an invitation to visit Washington and U.S. Treasury Secretary Janet Yellen plans to visit China later this summer, while there are also discussions about a new meeting between Xi and President Joe Biden.
Xi and Biden had their first in-person meeting on the sidelines of the G-20 Summit in Bali, Indonesia, last November, and every interaction since has referenced the need to push forward the "common understandings" reached between Biden and Xi, particularly the importance of stabilizing the relationship. That was the first point of agreement between Blinken and Qin after their meeting on Sunday.
Blinken and Qin also agreed to continue high-level China-U.S. interactions, like Qin's potential return visit to Washington, where he served as China's ambassador until late 2022. They also pledged to "keep moving forward consultations on the guiding principles of China-U.S. relations" and to continue meetings of a joint working group designed to tackle specific issues.
In other words, the main takeaway from Blinken's trip is a commitment to keep talking. But it's not clear if China and the United States have found any issue of substance they can negotiate about. More talks could help with short-term easing of tensions, but it's unlikely to change the fact of a global rivalry.