A Weak Putin Is India's Worst Nightmare
It would force Indian dependence on the United States for diplomatic and military support, which New Delhi would like to avoid.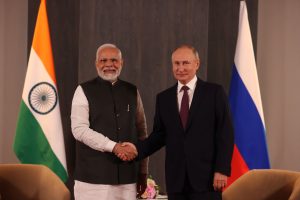 In the wake of last month's attempted coup against Russian President Vladimir Putin, Indian diplomacy toiled in a frenzy.
Shortly after leaving the United States, India's Prime Minister Narendra Modi rang up Putin to brief him on the visit to Washington and to hear from the Russian leader about the aftermath of the revolt. Separately, India's National Security Advisor Ajit Doval spoke to his Russian counterpart, Nikolai Patrushev — the secretary of the Kremlin's Security Council.
To be sure, in its relationship with Russia, India's anxieties over the impact of the Ukraine war predate the botched coup. The war has hampered supplies of spare parts to India's military and delayed the shipment of prized equipment, including the much-vaunted S-400 Triumf air defense system. Sanctions on Moscow have also stymied payments for various purposes, especially in the defense sector.
But a potentially weakened Putin is India's worst foreign policy nightmare for much bigger reasons.
The United States has a tendency to see India-Russia ties as a military partnership of inconvenience — an unfortunate compulsion foisted on New Delhi, owing to India's historical dependence on Russia for defense supplies. That was part of the rationale in Washington for overlooking India's continued friendship with Russia despite the Ukraine invasion.
Yet, in fact, defense seems to be turning into the weak link in the relationship. Even before the war in Ukraine, India had already been trying to pivot away from its dependence on Moscow, courting other partners such as France and Israel.
But in the aftermath of the Ukraine invasion, other economic sectors began to fill in. Last year, Russia became one of India's five largest trade partners for the first time ever, crossing $38 billion in bilateral trade. Three years before the war, the two countries had set themselves a target of $30 billion only to be achieved by 2025. But driven by an extraordinary surge in commodities trade and Russia's troubles with Europe, that goal was achieved well ahead of its time.
Late last month, India's External Affairs Minister Subrahmanyam Jaishankar argued as much when he bemoaned the rather myopic lens through which India's ties with Russia are viewed. "Sometimes, this relationship is dumbed down to things like, oh, we are dependent on them for arms," Jaishankar said. "I think it's far more complex than that. There is a geopolitical logic for what we are doing, what we have been doing with Russia."
That geopolitical logic has only gotten stronger in recent times. Russia is increasingly a hedge against dependence on the United States; a good relationship with Moscow enables New Delhi to pursue its goal of strategic autonomy while exploring stronger ties with Washington. Russia is also seen as a possible insurance policy against China, given Putin's very personal ties to China's President Xi Jinping.
A weak Putin and an unstable Russia could undercut these very crucial foreign policy objectives and force India to become more dependent on the U.S. for both diplomatic and military support. That is a scenario that New Delhi wants to avoid at all costs, given several possible risks from its viewpoint.
Perhaps the most important of those risks is the fact that U.S. geopolitical rivalries in Europe and Asia are heating up rapidly. India might have managed to beat back against pressure to align with the U.S. on Ukraine, but the Ukraine war is only the first act of a long play. Tensions are still rising around Taiwan and the South China Sea. Nuclear provocation looms large over the Korean Peninsula and the rest of East Asia. The Baltic states still sit uneasily, wondering whether Ukraine was merely a prelude to a much broader Russian strategy of imperialism.
Any and all of these geopolitical flashpoints may heat up over the next several months and force the United States to ask for support in various ways from India. Those demands may only become more vociferous, given that several important stakeholders in Washington asked difficult questions during Modi's visit last month.
The Ukraine war was already driving concerns in New Delhi over Russia's viability as a long-term hedge against the U.S. and China. India was worried over whether the war would compromise Russia's military strength and influence, and whether it would force Putin to become more dependent on China for basic economic existence. That was at least part of the impetus driving India's effort to strengthen trade with Russia: New Delhi was keen to prevent Moscow from falling prey to Beijing. But challenges to Putin's authority during the war would only make those problems much worse.