Start With Steel: An Opportunity for China-US Climate Cooperation
The U.S. and China might have a real, once-in-a-generation opportunity to cooperate on decarbonizing one of the world's most polluting industries.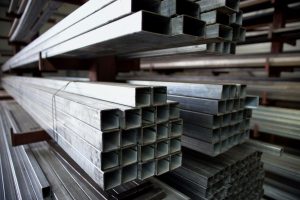 To achieve its goal of "tackling the climate crisis at home and abroad," the United States will need to decarbonize steelmaking, one of the most carbon-intensive industries that alone accounted for 8 percent of total global emissions in 2022. 
To do so, it will need to work with China. 
The reason is simple: China makes more than half of the world's steel. More importantly, about 78 percent of steel furnaces in China and 98 percent in the United States will reach the end of their operating life and require reinvestment by 2030. This represents a real, and rapidly closing, window of opportunity to decarbonize the industry for years to come. 
The U.S. has proposed tariffs, similar to the European Union's Carbon Border Adjustment Mechanism (CBAM), as a means to curb emissions in steelmaking. Tariffs alone, however, will not be enough as China exports a mere 2.1 percent of its steel output to the United States. 
Active collaboration in research and development will be needed. While tense bilateral relations seem to make this difficult, a host of unique technological, political, and policy characteristics of the steel industry can bring China-U.S. cooperation within reach.
First, there are encouraging prospects for electric arc furnaces (EAFs) and carbon capture, utilization, and storage (CCUS), two main technological pathways for steel decarbonization. The Chinese government has instructed the steelmaking industry to increase its share of renewable-energy-powered EAFs from the current 10.6 percent to 15 percent by 2025 and 20 percent by 2030. The United States, whose steel plants are about 70 percent EAFs, is well-positioned to help China make such a transition. 
Similarly, China is endowed with significant carbon storage capacity in the range of 1.21 to 4.13 trillion tons. As such, CCUS has consistently been highlighted as an area of focus in bilateral climate talks. Initiatives such as the U.S.-China Clean Energy Research Center (CERC) and the U.S.-China Energy Cooperation Program's International Forum on CCUS, which is entering its seventh year, have already laid out the organizational framework needed for a ramp-up in cooperation in the sector.
Second, the politics of cooperating on steel decarbonization is relatively uncontroversial. Unlike contentious technologies that have been at the center of most trade and intellectual property disputes between the United States and China, steelmaking is not particularly high-tech; greening the industry will not require the kind of sensitive technological transfer that draws the ire of both sides. 
A 2022 Science study about U.S. decoupling from China on low-carbon technologies identified green steel, along with CCUS, as having the lowest economic and national security risks. These technologies, therefore, emerge as realistic candidates for bilateral cooperation. Industries with complex and expansive supply chains, such as solar photovoltaics and batteries, are in contrast much more risk-prone and politically delicate.
Third, government and industry stakeholders in both countries have expressed a desire to decarbonize, which will likely buttress cooperation efforts. The U.S. Department of Energy's Industrial Decarbonization Roadmap identifies steelmaking as a major area of focus, while China's State Council set a goal for the industry to reach peak emissions before 2030. In China, some of the industry's biggest players including Baowu steel group and Angang steel group have pledged to peak emissions as early as 2024, well ahead of the government-mandated schedule. 
American manufacturers, who have repeatedly lobbied the U.S. government to allow the import of competitively priced steel, similarly have a stake in China's steel decarbonization. The rationale is straight-forward: if Chinese steel producers had lower carbon footprints, they would be less susceptible to emissions-based tariffs and restrictions, thereby creating a larger and cheaper steel supply for American manufacturers. 
Even with these favorable technological, political, and policy tailwinds, the potential of China-U.S. cooperation in steel decarbonization remains promising but untapped. A slow but steady thaw in bilateral relations might help turn it into reality. U.S. Secretary of State Antony Blinken's recent visit was generally well-received, while Special Climate Convoy John Kerry will resume high-level dialogue with his Chinese counterpart Xie Zhenhua on a visit to China from July 16-19.
If this momentum holds, the United States and China might have a real, once-in-a-generation opportunity to cooperate on decarbonizing one of the world's most polluting industries. With a potential change in U.S. administrations in the 2024 elections and equipment retirement looming, however, time is of the essence. Policymakers in both countries will need to act swiftly when the opportunity arises.