China's Educational Soft Power Is Seeing Results in Indonesia
Generous government scholarships have generated positive impressions of China – and even an impulse to defend its policies in the face of Western criticism.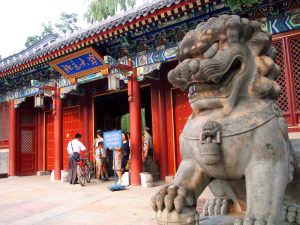 "Seek knowledge even unto China," states a famous saying (hadith) attributed to the prophet of Islam. While most mainstream Islamic scholarship views this hadith as inauthentic, it remains popular across the Muslim world, including in Indonesia. Muslim children memorize it in madrassas. And, despite the view that the hadith was not meant to be taken literally – it is often taken to mean "seek knowledge even if it's in faraway places" – the specific mention of China has taken on diplomatic significance in contemporary Indonesia and China, especially given the latter's attempts to exercise influence over the former's Muslim communities.
China's Foreign Ministry's spokesperson has cited the hadith in a tweet to explain why applications to universities in China are "in full swing." Chinese media quote the hadith when reporting on the increasing number of Indonesian students pursuing education in China. A Chinese professor of international relations even referred to the hadith in discussions about  the needed global shift of wealth and power from the West to China, boldly stating that "the West is in relative decline compared to its previous glory, while China enjoys stability and development." Apart from being the "pillar of world economic growth after the 2008 global financial crisis," the professor argued, "China has proposed the Belt and Road Initiative (BRI) and the concept of community of shared future for mankind."
Indonesia is a major beneficiary of the BRI and, being the world's most populous Muslim country, is a strategic target of influence aimed at shaping Muslims' view of China in general, and the contentious question of Xinjiang in particular. This is where scholarships to study in China, partly framed for Indonesian Muslims using the above hadith, comes into play and have seen some significant results.
Education as "Soft Power"
According to the available data, foreign student applications to universities in China have soared over the past two decades. From 2000 to 2017, as China improved the quality of its higher education system, international student enrollment multiplied almost elevenfold. In this respect, Indonesia is one of several countries with more than 10,000 students each year studying at Chinese universities.
China has now become among the five favorite countries for Indonesians wishing to continue their study abroad, along with Australia, the United States, the United Kingdom, and Singapore. Recently Lu Kang, China's ambassador to Indonesia, tweeted that there are more than 15,000 Indonesian students in China, many of whom receive the Chinese Government Scholarship (CGS). This is compared to the less than 9,000 Indonesian students in the U.S.
To attract Muslim students, specifically, Chinese government officials sometimes reach out to communities in person. A prominent example is when the Chinese ambassador to Indonesia visited the Grand Mosque of Central Java province to give a speech, launch a "Chinese Corner" in a nearby Islamic university, and announce a CGS for Muslim students. Local governments welcome these initiatives and sometimes make efforts to promote them. An Indonesian government branch promoted this scholarship using the "even unto China" hadith to attract Muslim students in madrassas.
Many recipients of the CGSs are indeed Muslim students affiliated with Nahdlatul Ulama (NU) and Muhammadiyah, the two largest Muslim organizations in Indonesia. The Chinese government has made particular attempts to approach both Muhammadiyah and NU to create partnerships or organize student exchanges, with the diplomatic effort targeting the latter being more visible. NU's central leadership has specifically promoted the scholarship for its affiliated students. The CGS has arguably been quite unique in that it targets not just Muslim students, but madrassa students in rural areas.
Apart from inviting Indonesian students to study in China, Beijing has also expanded its educational reach abroad. Ngeow Chow-Bing sees this phenomenon as part of China's jiangwai banxue, that is, a "going out" initiative aimed at establishing branch campuses abroad – a similar equivalent to the American University campuses in Beirut or Cairo. In Indonesia, this initiative has taken multiple forms, from a government-to-government partnership, university-to-university collaborations, and Chinese efforts to reach out to Indonesian civil society organizations. Muhammad Zulfikar Rakhmat detailed each of these projects in an article for The Diplomat in 2019, to which I would add one major update, that is, the launching of the Tsinghua Southeast Asia Center Campus in Bali last year. This last event was so significant that it was attended by the Coordinating Minister of Maritime Affairs and Investment Luhut Binsar Pandjaitan, arguably the most important government official responsible for attracting Chinese investment to Indonesia.
All these attempts in the field of education, as the Chinese Communist Party's China Daily itself acknowledges, are part of China's "soft power" charm offensive. And we're seeing its results.
"Learn from China" – and Defend It?
Several analysts have said that the narrative about the need to look up to China has been growing among the general public in Indonesia over the past two decades. The hadith may have contributed to this development. In fact, the hadith has even been understood to mean not only to study in China, as it literally suggests, but also to learn from China, particularly about its rapid economic growth.
In a 2017 article, Johanes Herlijanto noted the various ends to which the "even unto China" hadith has been put in Indonesia. During his visit to Beijing in 2005, then-President Susilo Bambang Yudhoyono said: "I visit this place, among others, to accomplish this advice, [to] learn from as far as China." Movies about China have been received positively; one of them was titled "Kukejar Cinta ke Negeri Cina" (Chasing Love to China, 2014), an allusion to the hadith. Books have been published with titles that similarly echo the hadith. Examples include "Learning from China: How China Seizes Opportunity in the Globalization Era" (Belajar dari Cina: Merebut Peluang dalam Era Globalisasi) by Ignatius Wibowo (2014), a Ph.D. in political science; and "Lessons from China: Notes by Dahlan Iskan" (Pelajaran dari Tiongkok: Catatan Dahlan Iskan) by Dahlan Iskan (2008), the minister of state-owned enterprises during Yudhoyono's second term.
However, more impactful than the mere desire to learn from China is the creation of a positive image of China and, even more than that, an impulse to defend its policies. This has been particularly visible among several NU figures. Back in 2020, then NU Chairman Said Aqil Siroj wrote an op-ed in a mainstream Indonesian newspaper titled "Why was there the proverb 'seek knowledge unto China'?" In the article, he argues that Islam came to the archipelago partly with the contribution of Chinese people – most notably, the Muslim Ming Dynasty admiral Cheng Ho – and that the Islam that these Chinese brought was one that was friendly to local culture. Having visited Muslim communities in several cities in China, he further wrote, "While there are several communities among the Uyghurs that are violent and separatist, Muslims in China have been relatively free to practice their religion in China. As long as it concerns China's domestic politics, we shouldn't interfere."
The deputy chairman of NU's Special Branch in China (or PCINU Tiongkok) has also said similar things. In 2021, he wrote in another mainstream media outlet that Indonesian needs to learn how China has made rapid economic progress, and how China guarantees religious freedom as stated in its constitution, stating that the number of mosques in China is growing, with the current figure totaling more than 42,000.
Perhaps most prominent of all, however, is Novi Basuki, Indonesia's currently most influential young public intellectual on issues about Islam in China. A graduate of an NU madrassa, Basuki studied in China for 10 years from his bachelor's degree to his doctorate with scholarships from the Chinese government. He published a book about Islam in China in 2021 and since then has been invited to deliver public talks about China, particularly its policies on religion, in various Indonesian academic institutions. He also co-founded a website that provides positive views about China. In 2021, he wrote an article in an Indonesian mainstream media defending China's policy on Uyghurs and criticizing the Western countries that announced a diplomatic boycott of the 2022 Beijing Winter Olympics because of China's "genocide" of the Uyghurs – an accusation that he said was "baseless." He has been invited to appear on many podcasts and cited the hadith in a TEDx talk he delivered last month to explain why Indonesia needs to learn from China. Indeed, one recent analysis pointed to Novi Basuki as one of the greatest successes of China's "Islamic diplomacy."
These three NU figures exemplify the results of the soft diplomacy that China's government has pursued by expanding its educational presence in Indonesia and inviting Muslim leaders and students to visit or study in China.
We have been seeing an increased positive attitude among Indonesians toward China in several fields. According to the Pew survey published last month, for example, Indonesia is among the few countries where a majority of respondents see China's leadership of the global economy as a "good thing." A survey from Sydney's Lowy Institute confirms the already prevailing perception about China's influence in Indonesia, which has increased over the past four years, leaving military cooperation as the only field where the U.S. still exerts a slightly higher degree of influence. If the current trend continues, education is a domain in which China's soft power in Indonesia may be able to surpass that of the United States in the near future.
The author is grateful for inputs and suggestions from his colleagues at ASU's Center for Narrative, Disinformation, and Strategic Influence where he currently serves as a research assistant. This essay was produced with the support of a grant from the Office of Naval Research. Any opinions, findings, and conclusions expressed here are those of the author and do not necessarily reflect the views of the funding organization.