Despite China's Threats, Taiwan VP's US Visit Sees Muted Reaction
Vice President William Lai, who is also the DPP's presidential candidate, transited New York and San Francisco this week.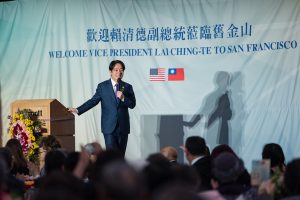 Taiwanese Vice President William Lai, who is the ruling Democratic Progressive Party's presidential candidate, transited through the United States this week on his way to and from Paraguay for the presidential inauguration of Santiago Peña.
Taiwanese presidents traditionally do not travel directly to the United States, instead conducting "stopovers" on the way to visit diplomatic allies of Taiwan. While Lai previously traveled to the United States directly in February 2020, since he was inaugurated as vice president in May 2020 he has conducted only stopovers. In January 2022, Lai transited the United States while traveling to Honduras for the presidential inauguration of Xiomara Castro, whose administration later broke ties with Taiwan in March 2023.
Lai's visit to the U.S. this time is a matter of more elevated sensitivity due to his status as the DPP's presidential candidate and the current frontrunner in the 2024 presidential elections.
China has historically reacted to stopovers in the United States by Taiwanese presidents with military exercises. Beijing has stepped up military activity around Taiwan since then-U.S. Speaker of the House Nancy Pelosi's visit to Taiwan in August 2022. Following Pelosi's trip, China launched a set of military exercises that took place closer to Taiwan than during the Third Taiwan Straits Crisis. China conducted military exercises around Taiwan after the meeting between Taiwanese President Tsai Ing-wen and current U.S. Speaker of the House Kevin McCarthy in April as well.
Before Lai's visit, there were some suggestions that China could engage in military action in response, and even claims that China would potentially attack an outlying island of Taiwan. But China's reaction was more muted this time. China did announce military exercises, which took place from Saturday until Monday, but this was not on the level of the April 2023 or August 2022 exercises.
China may have been thinking of the upcoming presidential elections, as major military exercises could potentially provoke the Taiwanese public into voting for Lai's DPP. The August live-fire exercises did not have a significant impact on the 2022 local elections in Taiwan, which led to a KMT victory, but local elections are primarily about domestic issues. This is not the case for presidential elections in which cross-strait issues loom large.
Meanwhile, a U.S. aircraft carrier, the Ronald Reagan, and its carrier strike group were located 800 nautical miles east of Taiwan on Thursday. It has become increasingly common for the United States to park carrier groups near Taiwan while high-level Taiwanese politicians transit through the U.S.
Elsewhere, the Japanese government reported 11 Chinese and Russian ships passing through the Japanese islands of Miyako and Okinawa on Thursday. Some reports suggest that the Chinese and Russian ships carried out joint exercises simulating an attack on U.S. forces in Okinawa, though Japanese government spokespersons denied being aware of such exercises afterward.
Taiwanese presidential candidates traditionally visit the United States before elections, not only to meet with U.S. politicians or government officials, but to fundraise. This is true of both pan-Green and pan-Blue candidates. As such, it was necessary that Lai make a U.S. trip before the election. Of his rival presidential candidates, Ko Wen-je of the Taiwan People's Party (TPP) has already visited the U.S., and Hou Yu-ih of the KMT vowed to do so in the fall.
A recording surfaced online that purported to be of TPP chair and presidential candidate Ko Wen-je slamming Lai's U.S. trip during an internal meeting of the party. In the recording, the voice purporting to be Ko accuses the DPP of having paid off members of the public to demonstrate in support of Lai, to the tune of 800 Taiwanese dollars per head, and criticizes Lai as traveling to the United States for a "job interview."
The TPP has denied the authenticity of this recording and reported it to the Ministry of Justice's Investigation Bureau. Although the TPP is a pan-Blue party, it may not wish to be perceived as taking a stand against Lai's right to travel to the United States, especially as Ko has already made such a trip.
For the most part, Lai's U.S. transits were low-key. Lai stopped in New York City on August 12 and San Francisco on August 16. Lai's meetings were primarily closed door and he did not make any grand policy pronouncements. In New York, he promised to hold the line against authoritarian encroachment even while affirming openness to dialogue with China, and in California he touted Silicon Valley as a model of development for Taiwan to follow. Indeed, the United States and Taiwan are thought to have hoped for a low-key Lai visit to avoid giving China pretext for a strong reaction.
Both of Lai's stops saw demonstrations from Taiwanese diaspora supporters, as well as Chinese counter-protesters that framed Lai's visit as dangerously provocative and potentially leading to war. During his New York stop, a group of Chinese demonstrators proclaimed their support for Lai and opposition to war, urging China to cease its threats against Taiwan.
While Lai's comments during the trip were not anything new, a Bloomberg interview with Lai was released in the same timeframe as the trip. During the interview, Lai emphasized his view that Taiwan was a sovereign and independent country by the name of the Republic of China, which had no need to declare independence. This was yet another example of Lai walking back past comments he made as mayor of Tainan, in which he declared himself to be a "pragmatic worker for Taiwanese independence." Lai is keen to emphasize continuity with the moderate cross-strait policy of the Tsai administration.
For its part, China's Taiwan Affairs Office responded by calling Lai's comments "a complete lie," and stressing that a Lai victory would bring with it "risks of fierce war." KMT chair Eric Chu responded to the interview by asserting that Lai has "supported Taiwanese independence every day of his life."
Some media reports emphasized that Lai was not met upon arriving in New York by Laura Rosenberger, the chair of the American Institute in Taiwan (AIT), the U.S. representative body to Taiwan in lieu of official diplomatic ties. Rosenberger was attending her sister's wedding, as a result of which Lai was instead met by acting AIT chair Ingrid Larson. This was framed in some outlets as a "downgrading" of Lai's reception. The Lai campaign denied that this was the case, claiming such reports were designed to cast doubt on the strength of Taiwan-U.S. relations. Rosenberger later met with Lai in San Francisco.
Otherwise, there was much speculation about a photo of Lai and Hsiao Bi-khim, Taiwan's representative to the United States, during the trip. As part of his New York itinerary, Lai attended a Mets game, a baseball team that holds an annual "Taiwan Day." Lai and Hsiao were photographed wearing matching jerseys during the game, which stoked speculation that Hsiao could perhaps be Lai's running mate. Hsiao is one of the potential names often floated for Lai's running mate, along with former Minister of Culture Cheng Li-chun. It is thought that Hsiao would play a significant role in reassuring Washington of Lai's reliability as a candidate if she served as his running mate. Lai did not give a concrete answer when asked about this possibility afterward.
For the most part, Lai's Paraguay trip for the presidential inauguration was uneventful. Lai greeted King of Spain Felipe VI, U.S. Secretary of the Interior Deb Haaland, and shook hands with Brazilian President Luiz Inácio Lula da Silva, better known just as Lula. Lai framed himself as representing the Republic of China, Taiwan during his interactions with foreign dignitaries. Although photos of a document that circulated online claimed that Lai had signed an agreement for a housing deal while in Paraguay, the Ministry of Foreign Affairs has denied this, stating that this is a falsified document circulated for disinformation purposes.
Lai returned to Taiwan in the early morning hours of August 18. Lai reassured that ties with the United States, as well as Paraguay, were stable after the meeting. Some experts have raised the possibility of China announcing further drills after Lai's return, however, so as to further emphasize its displeasure that the trip took place.