India-Sri Lanka Vision Document: Old Wine, New Bottle?
Much of the plans outlined in the statement have been discussed for years and not implemented because they are not viable.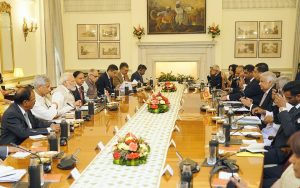 Sri Lankan President Ranil Wickremesinghe's much-awaited visit to India between July 20 and 21 was hailed by the Indian and Sri Lankan media and pundits as a great success.
However, a close reading of the outcomes of the visit shows no real breakthroughs.
Wickremesinghe's visit to New Delhi was long overdue; it came a year after he became president. Generally, India extends invitations to Sri Lankan leaders within a week of their swearing-in. Tamil National Alliance (TNA) member of parliament, M.A. Sumanthiran, blamed Wickremesinghe's government for the delayed invitation from India, saying the president had not kept several promises made to India and had permitted a Chinese research vessel to dock at Hambantota Port last year.
However, former President Gotabaya Rajapaksa was invited to India shortly after his election, although he was perceived as pro-China when elected and had not followed through on several promises made to India.
It is more likely that India exercised caution and waited until Wickremesinghe's hold on power became clearer. After all in July 2022, when Parliament elected Wickremesinghe as president, many doubted his ability to hold onto the position for an extended period. Sri Lanka was engulfed in anti-government protests, which forced Rajapaksa out of office, and there were even threats of a similar fate for Wickremesinghe. The dire situation was compounded by fuel shortages and uncertainty surrounding the IMF agreement. Given these tumultuous circumstances, India likely waited to see how Wickremesinghe's tenure unfolded before extending an official invitation for a visit.
It is an open secret in Colombo's political circles that India prefers Wickremesinghe over the other potential alternatives, Sajith Premadasa and Anura Kumara Dissanayake. Wickremesinghe is viewed as a pro-Indian politician, which aligns with India's interests, while Premadasa's father was responsible for scrapping the India-Sri Lanka Agreement of 1987 in 1990. As for Dissanayake, he is perceived as being close to China.
Wickremesinghe's visit to New Delhi was widely reported in India and Sri Lanka. His engagement with top leaders culminated in a vision document on expanding connectivity and economic ties between the two nations. Indian Prime Minister Narendra Modi reminded the Sri Lankan president of the need to implement the 13th amendment, which provides for greater devolution of power to the provinces, and the importance of solving the grievances of the island's Tamils.
Essentially the two nations proposed to increase maritime, air, power and energy, and people-to-people connectivity, somewhat echoing what China's Belt and Road Initiative has proposed to do.
With regard to maritime connectivity, the two sides plan to cooperate in the development of ports and logistics infrastructure at Colombo, Trincomalee, and Kankesanthurai to consolidate regional logistics and shipping. They plan to resume flights between Jaffna and Chennai and to further expand flights to Colombo as well as explore connectivity between Chennai and Trincomalee, Batticaloa, and other destinations in Sri Lanka.
In addition to the ongoing joint development of the Trincomalee Tank Farms, the two sides agreed to further develop Trincomalee as a national and regional hub of industry, energy, and economic activity.
Sri Lanka is an island, separated from India by a narrow strait. The two sides plan to step up people-to-people exchange by establishing land connectivity. There are plans to develop a land bridge between the two countries to provide India with land access to the ports of Trincomalee and Colombo to boost economic growth. A feasibility study for such connectivity will be conducted at an early date, the vision document says.
In addition, Sri Lanka and India have agreed to look into the construction of a multi-product petroleum pipeline from southern India to Sri Lanka. They will undertake a joint exploration and production of hydrocarbons in Sri Lanka's offshore basins.
The proposals agreed upon during Wickremesinghe's visit to New Delhi appear promising.
But they are not entirely new. They have been the subject of discussions for several years. While some proposals have already been set in motion by Indian and Sri Lankan businesspeople, others have little economic potential and therefore have not taken off.
With regard to increasing sea and air connectivity, for example, the development of ports and logistics infrastructure at Colombo, Trincomalee, and Kankesanthurai with Indian assistance has been a topic of discussion for decades. While India has already established a presence in Colombo port and holds strategic interests in Trincomalee due to its financial and geopolitical significance, certain projects like the long-discussed ferry service between the two countries have remained in limbo despite continuous discussions and assurances.
The Jaffna International Airport was converted into an international airport in 2019 at the cost of $12 million. However, the airport began operating only in December 2022 after experiencing a closure due to COVID-19. Up until June 2023, around 12,000 passengers had utilized the airport, primarily Jaffna residents who found traveling to Colombo and catching a flight at the Bandaranaike International Airport (BIA) to be prohibitively expensive.
Considering the current economic scenario in Sri Lanka, constructing new airports in Trincomalee or Batticaloa may lack a viable business case. If Sri Lanka proceeds with building more airports and accumulates further loans, it could potentially burden the economy, as was the case with the Mattala Airport.
Even the projects that are gaining significant attention, such as the proposed land bridge and energy pipeline, have been subjects of discussion for many years. During Ranil Wickremesinghe's tenure as prime minister between 2015 and 2019, the idea of a land bridge was frequently touted, and energy connectivity between Sri Lanka and the subcontinent has been a longstanding concept regularly brought up by both countries.
Constructing a land bridge between Sri Lanka and India is technically feasible, as the sea dividing the two countries is shallow. However, it entails exorbitant costs.
For instance, the Crimean Bridge built by the Russian Federation after the annexation of Crimea cost $3.7 billion when completed in 2018. This bridge spans 19 kilometers with an average water depth of around 6 meters. Considering the more challenging geographical conditions and potential inflation, a land bridge connecting India and Sri Lanka could cost several times more. The viability of such an ambitious project would depend on whether there is a sound business case beyond a mere show of power.
Additionally, there are concerns about who would undertake the construction of this bridge, as neither Sri Lanka nor India has experience in executing such colossal infrastructure projects. It is worth noting that the longest bridge in India, the Dhola Sadiya Bridge, stretches only 9.1 kilometers over the Lohit River in Assam.
Indian and Sri Lankan politicians often engage in rhetoric about ambitious grand designs, megaprojects, and agreements that promise to revolutionize relations between the two countries. However, seasoned political veterans like Wickremesinghe and Modi are well aware that there are inherent limitations to what can realistically be accomplished, primarily due to political considerations and the financial and technical capabilities of both nations.
Vision statements issued by two countries during bilateral visits are often presented for the consumption of the media and the public, serving as an aspirational portrayal of cooperation and progress. Meanwhile, behind the scenes, businessmen and bureaucrats will work on projects that will make them money.
During his visit to Delhi, Wickremesinghe met Indian billionaire Gautam Adani. Adani is known as the implementer of Modi's version of the Indian dream in Sri Lanka. If anyone wants to know what plans would actually come into fruition, they should keep their eyes on Adani in Sri Lanka.