What Makes Xi Jinping's State Visit to South Africa So Unusual
In the past, Xi has used the BRICS summit as the basis for a wider regional tour. Not this year.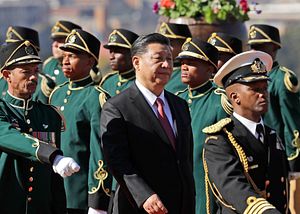 From August 21 to 24, Chinese President Xi Jinping will be in South Africa, to attend the BRICS summit in Johannesburg and pay a wider state visit to the country. That's entirely normal; aside from the pandemic years, Xi has attended every BRICS summit since he took office (and from 2020 to 2022, he took part virtually).
What's unusual is that Xi is only traveling to South Africa.
In the past, Xi's attendance at the various BRICS summits has generally been part of a broader international tour. The lone exception to date has been 2015, when Xi visited Russia for the BRICS and Shanghai Cooperation Organization summits. Every other time, Xi has linked together a string of trips, usually in the region of the hosting country.
For example, South Africa hosted the first BRICS summit Xi attended in 2013. That year, Xi turned his trip into a three-country tour, visiting Tanzania and the Republic of Congo as well. In 2018, when South Africa next hosted the BRICS summit, Xi traveled even more widely, adding Senegal, Rwanda, and Mauritius to his agenda.
This time, according to the official agenda sent out by China's Foreign Ministry, Xi is making the long trip to South Africa, spending four days there, then immediately returning home, rather than capitalizing on the journey to tour other African countries.
It's especially odd given that Africa – for all China's proud positioning of itself as a country that "stand[s] together with the African people" – has been rather neglected diplomatically in recent years. Yes, China has kept up the tradition of sending its foreign minister to the continent every January, but this year the odd choice was made to have then-Foreign Minister Qin Gang stop in Bangladesh on his way, technically breaking a 30-plus year tradition of having the minister's first trip abroad each calendar year be to an African country.
That small detail may not matter much in the long run, but it comes on top of several years of relative neglect. Xi visited at least one African country (and usually more than one) in 2013, 2015, 2016, and 2018. But since departing Mauritius in July 2018, Xi did not set foot in an African country for over five years.
Especially jarring for African governments, China's pandemic restrictions prevented Xi from attending the Forum on China-Africa Cooperation (FOCAC) summit in Senegal in December 2021, a time when many countries had resumed diplomatic travel. Xi had made a point of attending the triannual FOCAC summits; with his absence (although he did give virtual remarks) FOCAC was downgraded back to a ministerial-level gathering.
Based on that background, Xi is overdue for a multi-country tour of Africa. It's puzzling, then, why he is limiting his travel this week to South Africa alone – especially at a time when BRICS expansion is boosting China's image as a leader of the Global South. Surely this is a golden opportunity for Xi to match actions to rhetoric by paying down the most valuable resource any leader has: time.
That Xi is not doing so speaks to a wider problem in China's post-pandemic diplomacy: namely, there's not much of it. China is now fully reopened, but Xi's travel remains severely limited.
Xi attended a slew of international summit in the fall of 2022 (the SCO summit in Uzbekistan, the G-20 summit in Indonesia, the APEC meeting in Thailand) as well as undertaking state visits to Kazakhstan and Saudi Arabia. That was seen as a sign of China returning to diplomatic normalcy.
But it was a false dawn. Since the beginning of 2023, Xi has only made one trip abroad: a state visit to Russia in March.
That's unusual, at least by pre-pandemic standards. Starting from 2013, the year he assumed the presidency, through 2019, Xi visited at least five countries from January to the end of August, notching an average of 7.4 countries visits during that period of each year.
This year, he will have visited just two – a record low for his 10 years in power, if we discount the pandemic years.
There has been much speculation and drama over the disappearance and then quiet demotion of Qin Gang, China's former foreign minister. But that may be a red herring. The bigger story is the general absence of Xi himself from the global stage, even well into China's post-pandemic reopening. What is keeping Xi at home at a time when China is seeking to bolster its image as a global leader?