Antisemitism Exists in China, Too
Antisemitic slurs are all too common in China – and much of the Indo-Pacific region.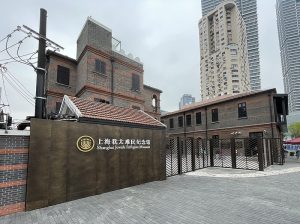 On May 25 the Biden-Harris administration Released its "First-Ever U.S. National Strategy to Counter Antisemitism," which was immediately criticized by Jewish groups for numerous shortcomings. Although the strategy's scope is domestic, it notes that the Department of State will continue to combat antisemitism abroad, and an accompanying Fact Sheet reminds us that the administration nominated Deborah Lipstadt to serve as the first Special Envoy to Monitor and Combat Antisemitism to have been appointed at the ambassador level.
As an overseas American, I watch from afar domestic efforts to fight antisemitism. But closer to my home in Taiwan, I discovered a shocking video published on a Chinese social media platform that exposes growing antisemitism in China. For the benefit of audiences worldwide, I added English subtitles.
The video was originally published on the Chinese social media platform Xigua, which is owned by ByteDance, the company that also owns TikTok.
The video received nearly 600,000 views before it was removed. The video's creator also posted it on YouTube, where it remains as of this writing. The creator of this video has also published other videos that repeat similar antisemitic tropes.
Among the antisemitic slurs in the video is the false claim that the Jews caused China's opium addiction problem in the mid-19th century. It repeats the "stab-in-the-back myth" that Jews were responsible for Germany's defeat in World War I. And it closes with the bizarre accusation that Jews who took refuge in China during World War II conspired with the Japanese invaders to subjugate China.
It is true that a small number of European Jews found refuge in Asia during the Holocaust, including in China, Japan, and the Philippines.
Ho Feng-shan, a diplomat in the service of Chiang Kai-shek's Chinese Nationalist government in the 1930s based in Europe, issued visas to Jews, as did a Japanese diplomat also based in Europe at the time, Chiune Sugihara. Both did so in violation of their own governments' policies, and they are honored by the Yad Vashem World Holocaust Remembrance Center in Jerusalem as Righteous Among the Nations.
Some Japanese military officers pushed what was known as the Fugu Plan – the plan referenced in the video – to encourage Jewish resettlement in parts of Japanese-occupied China, but this quixotic plan gained little traction among the Japanese leadership or Jewish refugees.
Ironically, the video steals clips from movies including "The Pianist" and "Schindler's List" depicting violence against Jews, though the narrator explains it as if it is Jews committing violence against Chinese and Germans. A scene of Jewish prisoners forced to work in a German munitions factory appears onscreen as the narrator describes supposed Jewish efforts to arm Imperial Japan.
In nearly 30 years living in Asia, I have witnessed antisemitism on numerous occasions. It spans the commercial world, politics, and academia. As an active social media user in Mandarin who engages with netizens in China, antisemitic remarks directed at me are common. Examples include comments like "how's the gas room smell" and "the only good Jew is one going up the chimney in smoke."
At other times I am on the receiving end of well-intentioned comments praising Jews for their business acumen and ability to make money, without the speaker realizing that this is also an antisemitic trope.
In recent years, examples of antisemitism have been reported in South Korea, Japan, the Philippines, Taiwan, and Thailand. Regardless of whether these incidents arise from ignorance rather than outright antisemitism, usually the local Jewish community, along with German and Israeli diplomats, will explain to the perpetrator why it is inappropriate to include Nazi or Holocaust analogies or references in political statements or advertisements.
However, sometimes incidents reflect an ignorance about the gravity of the Holocaust. In 2016, a high school parade in Taiwan in which students dressed in Nazi uniforms attracted global media attention. At the time, as chairman of the Chabad Taipei Jewish Center, I suggested to Taiwan's Foreign Ministry that an apology to Taiwan's Jewish community would be appropriate. The ministry's response was that they had already apologized to the de facto German and Israeli embassies in Taiwan, and there was no need to apologize to the local Jewish community.
While this is a longstanding issue, there has been a recent increase in antisemitic remarks on Chinese language social media following Russia's invasion of Ukraine. Amid general support in China for Russia, claims in China state media that Ukraine is fighting a proxy war for the United States, and the belief by some in China in the slur that Jews control the United States, some netizens in China link Ukraine President Volodymyr Zelenskyy's Jewish heritage to a conspiracy led by Jews. This has given rise to commentaries with titles like "The Jewish Capital Organizations Behind Zelenskyy."
Other antisemitic comments are about the Israel-Palestinian dispute. Historically, the Chinese Communist Party enjoyed good relations with Arab monarchies (which have facilitated China's current foreign policy successes in the Middle East) as well as socialist movements such as Yasser Arafat's Palestine Liberation Organization (PLO). According to a 2019 article in the Israeli newspaper Haaretz, Mao Zedong viewed the Palestinians as combating imperialism, and he supplied weapons to the PLO. An English profile of Arafat published in 2022 on China's Ministry of Foreign Affairs website said that the Palestinian leader "was a big fan of Mao Zedong."
Another source of slurs against Jews on the Chinese language internet is the claim that because Jews control the media (another classic antisemitic trope) they are to blame for China's poor global image. As China's reputation worsens worldwide, Jews thus make for a convenient scapegoat.
The Chinese Communist Party, with its powers to censor the media, has yet to stop the rampant growth of antisemitism on China-based platforms. The Biden-Harris administration often condemns antisemitism in the United States and Europe. Hopefully they know it exists in the Indo-Pacific as well. Given the multiple Biden-Harris administration officials who have recently visited China, perhaps it is time for Lipstadt, the new antisemitism ambassador, to visit China too.