ASEAN Gives Laos a Reprieve Over Myanmar Crisis
But let's not get carried away with the bloc's new "troika" on Myanmar.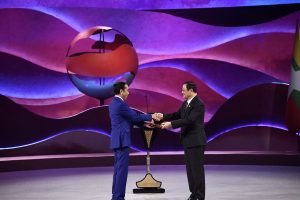 Usually, the most exciting moments of the annual summits of the Association of Southeast Asian Nations (ASEAN) are when something doesn't happen. It has lived long in the memory of political commentators that the regional bloc failed to deliver a joint, post-summit statement in 2012 when Cambodia, as ASEAN chair that year, seemingly put the kibosh on any communique critical of Beijing's aggression in the South China Sea. After this year's summit, held in Jakarta earlier this month, another noteworthy omission was the lack of any mention of Ukraine in the post-summit statement.
That said, something genuinely intriguing did emerge from this year's colloquy. The crisis in Myanmar, sparked by a military coup in early 2021 but really a venting of grievances that have festered for nearly a century, has proved to be ASEAN's greatest test. Brunei, the ASEAN chair in 2021, stuck a band-aid over the gash when it arranged the Five-Point Consensus that the generals signed but never stuck to. There were hopes that Indonesia, the ASEAN chair this year, would grab the bloc by the scruff of the neck and force the members, who either don't care or want to cut a deal with the junta to accept dialogue with anti-junta forces and dust off the stick for the generals.
Perhaps Jakarta would have had more luck if Beijing bothered to use a little elbow grease and help its neighbors, and if Bangkok wasn't sneaking behind ASEAN's back and engaging in a "1.5 track" dialogue with the junta. Indeed, Thailand hasn't faced the sort of opprobrium one might have expected for essentially undercutting the regional bloc. Whereas there have been calls to kick Cambodia and Laos out of ASEAN because of their close association with Beijing, one has heard no such calls from the same quarters for a ticking-off of Thailand, despite its actions more seriously calling ASEAN unity into question.
But Thailand's shadow diplomacy matters for another reason. Whereas Indonesia, Malaysia, and Singapore boycotted the Thailand-hosted talks with the junta in March and June, Laos was the only ASEAN state other than Thailand (I believe) that sent its foreign minister. Indeed, Laos has been rather supportive of Thailand's missives and in general has taken a dull, self-serving approach to the entire crisis. That matters because Laos takes over the ASEAN chair for 2024 on January 1. The position was ceremonially handed over to Laos at the ASEAN Summit earlier this month.
Not only does Laos, a communist-run state with a woeful human rights record, seemingly support Thailand's efforts to re-engage with Myanmar's generals and have zero time for arguments about restoring democracy, but it arguably has the weakest diplomatic corps of the region. It is the most hermetic of Southeast Asian countries, too. Its diplomatic reach extends only to its immediate neighbors and they have little experience of engaging in sensitive issues, not least because the international community cares so little about Laos that it's rarely troubled by events abroad.
Moreover, senior ministers of the ruling Lao People's Revolutionary Party are not used to criticism because they crush all internal dissent and because Laos is so unimportant in world affairs that foreign leaders cannot even summon what little energy it takes to write a condemnatory statement about its government's violations. Had Laos taken on primary responsibility for the Myanmar crisis in the same way as its predecessors in the ASEAN chair, it would have faced unaccustomed criticism and pushback, at which point it might have either buckled or sought the easiest way out (to normalize the junta).
Small wonder, then, that there are genuine concerns about how Laos, as next year's ASEAN chair, will deal with the crisis in Myanmar, which has prompted foreign diplomats jetting into Vientiane to see what use they could be. Consider the words of Melissa Brown, the U.S. deputy assistant secretary of state for East Asian and Pacific affairs in charge of Southeast Asia affairs, regarding Laos' tenure as ASEAN. "In addition to being less, perhaps, vocal and forward-leaning on ensuring that Burma is held accountable and forced to make progress on the Five-Point Consensus and not getting legitimacy within ASEAN, there's also just the practical staffing capabilities," Brown said during a U.S. Congressional hearing this week. More simply, she put it: "Laos is a much smaller country with less capacity." She did offer U.S. assistance to Laos, as has the European Union, although what assistance they can offer is doubtful considering they have few friends in Vientiane.
Thankfully, however, the Myanmar crisis has essentially been taken off Vientiane's hands for next year. At this month's ASEAN Summit, Indonesian Foreign Minister Retno Marsudi announced that moving forward, a "troika" of states would be tasked with leading the bloc on Myanmar. That includes Indonesia, Laos, and Malaysia, which take on the ASEAN chairmanship in 2025. In essence, it rescues Laos from having to assume the institutional responsibilities for managing ASEAN's response to the crisis – and, more importantly, it rescues ASEAN from having a situation where Laos gets an oversized say over a crisis that it wants no part in.
Without this troika system, foreign governments, notably the Western democracies, would have been compelled to go through Vientiane in their engagement with ASEAN on the Myanmar crisis. Now, one imagines, Western engagement will continue to go through Jakarta or possibly Kuala Lumpur. It also means Beijing cannot exert its undue influence over ASEAN via its debt-sodden comrades in Vientiane.  One should welcome this move. Indeed, the U.N. Secretary-General Antonio Guterres was apparently positive about it. Some other ASEAN states, notably Singapore, have been keen to stress that it's only an informal mechanism. In other words, they aren't being excluded from ASEAN's response to the crisis.
However, it does speak to what you could call either despondency or realism (depending on where you sit) from ASEAN. Indeed, the reason for the "troika" system stems from the bloc's (correct) belief that the situation in Myanmar won't change over the next 12 months. (As Marsudi put it, "everyone understands that the situation cannot change in one year.") That is why Malaysia, the chair in 2025, is included. And given that the Philippines will now hold the chair in 2026 (after it was sensibly agreed that Myanmar's expected tenure that year would be problematic), the bloc clearly foresees the crisis continuing until then. One must couple this with the sense of dejection from the ASEAN leaders as they met earlier this month. The Five Point Consensus was a good idea, in principle, they agreed, but at the moment it's simply not working. What's an alternative? Who knows?
As such, there's little in the way of positive developments from ASEAN about how to proceed over Myanmar. Indeed, there's an implicit assumption that the crisis will continue for another three years. While the troika system should be welcomed, it's very much an effort to make sure things don't get any worse (without getting any better).