Can Japan Be a Climate Change Leader?
Several factors continue to hamper the formulation of a more ambitious policy, but change might be coming.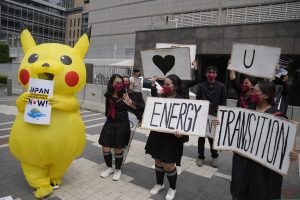 Japan has often portrayed itself as a leader in the global effort to mitigate climate change. However, the country's track record has been distinctly mixed. 
After the oil shocks of the 1970s, Japan emphasized energy efficiency and the development of its civilian nuclear program to successfully reduce its dependence on foreign oil. But the country struggled to build on its previous gains just as global efforts to combat climate change gained momentum in the 1990s. 
The announcement of a 2050 net zero target by then-Prime Minister Suga Yoshihide in 2020 appeared to mark a turning point. However, Suga stepped down after only a year in office. In the current Japanese political system, leadership from the top is critical, but the country also needs to cultivate bottom-up initiatives to accelerate its green transition.
Current Prime Minister Kishida Fumio must recommit to an ambitious climate change agenda if Japan is to reestablish its international leadership role. 
Climate change mitigation has developed into a major arena of international cooperation over the past 30 years. The energy price shock triggered by the war in Ukraine, combined with increasing attention to green industrial policy in the aftermath of the COVID-19 pandemic, has further elevated the urgency of decarbonization and energy transitions. A wide range of policies, initiatives, and strategies in the power sector have been adopted to promote sustainable energy and achieve the United Nations' Sustainable Development Goal 7.
Japan, the third-largest economy in the world, is striving to achieve a carbon-neutral society by 2050 while reducing greenhouse gasses (GHGs) as an international responsibility. With this in mind, the country's national energy strategy particularly emphasizes energy security, economic efficiency, and environmental protection, as well as safety (3E+S).
However, Japan routinely ranks disappointingly low in global climate change rankings. This is due to limited progress on GHG emissions reductions, which were largely flat for two decades after the mid-1990s, and criticism of Japanese policies, such as the country's support for coal-fired power plants. The stagnation of Japanese energy policy coincided with electoral and administrative reforms, which gave politicians stronger incentives and greater authority to reduce prices for Japanese energy consumers.
Japan has missed several chances to transform its climate and energy politics. The 2011 Fukushima nuclear disaster compelled the shutdown of all Japanese nuclear power plants, creating an acute electricity shortage. There were early signs that the disaster might prove to be a pivotal moment in Japan's climate policy: The government, then under the Democratic Party of Japan (DPJ), legislated an ambitious feed-in tariff to promote renewable energy, and Japan's traditionally powerful energy utilities were severely delegitimized. 
However, the election in 2012 of the Abe Shinzo of the Liberal Democratic Party (LDP) marked a new era of stagnation in Japanese energy and climate policy. Abe's government, which would remain in power until 2020, primarily focused on economic growth rather than emissions reduction.