Critical Minerals and the New Cold War
Access to critical materials has become a paramount national security concern and the object of increasing competition between China and the United States.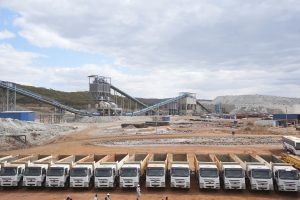 The ongoing energy transition is transforming the global economy from a hydrocarbon-dependent system to a mineral-intensive one. The global decarbonization shift has supercharged the demand for minerals that are essential for clean energy technologies and electric vehicles (EVs), such as lithium, nickel, cobalt, graphite, copper, aluminum, and rare earth elements. A typical EV, for instance, requires six times the mineral inputs of a conventional car. 
The energy sector has become a major demand driver for minerals since the mid-2010s, with a report by the International Energy Agency (IEA) revealing a threefold surge in lithium demand, a 70 percent increase in cobalt demand, and a 40 percent rise in demand for nickel from 2017 to 2022. Driven by the growing market for lithium-ion batteries for energy storage, global demand for cobalt to manufacture batteries grew 26-fold from 2000 to 2020, and 82 percent of this growth occurred in China.
As countries move forward with greening the energy systems that power their economies, the quest for energy security becomes inseparable from securing reliable access to critical minerals at affordable prices with minimal negative externalities on the environment and local communities from extracting and refining processes.
Many critical minerals essential for the energy transition are presently produced with greater geographical concentration than oil or natural gas. For example, in 2019, the Democratic Republic of Congo accounted for about 70 percent of global cobalt production, while China contributed around 60 percent of the global production of rare earth elements. Furthermore, the supply chains for these critical minerals, spanning mining, processing and refining, manufacturing, and end use, are predominantly controlled by a few countries, notably China.
The United States, propelled by the shale revolution, has been the world's largest oil producer since 2018 and the largest producer of natural gas since 2011. While this domestic abundance has significantly reduced American reliance on hydrocarbon imports, the United States remains heavily dependent on mineral imports to scale up clean energy technologies and infrastructure. Out of the 50 minerals identified in the 2022 U.S. Geological Survey (USGS) Critical Minerals List, the United States is entirely import-dependent for 12 and imports more than half of what it consumes for an additional 31.
The 2023 critical materials list released by the U.S. Department of Energy (DOE) included 17 critical materials for energy, which has some overlap with the USGS' 2022 Critical Minerals List. The DOE assessed that in the short term (2020-2025) six critical materials of high importance to energy will have high supply risks. These are cobalt, dysprosium, gallium, natural graphite, iridium, and neodymium, which are used in the production of rare earth magnets, batteries, LEDs, and hydrogen electrolyzers. In the medium term (2025-2035), this number will likely increase to 12: lithium, nickel, cobalt, graphite, gallium, platinum, magnesium, silicon carbide, dysprosium, iridium, neodymium, and praseodymium. 
China's dominance in critical materials and minerals supply chains and U.S. import dependence have become paramount national security concerns for U.S. policymakers in the context of the broader strategic competition between Beijing and Washington. The United States depends on China for over half of its supply of 25 mineral commodities, making the U.S. economy and industries vulnerable to supply disruptions stemming from China, especially in times of geopolitical tension.