In India, Hindutva Schools Are Indoctrinating Poor Children
In rural India, private schools run by the Ekal Foundation provide access to education – but force children to imbibe divisive teachings that preach Hindu superiority.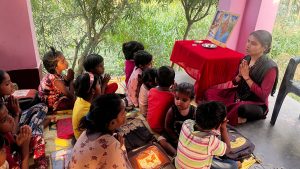 On a scorching afternoon in Mishrikh, a remote village in northern India's Uttar Pradesh state, children are gearing up to go to Ekal Vidyalaya. Most children who attend these schools wear tattered clothes and hand-me-down slippers, and carry half-broken and half-chewed pencils.
The school is part of the Ekal Vidyalaya Foundation (EVF), which claims that it aims to ensure children in rural India get access to education. These one-teacher schools are free and offer vocational classes alongside literacy to children aged five to 14 from any caste or religion.
However, the curriculum is firmly rooted in Hindu nationalism.
As children trail behind each other, they can be seen entering a local Hindu temple in their village, where they obediently sit on the floor, which exhales the heat of the sun. Facing a table with photos of Hindu deities neatly placed with the support of incense sticks, children focus all their attention toward the deities.
Shammi Shukla, the teacher at this makeshift school strictly goes by the book. She makes sure that all children, irrespective of their religion, are made to chant Hindu prayers and mantras. "We need to learn who the Adharmis (unrighteous) are and only Hinduism can teach us that," Shukla said. 
"Those who are not Hindus, are Adharmis."
Ekal and Education
This alternate school where Shukla teaches is called Ekal Vidyalaya, meaning a school that belong to the EVF, a U.S.-based organization that sets up private, single-teacher schools in rural India. This concept was conceived in 1986 in India's Jharkhand;  in 1989, Shyam Gupta, a senior member of the Rashtriya Swayamsevak Sangh (RSS), a Hindu paramilitary organization, stepped in to take over the campaign for Ekal Foundation. 
The Ekal Vidyalaya Foundation of USA was established in 2002. This branch is the primary campaigner for the donations that are received to run schools in India.
Another radical Hindu organization responsible for attacks on Muslims and Christians – the Vishwa Hindu Parishad (VHP) – has boasted of its involvement with the EVF. The VHP's website states that the launch of the EVF of USA was among "some of the major contributions made by VHP of America."
Classes at Ekal include a mix of children from all spheres of village life: Hindu upper castes, lower castes, tribals, and Muslims. As of March 2023, Uttar Pradesh housed 17,188 Ekal schools, where more than 519,301 students were enrolled. Students from the ages of five to 14 attend these schools, which provide free non-formal and vocational education.
Shukla, the teacher at the local Ekal school in Mishrikh, feels that Ekals are significantly different from mainstream schools due to their syllabus, which binds together nationalism and Hinduism.
During its investigation, The Diplomat met with Mahender Yadav, the supervisor of Ekal schools in Sitapur district. Yadav, a staunch Hindu, is not shy about proclaiming the Hindu nationalist agenda. 
"Muslims and Christians need to be shown their rightful place in society, they can either accept Hindu supremacy or convert to Hinduism. Ekal prepares children to identify enemies of Hinduism at an early stage," he told The Diplomat.
Under Yadav, 430 Ekal schools and institutions are able to further their agenda of radicalizing students. 
Yadav also shared with The Diplomat a textbook that the teachers follow. Upon even a cursory glance, the reader can glean that the book has doctored stories about how Muslims forcefully convert Hindus to Islam – a narrative that has been pushed since years by radical Hindu organizations in India.
During the lessons that The Diplomat attended at a dozen Ekal schools across Uttar Pradesh, children were being made to correlate the Hindu goddesses to the idea of India as motherland. Teachers at Ekal schools are clear: for them there is no separation between Hinduism and nationalism. 
Harnessing Hate
At the same Ekal school, Nikhil Shukla, a 15-year-old student, is an energetic young man who chooses to wear the color saffron, purely because the color is considered holy in Hinduism. Shukla, inspired by his teacher's understanding of Hinduism, has recently joined the Bajrang Dal, a Hindu nationalist militant organization. 
"Hindu religion is being attacked across India, we need to fight to save it," Shukla proclaimed. 
Despite being just 15, Ekal has motivated Shukla to join a Hindu militant organization responsible for vandalism at churches and mosques, the murders of several Muslims, and furthering a demand to economically boycott Muslims so as to kill their mode of livelihoods across India.
Owing to the anti-minority harassment, for the the last four years, the United States Commission on International Religious Freedom has recommended that India be designated a "Country of Particular Concern,"a category of governments performing poorly on religious freedom criteria. 
The Diplomat also spoke to two senior officials in the Uttar Pradesh Department of Basic Education regarding the functioning of the Ekal schools. Both officials denied having any information about these schools and their operations. The officials also confirmed that these schools are not affiliated with their department.

Instead, these schools are funded by individual donations and through foundations, including one that was registered with authorities in the United Kingdom until 2020, one in Canada, and one in the United States. According to 990 tax documents, over the last decade, the Ekal Foundation of USA sent over $60 million to its sister organization Ekal Abhiyan in India to run Ekal schools.

In 2009, a report issued by India's Ministry of Human Resource Development found that the "training to the teachers of Ekal schools was mainly to spread communal disharmony in the communities and also to inculcate a fundamentalist political ideology… creating enmity amongst communities on the basis of religion." 
Yet, these U.S.-funded schools are allowed to exist in India and those with limited resources are being lured to send their children to these schools.
Poverty and Propaganda
At another school, in Sitapur district's Naimisharanya village, 30 students await their teacher, Lakshmi Kumari. 
As students learned math inside a brick room, Lakhan Pal waited for his daughter, who is a student at this school. Pal, a daily wage laborer at a construction site, said, "I earn $5 a day on good days, so free schools like Ekal are a good option for my daughter, I don't have to spend on her education then."
Meethi and Pinky Kumari, two 4-year-olds, also attend the Ekal. While they barely understand anything beyond their ABCs and 123s, their mother Pooja, a recently widowed, unemployed woman sends them there because she is unable to send them to a public or private school. 
Pooja, a Hindu, who chooses to stay indoors since the death of her husband, has no agency to earn money for her daughters and herself. Since her in-laws and parents have mandated her to not venture into the village, Ekal Vidyalaya is the only place where her daughters can learn. 
"I don't earn and the family is not willing to invest in the education of two girls. Government schools are subsidized, but I don't have any way even to afford basics such as uniforms, books, and transportation," Pooja lamented.
The Ekal school is not only free, but provides amenities many of the rural residents can only dream of – such as access to a computer lab, a luxury in a village that is barely electrified. That serves as a potent attraction, drawing students into receiving the Hindu nationalist teachings on offer. 
Sitting 100 kilometers away from Naimisharanya is a Muslim-dominated district, Bahraich. In another Ekal school, Nidhi Maurya in Bahraich's Gulra village has accomplished a task that has fetched her admiration from her superiors: during her eight-month tenure, Maurya has made Muslim children into Hindu-prayer-reciting students. 
Maurya beamed at the sight of the Muslim girls sitting near her feet. "These Muslim girls know three Hindu prayers – the Gayatri Mantra, the Saraswati Vandana and  Pratah Kaal prayer – by heart," she boasted.
On being asked why the Muslim girls were being sent to Hindu schools where the goal of the syllabus is to glorify Hinduism and demean others, a Muslim girl named Muskan told The Diplomat, "This school is free, our parents send us here to learn whatever little we can."
The Muslim students at Maurya's school are essentially being made to give up Islam in order to gain a free education. 
Filling the gaps in access to education, Ekal is a unique model. While providing decentralized, non-formal education, it mandates that its students to follow and believe in Hindutva, a radicalized form of Hinduism, by making it a part of the compulsory curriculum. Students across Ekal schools are being made to believe that being Hindu equates to being more "Indian" than following another religion. 
While the schools may be free for individual families, they do come at a steep cost for society: deepening communal divisions and further marginalizing hundreds of millions of non-Hindu Indians.