Myanmar's Military Junta Is Weaponizing Access to Life-Saving Vaccines
As with international aid shipments, basic inoculations are being distributed on the basis of political loyalty.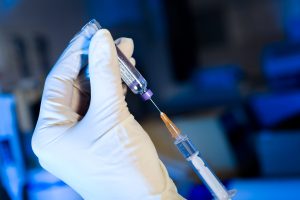 In the wake of recent high profile media coverage, the world's attention has been drawn to the continuing vicious actions of Myanmar's military junta against its citizens. However, there is an equally alarming and underreported aspect to their brutality: the strategic manipulation of immunization vaccines and denial of basic healthcare as a weapon of war. This heinous violation of human rights carries implications not only for Myanmar but also for the broader region.
Since the military seized power through a coup in February 2021, Myanmar has been torn apart by the junta's violence. It has unleashed its military and associated thug groups against the people of Myanmar. The result: entire villages burned, executions, mass arrests, rape, torture, this horrific list goes on.
The people and most ethnic groups are pushing back hard through an armed uprising, and a non-violent Civil Disobedience Movement (CDM). Today, through the determination of the resistance, vast areas of rural Myanmar are under the control of People's Defense Forces (PDFs) and their ethnic resistance organization (ERO) allies. Tragically, the military junta's scorched-earth campaign against civilians deemed sympathetic to PDFs and EROs has resulted in countless burned villages and the displacement of nearly 1.9 million people.
Against the backdrop of this ongoing conflict, the nation's healthcare services have been shattered, especially in terms of preventive care like the national vaccination program. The neglect and ineptitude of the junta-controlled Ministry of Health have compounded these issues to an unprecedented level. This isn't just a national crisis; it's a regional security concern. With a substantial population of unvaccinated and vulnerable refugees, including thousands of children, Myanmar is a petri dish where communicable diseases can flourish. As we saw with COVID-19, a virus does not respect borders. An outbreak could easily spill over to neighboring countries, causing regional instability.
Childhood immunization is both a fundamental human right and a critical public health intervention that underpins the well-being of communities. The military junta has weaponized this essential health service for its gain; through selective accessibility. Immunizations are distributed on the basis of allegiance to military rule. These coercive conditionalities infringe upon citizens' right to healthcare, free from political influence.
The consequence of these actions has been a perilous drop in vaccination rates against common communicable diseases. Official documents from the Ministry of Health's annual review of the Expanded Program in Immunization (EPI) in June 2022 revealed alarming decreases in coverage even to that point.
The coverage of BCG (anti-tuberculosis) vaccines plummeted from 87 percent of those eligible to 48 percent between 2020 and 2021. Similarly, coverage for Penta3 vaccine (the 5-in-1 vaccine that protects against diphtheria, tetanus, whooping cough, hepatitis B, and Hemophilus influenzae type B) fell from 84 percent to 37 percent, the OPV3 (Oral Poliovirus Vaccine) from 86 percent to 43 percent, MR1 (measles vaccine) from 91 percent to 44 percent, and JE (Japanese Encephalitis) from 87 percent to 7 percent. Unofficial reports suggest that vaccine coverage since then has been even worse.
Shockingly, the junta's health officials have taken no corrective action to address this perilous situation. This is a repeat of what took place during attempts to provide COVID-19 vaccines to Myanmar's citizens at the time of the pandemic. The National Unity Government's Ministry of Health (NUG-MOH), which represents the democracy movement, proposed in August 2021 that third-party organizations administer COVID-19 vaccines in PDF/ERO-controlled areas as well as the rest of the country. Regrettably, this offer was ignored by international NGOs, the World Health Organization, and junta health officials. The NUG-MOH ended up being forced to purchase COVID-19 vaccines from private companies using its own funds.
The NUG-MOH has since partnered with existing ethnic health organizations (EHOs) in ERO/PDF controlled areas together with their respective social organizations to deliver vaccination and primary healthcare. Healthcare workers who walked out of junta-controlled jobs as part of the CDM now comprise the majority of the NUG-MOH workforce. In collaboration with EHOs, the NUG-MOH's COVID-19 Task Force has administered 37,716 doses of COVID-19 vaccine in liberated areas, and it continues to immunize pregnant women and children in various regions.
The NUG-MOH has long issued statements of its position of neutrality while urging U.N. organizations and NGOs to implement humanitarian activities based on three fundamental principles: "people first," "full transparency," and "equal and balanced communication" with all stakeholders. As it stands now, aid agencies currently deliver the vast majority of humanitarian assistance in Myanmar through junta-controlled territory and institutions. This allows the military to use this aid as another weapon against the people. We have seen this tactic used by other tyrants such as Bashar al-Assad in Syria, an issue on which Natasha Hall and Emma Beals have written extensively.
One of the most egregious examples of the weaponization of humanitarian and medical assistance is the recent failed visit of Martin Griffith, who heads the U.N. Office Coordinating Humanitarian Affairs (OCHA) and the highest-ranking U.N. official to visit Myanmar since the coup. The junta showed no willingness to cooperate.
Recognizing the welfare of citizens as paramount, the NUG-MOH believes that assistance from the international community and NGOs is critical to saving thousands of lives. There are several steps that must be taken to deliver assistance where it is desperately needed. For example, human rights organizations and international bodies must document instances of manipulated immunization aid, condemn it, and make it public through regular reports. They must also work with ethnic healthcare organizations in liberated areas to deliver medical assistance through access points in China, Thailand, India, and Bangladesh. Finally, the U.N. and aid organizations should engage with the Association of Southeast Asian Nations (ASEAN) to insist on an assistance corridor into Myanmar.
Ensuring unhindered humanitarian access into Myanmar's conflict-affected regions, including the administration of vaccines, is vital. Collaborating with already well-established organizations on the ground will be a big step forward in maximizing the impact of assistance while minimizing wastage. The NUG-MOH has already established a task force to coordinate medical and humanitarian assistance and stands willing and ready to collaborate to this end. Every day that goes by without these steps being taken more people will die and the region remains under threat. The time to act is now.