Pakistan's Fatal Electricity Bills
Inflation and taxes have sent Pakistani electric bills soaring, leading to protests, shuttered businesses, and a wave of suicides.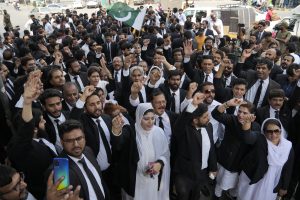 This summer in Pakistan, the end of every month witnessed numerous suicides by power consumers unable to pay their electricity bills. The crisis peaked in August, which saw a significant hike in electricity bills, and as a result, in a number of people taking their own lives over their inability to pay them. 
These included, among many others, an old man who jumped off a bridge in Islamabad, a young man who shot himself in Faisalabad, a payphone operator in Peshawar who set himself on fire, and an Islamic cleric who overdosed on toxic pills in Sheikhupura. A prominent case from Jahanian dominated the news cycles when a mother of four consumed poison after days of hunger faced by her children following a 10,000 Pakistani rupee ($35) bill that the family could not pay.
Fozia Bibi, a widowed mother of three who lives in a small rented room in Lahore's Charrar Pind, also received a 10,000 rupee bill in August. Bibi works as domestic help in the neighboring military-owned Defense Housing Authority, where she manages to make 20,000 rupees a month working at three different homes. The latest electricity bill meant that Bibi's utility bills and rent alone have crossed her monthly income.
"I too would have taken my life, if I didn't get financial support from my brothers," she told The Diplomat while sitting at home alongside her elder brother, who has borrowed money at a heavy interest rate to help Bibi's family survive the next few months. 
"I ask my employers for a raise and they start complaining about their own bills. Their electricity bill has also become our problem," Bibi added.
Already exacerbated by the country's record-breaking inflation, electricity bills across the country have soared further owing to an array of added taxes, which takes the final dues to multiple times the cost of the consumed power. These surcharges range from sales and income taxes to a fuel price adjustment and fees pertaining to state-run television and radio stations. And while households have had their budgeting quashed by the taxation, many businesses are shutting up shop over the sheer magnitude of losses the inflated electricity bills are causing small and medium sized enterprises.
Abdul Muqeet, a small business owner in Peshawar's Meena Bazaar, had to sell his footwear shop after it became impossible to run. "We had the shop for generations. But I had no other choice. Not only did the electricity bill make it impossible for me to maintain it, there are many others like me in the market, who are just not getting any customers," he told The Diplomat. "The whole city, the entire country, is struggling to pay their electricity bills; many are fighting to buy food for their families. Who can afford any extra shopping? Unfortunately, even local shoes have become a luxury item in Pakistan."
Traders have launched multiple protests nationwide over the power hikes. On September 2, markets across the country were shut, including in Karachi, the country's economic hub, which remained deserted over the weekend. Karachi has been the hub of protests against the electricity prices, with many burning their bills in demonstrations against K-Electric last month. 
Among those who did so was Faqir Colony resident Farooq Ahmed. However, following the protests, Ahmed was issued another copy of the bill. He paid the dues after borrowing money from his friends.
"Those leading our protests didn't tell us what the next step was after burning the copies of the bill. The government wouldn't mind if many of us dropped dead right away. So, with no one to rely on, I had little choice but to end up paying whatever they are asking," Ahmed told The Diplomat. 
"I don't know what others unable to borrow money are doing." 
In Pakistan, rallies in support of Islamist causes can cumulatively muster hundreds of thousands of protesters, and populist political sit-ins can last for days. However, the price hikes – an actual existential crisis for many – has not brought such numbers into the streets.
"On August 12, we gathered 1,000 people in front of the Governor's House [in Lahore]. We have organized over 100 protests against the electricity bills nationwide," Farooq Tariq, president of the Haqooq-e-Khalq Party, or People's Rights Party, told The Diplomat, speaking of demonstrations organized by the left-wing alliance Left Democratic Front. 
But, he admitted, "we on the left haven't been united. We should have showed more unity much earlier. 
"In the meantime, right-wing parties such as Jamaat-e-Islami have been chanting hollow slogans against the International Monetary Front [IMF], claiming to represent the common person, while these parties have been beneficiaries of the capitalist and neoliberal superstructures themselves," added Tariq.
Many of the taxes added to the electricity bills have come at the behest of the IMF, which approved the latest $3 billion bailout in July with Pakistan on the brink of bankruptcy. Pakistan's vicious IMF cycle is rooted in the state's ability to implement long-term reforms founded predominantly on the one-point failure underlined by the IMF this week: Pakistan's refusal to appropriately tax the rich. Indeed, the most powerful section not held fiscally accountable is the omnipotent Pakistan Army. This economic blindspot has resulted in the power sector being dominated by affiliates of the powers that be.
Pakistan's energy mix, which includes 64 percent fossil fuels, means that independent power producers get a chunk of subsidies to keep the country afloat. The 1994 Power Generation Policy, which offered skewed contracts to companies that enjoy a monopoly over the sector, prevented a much-needed transition toward renewable energy. These politics are facilitated by the government and the power ministry regardless of what regime is in power.
"The main reason Pakistan's power sector hasn't been reformed is because it is not in the interests of the governments and the ministries for that to happen," said former Finance Minister Salman Shah. "Such reforms would put an end to their kickbacks, and other benefits which politicians use as leverage for their own vested interests."
As a result, while authorities crack down on power theft, and government unveils circular debt management plans, the state never seeks to revamp the power structure itself, which would render redundant many of the core issues contributing to the steep electricity bills. For instance, a nationwide campaign to promote solar energy, along with providing all earmarked subsidies in this quest, would eventually sideline the power generation, transmission, and distribution companies, which are currently contributing to the losses that the masses are being burdened with.
"Like revamping the telecom sector broke the fixed line monopoly of PTCL [Pakistan Telecommunication Company Limited], the same thing needs to be done with electricity. Let anyone who wants to produce, make electricity, and facilitate wheeling. That would reduce the electricity prices and make the sector much more competitive," Shah argued.
Until then, the defining competition would be the common person's struggle to pay for their sustenance – and for the state's failures.