Thailand's 560 Billion Baht Economic Stimulus Plan, Explained
The incoming administration of Prime Minister Srettha Thavisin has hinted at a structural shift away from the country's export-led economic model.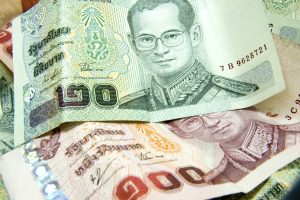 After months of political maneuvering, negotiations, coalition-building, and the return of former Prime Minister Thaksin Shinawatra, Thailand's new government is starting to settle in and unveil some of its actual policy plans. And if recent announcements by Prime Minister Srettha Thavisin are any indication, this governing coalition has some very bold and (for Thailand) unorthodox economic policy moves in mind.
According to reports, the government is worried about Thailand's flagging economy and is planning to stimulate demand by giving out up to 560 billion baht (around $15.8 billion) to 55 million people over a six-month period. Details are light at the moment, but it looks like these will be direct transfers to consumers.
In addition to stimulating demand through cash payments, there are plans to reduce energy prices and enact a debt moratorium for some borrowers. We will have to wait and see when the 2024 budget is actually finalized, but these ideas are uncharacteristic of Thai economic policy and would, if enacted, constitute fairly significant reforms.
This suggests the new government is concerned about the state of the economy, as growth in 2023 has so far underperformed expectations. These concerns may be amplified by the fact that this government took power after a complicated and controversial political bargaining process in which the party that won the most seats in the May election was excluded from the coalition.
It appears the government wants to make some big moves in the early going that will help assuage lingering doubts or ill-feelings, and is leaning toward popular progressive policies like direct cash transfers, lower energy prices, and debt relief. If these policies are actually enacted, it would be a major shift from how Thailand has traditionally run its economy.
Thailand's economy is structured around exports. The economy runs on current account surpluses acquired through the export of services (tourism), and goods (agriculture and manufacturing). But exports have not recovered as robustly as expected in the post-pandemic period, and this has been a drag on economic growth. If exports are lagging, household consumption might be able to pick up the slack. But consumer spending in Thailand is constrained by, among other things, very high levels of debt.
This means getting the economy moving again quickly will require some kind of government intervention. And so far, what the government is proposing hits all the right notes. Srettha's administration will help stimulate demand through cash transfers to consumers, help on the supply side by lowering energy costs, and even try to address debt constraints which should free up money for more productive spending.
But how realistic are these plans? The Thai government generally dislikes running large fiscal deficits. For instance, government spending ramped up during the pandemic to a high of 3.4 trillion baht ($96 billion) in 2020, but then decreased in 2021 and again in 2022. The reduction in expenditures even in 2021 when it was clear that more countercyclical spending was needed signaled to me that policymakers wanted to get the deficit back under control while hoping a return to robust goods and services exports would lift the economy. That export-led recovery has yet to materialize at the scale envisioned, so they are back to contemplating more stimulus.
But nearly $16 billion in direct cash transfers to consumers is a huge figure. A preliminary budget of 3.35 trillion baht ($94 billion) was proposed for the 2024 fiscal year, but it is unclear when this will come into effect or if the new parliament will make changes. If nothing changes, these cash transfers alone would eat up about one-sixth of public expenditures, and the deficit was already projected to be about 3 percent of GDP. This leads to some obvious questions, like where will the money come from? Will the government run a larger deficit and borrow more to raise the funds? Or will they shift existing funds around by cutting spending in other areas?
We also don't know how permanent these changes will be. The cash transfers will reportedly have limits in terms of where and when they can be used and the types of goods and services that can be purchased. The discussion also currently seems to be about a debt moratorium rather than long-term debt restructuring or relief. Lowering energy prices is also somewhat of an easy target, since the cost of energy imports like coal and natural gas have fallen.
If this focus on consumption rather than exports were to become an enduring feature of the Thai economy, it would be a major structural shift. We won't really know the true scale of these economic reforms until the 2024 budget is finalized, and even then, we won't know for several years how permanent they are. But for the moment this kind of rhetoric signals a significant shift in economic thinking in Thailand, with the government looking to stimulate demand by transferring cash directly to consumers rather than waiting around for exports to save the day.