The Anies-Muhaimin Candidacy: A Political Test for Modernist and Traditionalist Islam in Indonesia
The recently announced election partnership between Anies Baswedan and Muhaimin Iskandar is seeking to bridge two contending religious traditions.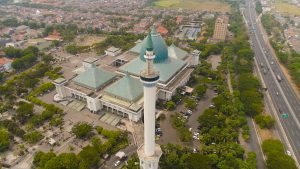 The recent announcement that Anies Baswedan and Muhaimin Iskandar, colloquially known as Cak Imin will be running as presidential and vice-presidential candidates for the Coalition of Change for Unity (KPP) is nothing short of seismic in Indonesian politics. This coalition brings together the National Democratic Party (Nasdem), Prosperous Justice Party (PKS), and National Awakening Party (PKB), a mélange of parties that are often viewed as ideologically disparate.
Anies Baswedan has historical ties to the PKS, a political group deeply rooted in the modernist Islamic movement and known for its staunch conservative beliefs. He won the Jakarta Governor election in 2017 by leveraging Islamic identity politics, a strategy often considered divisive. Meanwhile, Cak Imin also faced controversy; he was implicated in a corruption scandal in 2012 during his tenure as minister of manpower and transmigration.
Furthermore, Cak Imin comes with the backing of the Nahdlatul Ulama (NU), a socio-religious organization with a massive traditionalist Muslim following. As a result, the Anies-Muhaimin partnership may well signify a historical confluence between modernist and traditionalist forms of Islam, which have often been on opposite sides of the Indonesian political spectrum. However, whether this union will genuinely bridge the divide or exacerbate existing tensions remains to be seen.
On paper, the Anies-Muhaimin ticket represents a potentially groundbreaking alliance between Indonesia's modernist and traditionalist Islamic factions. While PKS leans towards the strict implementation of Sharia, the form of Islam advocated by NU is more pluralistic, syncretic, and inclusive. This coalition could unite these divergent views, offering a new, unified political and cultural platform.
However, such alliances often risk falling apart over ideological divides that impact governance and the formation of social policies. Anies and Cak Imin are complex figures with political baggage, and any missteps from either could alienate their prospective base.
To achieve electoral success, the coalition must convince a skeptical public that this is a genuine partnership, not just political opportunism. With NU's grassroots network and PKS' organizational strength, the coalition could be formidable – but only if it successfully bridges its inherent ideological gaps.
Recent survey data from Lembaga Survei Indonesia (LSI), conducted during August 3-9, offers a glimpse into the grassroots reception of the Anies-Muhaimin ticket. The poll indicated that other candidates are more favorable running mates for Anies Baswedan, with Agus Harimurti Yudhoyono, the chairman of the Democrat Party and the son of former President Susilo Bambang Yudhoyono, leading at 22 percent approval, followed closely by Sandiaga Uno at 21.4 percent. Muhaimin Iskandar ranked sixth, garnering a mere 2.6 percent approval rating.
Meanwhile, a separate poll by the Kompas Research and Development Survey, conducted from July 27 to August 7, 2023, shows Anies lagging behind the two presidential frontrunners, with the support of just 12.7 percent of respondents. This compared to 24.9 percent for Ganjar Pranowo of the Indonesian Democratic Party of Struggle and 24.6 percent for Defense Minister Prabowo Subianto, general chairman of the Gerindra Party.
This data casts doubt on the electoral viability of the coalition. Kompas stated that the "potential for Anies-Muhaimin's victory is somewhat problematic" due to both candidates having suboptimal electability. While grassroots movements often thrive on the energy of new possibilities, these statistics suggest that the coalition is yet to capture the imagination of the Indonesian electorate to the extent one might expect from such a groundbreaking alliance.
To dissect the Anies-Muhaimin phenomenon further, it is essential to consider the grassroots-level implications of this coalition. NU and PKS have differing conceptions of Islam's role in daily life, and these differences percolate down to the average voter. While PKS' grassroots are mobilized around issues of religious orthodoxy, NU's base is generally more concerned with social welfare and community development. Bridging this gap at the voter level is an arduous task that demands a meticulous, tailored messaging strategy. Ignoring these micro-level dynamics could lead to a disillusioned base and an erosion of electoral support.
The Anies-Muhaimin coalition could also significantly impact Indonesia's foreign policy and its role in the Association of Southeast Asian Nations (ASEAN) and Islamic organizations, particularly since PKS advocates for strict Sharia law implementation. Attempting to merge modernist and traditionalist Islamic views, the coalition will need a nuanced foreign policy approach. This will be crucial in addressing issues like the Rohingya crisis, relations with Middle Eastern states, and Indonesia's role in Islamic finance.
The coalition's stance on gender equality and minority rights will also be closely watched. While PKS has conservative views on women's issues, NU shows a greater willingness for inclusivity. Their combined approach will impact domestic credibility and shape Indonesia's international reputation as a moderate Islamic nation.
The Anies-Muhaimin ticket for the 2024 presidential elections is a political gambit of considerable audacity – one that has the potential to reshape Indonesia's ideological landscape. While this coalition promises a unification of modernist and traditionalist Islamic thought, its challenges are formidable. Reconciling deeply rooted ideological differences and winning the trust of a skeptical electorate are hurdles that extend far beyond the charisma or capabilities of the candidates themselves.
This coalition presents an unprecedented political experiment, a bold attempt to merge disparate visions of Indonesian Islam into a unified whole. However, history offers numerous examples of ideological alliances that disintegrate under political pressure. Will the Anies-Muhaimin coalition transcend these historical precedents or become a cautionary tale of political overreach?