The Rise and Fall of China's Wolf Warrior Diplomacy
China's shift toward coercive diplomacy has domestic sources that are important to consider, even as the government signals a new approach.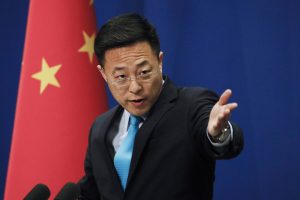 China's practice of "wolf warrior diplomacy," a new style of coercive diplomacy, has aroused global anxieties over Beijing's assertiveness in recent years. There are several high-profile examples. 
In March 2020, Zhao Lijian, then the spokesperson of the Ministry of Foreign Affairs, fueled a conspiracy theory that the United States  military could have brought COVID-19 to China during the Military World Games, held in Wuhan in October 2019. 
Later in 2020, Zhao posted an image on Twitter depicting an Australian soldier cutting the throat of an Afghan child, after the release of the Brereton Report into alleged war crimes by Australian forces. The tweet caused a diplomatic standoff between China and Australia. 
China's Ambassador to France, Lu Shaye, is another outspoken wolf warrior diplomat. Lu spoke highly of China's approach to the COVID-19 pandemic and criticized the West's policies for combating the virus. Lu repeatedly insulted French lawmakers, scholars, and media for their pro-Taiwan rhetoric. In the aftermath of Russia's invasion of Ukraine, Lu questioned the sovereign status of the former Soviet Republics in eastern Europe, including Ukraine, in an interview in April 2023.
Unlike Chinese diplomats under Deng Xiaoping, who were mostly cautious and bureaucratic and rarely engaged foreign media, wolf warrior diplomats in the Xi Jinping era have been proactive in defending China's national interests against perceived foreign hostility, while they are apparently keen to attract popular attention. 
Domestic Sources of Wolf Warrior Diplomacy
It is worth noting that only a small number of Chinese diplomats are referred to as "wolf warriors" – a term that Chinese officials strongly dislike. These diplomats' controversial comments and actions usually relate to sensitive issues such as Xinjiang, Taiwan, and Hong Kong, which are termed China's "core interests" in the official discourse. 
Another salient feature of wolf warrior diplomacy has been the defense of China's COVID-19 pandemic control policies, outside of China's traditional geostrategic interests. How China and Western states variously handled the pandemic has been described as "a contest among states with different regimes, national powers, governing capabilities, and even civilizations" (制度之争, 国力之争, 治理能力之争, 甚至是文明之争). In this sense, Chinese diplomats have been proactive in defending China, for example, when Western states insisted on an investigation into the origins of the COVID-19 virus or criticized the efficacy of China's "zero COVID" policy.
China's wolf warrior diplomacy has domestic sources that are important to consider, with three major factors at play: individual incentives; institutional changes in China's waixuan (外宣, external propaganda) system; and China's use of strategic diversion. 
First, on a personal level, diplomats have several incentives to act proactively and harshly. Chinese diplomats may be motivated by a desire to enhance their personal prestige and career prospects, as well as to demonstrate loyalty to their superiors. The practice of wolf warrior diplomacy and the subsequent media exposure it brings can serve as a short cut for some opportunistic diplomats to out-compete their colleagues and secure a promotion. 
There is also a possibility that some wolf warrior diplomats are not motivated only by opportunistic gains, but by fear that they will be criticized by their superiors or by domestic nationalists for being too "soft" if they do not take a harsh line. There is a tradition in Chinese politics that it is politically expected for a bureaucrat or diplomat to act proactively against perceived foreign interference, rather than to act diplomatically.
Second, bureaucratic changes in China's waixuan system have encouraged wolf warrior diplomacy and propaganda. In Deng Xiaoping's era, Chinese diplomacy, including waixuan, served the domestic needs of economic development. Beijing reiterated that the objective of waixuan was to minimize external misunderstandings about salient issues, to promote China's investment climate, and to strategically promote a friendly international atmosphere. Yet waixuan has evolved to become an incompatible mixture of diplomacy and propaganda that has incentivized more assertive behavior in foreign affairs. 
A dangerous trajectory is "waixuan neixuan hua" (外宣内宣化) referring to the trend of conducting waixuan using the same methods as neixuan – domestic propaganda). Waixuan now puts more emphasis on the promotion of Chinese socialism and its economic development model, its foreign strategies, and China's policies on Taiwan, Xinjiang, Tibet, the South China Sea, and human rights, and tolerates no foreign interference in China's geostrategic interests and domestic politics. In practice, Beijing has asked Chinese diplomats to more directly confront perceived foreign interference on issues related to China's core national interests.
Third, strategic diversion is important to understanding China's wolf warrior diplomacy. This is manifested in Beijing's diversionary tactics of "talking tough" and "blaming others" in times of diplomatic crisis in order to shake off blame, create scapegoats, and instigate nationalistic sentiments. For example, the provincial government in Hubei failed to contain the spread of COVID-19 in the early stages of the outbreak, which led to international criticism. Chinese diplomats routinely steered clear of this narrative and instead emphasized the effectiveness of the central government's later-stage response, and China's contributions to resolving the global public health crisis. 
Earlier, as pro-democracy demonstrations in Hong Kong escalated, the Chinese government blamed interference by "hostile foreign forces" led by the United States and the United Kingdom, in addition to "anti-China destabilizing forces" inside Hong Kong. By blaming domestic and foreign forces for the discontent in Hong Kong and Xinjiang, Beijing has avoided publicly acknowledging its own policy failures in those regions and minimized the negative impact of those failures on the regime. This has allowed Beijing to buy more time and push through tactical reforms while preserving the basic political system.
The Decline of Wolf Warrior Diplomacy?
To some extent, wolf warrior diplomacy has been declining of late, and China's diplomacy is entering a period of adjustment. This is reflected in the fact that Zhao Lijian has been transferred to a relatively low-profile department within the Ministry of Foreign Affairs, and Lu Shaye will probably retire soon. 
In a group study session of the Politburo, Xi Jinping "stressed adopting a narrative tone that reflects openness and confidence, yet conveys modesty and humility, in a bid to shape a reliable, admirable and respectable image of China." These moves appear to be an attempt to tone down China's confrontational diplomatic and media rhetoric and soften Chinese foreign policies. Beijing does not want its foreign policies to jeopardize its economic relations with the West, particularly during times of domestic economic slowdown. 
It will still take time to see how Beijing is adjusting its foreign policies, particularly its relations with the West. If the adjustment is substantive and comprehensive, wolf warrior diplomacy may only have been a temporary phenomenon. It further suggests that Chinese diplomacy displays belligerence at certain times – reflecting a kind of stress feedback from Beijing on sensitive diplomatic issues and conflicts  – but that does not suggest a fundamental shift in China's foreign policies. 
However, as indicated by the three domestic factors discussed above, the seeds of wolf warrior diplomacy are still present in Chinese politics despite the ongoing diplomatic adjustment. China should reconsider its relations with the West carefully, develop a long-term strategic vision, and not allow short-term and tactical needs to drive long-term strategies. Wolf warrior diplomacy, or other types of coercive diplomacy, may help the Chinese government avoid losing face at home and in the international community, but its long-term effects could be far-reaching and negative.
This article is based on the findings of a research paper published in The Pacific Review, an international relations journal covering the interactions of the countries of the Asia-Pacific.