The Taliban and Central Asia
Although the relationship between Afghanistan and Central Asia started with confrontation and confusion, it has evolved into a cooperation based on shared norms.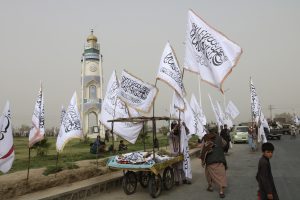 The collapse of the Islamic Republic of Afghanistan in August 2021 directly impacted the country's Central Asian neighbors from the very beginning. When the Taliban took Kabul, Afghanistan's former President Ashraf Ghani fled to Uzbekistan; however, Tashkent's strained relationship with Ghani resulted in his subsequent transfer to Abu Dhabi. 
During this time, over 50 members of the Afghan Air Force fled in their planes. Some landed in Tajikistan and more touched down in Termez, Uzbekistan. The Taliban demanded the return of the planes, but Uzbekistan, in particular, handed them over to the United States instead, insisting they were U.S. property.
Initially, humanitarian agencies expressed grave concern about a potentially overwhelming refugee flow over the borders into Central Asia. However, Tajikistan, Uzbekistan, and Turkmenistan did not allow average Afghan citizens to enter their territories, with only a few high-level delegations being granted access. The presence of over 10,000 Russian troops in Tajikistan helped maintain stability and protect the border between the Central Asian states and Afghanistan.
Although the relationship between Afghanistan under the returned Taliban and Central Asia started with confrontation and confusion, it has evolved into a cooperation based on shared norms. Despite the Taliban's insecure hold on power, the neighboring countries are working closely with them. Leaders in Central Asia, who have long preferenced stability over democracy, saw the Taliban as a potential source of order in the region. The fall of the Afghan Republic provided Central Asia with an unexpected opportunity to reconnect with Afghanistan in new ways.
Since 2021, the relationship between the Taliban and its northern neighbors has been based on a complementarity of interests. The Taliban want trade and economic activity to alleviate the economic hit the regime took when foreign aid, upon which Afghanistan has depended for so long, evaporated. Central Asian states in turn are looking for stability and security. Some countries, like Uzbekistan, even have ambitions of building grand infrastructure projects and restoring deep connections with Afghanistan to facilitate trade and commerce.