Trudeau's Accusation Against India Is Ominous for India-US Ties
India is a partner against China, but the rationale for countering China is precisely that Beijing engages in the sort of activities which the Canadian PM has accused India of undertaking.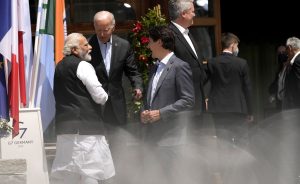 When Canada's Prime Minister Justin Trudeau unveiled shocking allegations that the Indian government was involved in an extrajudicial killing in his country, it evoked memories of a different case that unfolded across the border in the United States earlier this year.
In late June, a federal court in Brooklyn convicted three men of stalking and harassing a family in New Jersey on behalf of the Chinese government. The case centered around a former Chinese government official, Xu Jin, who was wanted in Beijing on an embezzlement charge. In a bid to force Xu to return to China, prosecutors said, the Chinese government had engineered a plot to stalk and harass his family using the three defendants.
The case around Xu Jin was part of what the U.S. Justice Department and the Federal Bureau of Investigation (FBI) call "transnational repression" — efforts by foreign governments to "stalk, intimidate, or assault people in the United States." In recent months and years, Beijing has tried to do all of those things through a series of police outposts, bounties for critics, and incentives for members of the Chinese diaspora to turn informants. In some parts of Asia, it has already worked. Last month, a Chinese human rights lawyer was arrested in Laos just as he was trying to flee to the United States.
India has officially denied that it was involved in the extrajudicial killing of 45-year-old Canadian national Hardeep Singh Nijjar. But reports suggested that Canada had been working with other allies, possibly including the U.S., for several weeks to build evidence of what Trudeau called "credible allegations of a potential link between agents of the government of India and the killing of a Canadian citizen."
Canada has not released that evidence, so it's publicly unclear how credible those allegations really are. But there was certainly no dearth of political intrigue surrounding the victim. Nijjar was already a wanted man in India, where he had been designated a "terrorist" for advocating Sikh separatism.
In the aftermath of Trudeau's allegations, Hindu nationalists came out in celebration on social media, as if they believed the charge. In comments to the New York Times, a leader of India's ruling Bharatiya Janata Party (BJP) suggested that New Delhi was not afraid of taking action. "They need to understand that this is not the same India," he said. "It is much stronger under [Prime Minister Narendra Modi's] leadership."
For the United States, Nijjar's case poses several serious challenges. If India is a key ally, Canada is much more. It is a member of the Five Eyes intelligence coalition and of NATO. It is also crucial to the war effort in Ukraine and has often fought alongside the U.S. elsewhere.
But the challenge goes far beyond Canada's importance. So far, Washington has been relatively guarded in its response because of India's perceived strategic significance in countering China. Yet, the rationale for countering China is precisely that Beijing engages in the sort of activities of which Trudeau has now accused India — extrajudicial killing and transnational repression, violating sovereignty, and trampling on the rule of law.
Tensions appear unlikely to go away easily in view of virulent Sikh separatism across much of the West. During this month's G-20 Summit in New Delhi, Modi expressed concern to Trudeau about what he called "continuing anti-India activities of extremist elements in Canada."
But India's complaints are not limited to Canada. Earlier this year, Sikh separatists attacked the Indian consulate in San Francisco. India's External Affairs Minister Subrahmanyam Jaishankar had then said that if Canada, the U.K., and the U.S. give space to Sikh separatists in their countries, it would be "not good" for India's ties with them.
So far, New Delhi has been unable to engage with partners in the West to manage the problem of Sikh separatism in a mutually and diplomatically acceptable manner. That makes the situation even more volatile. If an operation to take out a wanted individual in the West is popular among Hindu nationalist voters, it could make them likelier to occur in the future.
As India's domestic squabbles spill over into the West, America's courtship of India is likely to be tested.