US Congress' Role in Countering the China Challenge
Both the Biden administration and Congress deserve credit for handling this initial stage of acute rivalry with China.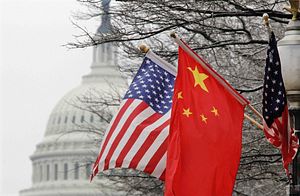 The hardening of U.S. attitudes toward China began six years ago, but showed important weaknesses for more than two years. Then-President Donald Trump was erratic; candidate Joseph Biden was dismissive of China's danger; public opinion, media, state, and local governments were very slow in understanding, much less supporting, the hardening.
In contrast, bipartisan majorities in Congress saw the wisdom of the Trump administration's National Security Strategy of December 2017, which viewed China for the first time as the most important danger to U.S. national security. Lawmakers set a pattern followed up to now of working closely with like-minded leaders in the Trump government and later the Biden administration to defend the United States from the multifaceted challenges emanating from Beijing.
These challenges can be grouped into three clusters of threats: to U.S. security, economic well-being, and governance at home and abroad. Two challenges are often seen as existential threats. The first is China's effort to undermine U.S. power and influence in Asia, so that China itself can dominate.
The second is Beijing's effort to dominate the high technology industries of the future. Such dominance would make the United States subservient to Chinese economic power, and because such technology is essential to modern national security, subservient to Chinese military power.
Seeking to avoid Chinese dominance remains a strong overall driver of the efforts of bipartisan majorities in Congress and administration partners to defend the United States. It also appears to be a strong driver in the foreign policies of Japan, India, and Australia, and increasingly Canada, European powers, NATO, South Korea, the Philippines, and the South Pacific – underlining their efforts to work with the United States to counter China.
In Congress, resolute bipartisan majorities supporting hardening against China came to their positions generally without major influences from partisan politics, public and media opinion, special interests, or a strong drive to compete with the president to control U.S. foreign policy – all of which have influenced congressional activism about China policy in the past. Instead, congressional members have deliberated and individually made up their minds about the challenges posed by China's behavior.
Historically, members who have done this have been slow to change their positions, which have often lasted through their tenure. This development argues for continuity in Congress in favor of resolute U.S. effort to counter China's challenges going forward.
The National Defense Authorization Act (NDAA) FY-2019, passed and signed into law in August 2018, was the most important foreign policy legislation of that year, and the most significant U.S. legislation on China policy in almost 20 years. It directed a whole-of-government U.S. strategy targeting China.
At the time, Trump was ambivalent about the dangers posed by China as he sought an advantageous trade agreement, and Democratic presidential candidates, including eventual nominee Joe Biden and his campaign aide (now national security advisor) Jake Sullivan, dismissed and downplayed the challenges posed by China. In contrast, Congress used tough legislation and other public bipartisan demonstrations to approach the looming threat.
Trump switched to a strident anti-China position in the presidential election campaign after the COVID-19 pandemic hit the United States with a vengeance beginning in March 2020. Biden hardened against China in response. In Congress, almost 400 bills accompanied a wide array of administration actions reinforcing an unprecedented negative shift in U.S. media and public opinion opposing Chinese policies and practices.
Upon taking power, Biden and his administration leaders brought their earlier, more moderate views of the dangers posed by Beijing into line with views in Congress. Biden supported a $1.2 trillion bipartisan infrastructure bill, warning of China's ambitions to dominate the fourth industrial revolution and advising that "we can't let them win." The infrastructure bill and another bill curbing U.S. imports of products coming from forced labor in concentration camps in Xinjiang had bipartisan congressional support.
The overall effect of the Russian invasion of Ukraine in February 2022 and the Chinese reaction – criticizing the United States and denouncing U.S. sanctions – was to strengthen U.S. resolve against China. The developments also markedly increased the determination of European and Asian allies and partners to work closely with the U.S. government in countering dangers from China as well as Russia.
Then-House Speaker Nancy Pelosi visited Taiwan on August 2, 2022. China reacted by staging over four days of live-fire military exercises surrounding Taiwan. The episode sparked a public debate in the United States on the extent of the hardening toward China. Yet Congress and the administration remained resolute, and the debate subsided with no discernible impact on policy.
Indeed, congressional and administration efforts advanced substantially with the passage that same month of two massive bills calling for over half a trillion dollars of spending to compete with China on high technology and climate change. The administration, with strong congressional support, in October 2022 imposed a ban on the exports of U.S. advanced computer chip technology to China, seriously complicating Beijing's high technology ambitions. Then, last month, an Executive Order in line with broad congressional interests proposed restricting U.S. investments in China's advanced technology sector.
With strong support from Congress, Biden and his aides built on firm U.S.-backed NATO resolve to counter Russia and its close partner, China. They connected NATO with Japan and other Asia-Pacific powers like Australia, South Korea, and New Zealand. The European powers showed increasing concern with China's adverse impact on Asian security, high technology, and supply chain interests, including coercive behavior linked to the South China Sea disputes and Taiwan. The similarly aligned G-7 countries included in their deliberations major partners like India, which remained very opposed to Chinese ambitions coming at Indian expense.
Adding to the growing European-Asia-Pacific alignment regarding China policy was the Biden administration's success in having the Philippines, South Korea, and Vietnam advance ties with the United States despite the risks of Chinese retaliation.
The absence of traditional trade agreements giving greater access to U.S. markets, an impediment in the Biden administration's economic competition with China, appeared less significant. It was offset as the United States accommodated allies and partners using multi-billion-dollar high tech and climate change expenditures and other measures under the Indo-Pacific Economic Policy Framework involving Asia's most important economies, apart from China (and Taiwan, which was accommodated in a bilateral U.S. agreement).
The Republican control of the House of Representatives in the 118th Congress (2023-2024) added to U.S. government resolve in taking further steps to counter China. Continued bipartisan resolve saw Senate Majority Leader Charles Schumer announce a massive legislative package covering issues highlighted in the House deliberations on China.
Chinese spy balloons secretly surveilling U.S. bases; concerns that Chinese authorities could access a massive trove of Americans' personal data on video-sharing app TikTok; Chinese hackers penetrating Microsoft's protected systems and U.S. Cabinet members' emails; and Meta's disclosure of the largest known influence operation, carried out by Chinese operatives and focused on discrediting the United States on various social media channels head the list of heretofore hidden dangers to Americans getting the attention of Congress in the past year.
Whether or not the Republican-controlled House will resort to partisan measures in criticizing Biden administration policies and undermine the recent strongly bipartisan congressional effort on China policy remains to be determined. Biden government talks and better overall communications with Chinese leaders were criticized by some Republicans in Congress and by some Republican candidates running for president.
The most likely forecast is growing tension in China-U.S. relations. Washington and Beijing nonetheless have shown interest in discussions to manage rising tensions and avoid war. Such practices would set limits, allowing the growing rivalry to advance without major military conflict. Roughly similar behavior characterized U.S.-Soviet competition during the Cold War and could prevail again.