What's Wrong With the Philippines' New Anti-Trafficking Guidelines?
"Why are we going after tourists and letting the big criminals get away?" one trafficking victim asks.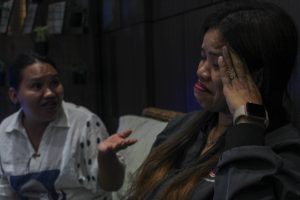 In 2011, outside the Davao City passport application center, Lucy Ortega met a man who offered to fast track her hopes of working abroad. The man said his agency, HRHA Manpower International, could land her a domestic helper position in Kuwait earning $400 a month.
With three kids and no income, Ortega agreed. She provided all her information and documents to a man operating on the doorstep of a government office.
"It was my first time with anything like this, I had no idea how things could go wrong," Ortega told The Diplomat. 
Soon, she remembers, the agency arranged everything and booked her a medical clearance in Manila. In less than a month, she boarded a flight to Kuwait. 
Ortega remembers the immigration officers being particularly lenient, directing the first-time flier and instructing her where to go. She couldn't recall holding any kind of Overseas Employment Certificate, a clearance issued by the state for outgoing Overseas Filipino Workers (OFWs). 
Upon landing in Kuwait, an agency representative handed Ortega a ticket to Syria. Her knees buckled; she nearly sank to the floor. Ortega didn't have much money, nor much of anything else other than the clothes in her luggage and a boarding pass to an opportunity she now dreaded. 
In Syria, she stayed in the agency's local offices for weeks. The staff took her home for days at a time and ordered her to clean their homes as "practice" for her eventual employment. 
Finally arriving at her new employer's home, her passport was confiscated. Ortega never saw a cent of her wages. Once in a while the household would send some money to Ortega's children back home.  
Ensnared by the Kafala system, widely considered to be modern day slavery, Ortega simultaneously serviced four households for the next eight years without any earnings or ever taking a day off.
Ortega's children appealed to the authorities to rescue their mother, but were never given any concrete answers. In early 2019, Ortega finally contacted a representative of the Philippine embassy. She begged to be repatriated.
On March 23, 2019, during a birthday party for one of her employer's children, Ortega slipped out. Clutching a small bag, she got into a car waiting outside and then headed straight to the Philippine embassy in Damascus. 
Whatever relief she felt soon dissipated. Ortega and 51 other women languished at the embassy offices for the next two years. The women say they were abused and neglected; some claimed to have been raped by officials, under the watch of Ambassador Alex Lamadrid. 
"They said we'd be kept for two months, not two years!" said Ortega. 
Given little food, barred from leaving the premises or contact with the outside world, and routinely harassed by embassy officials, the women were kept in slave-like conditions.
The survivors allege that for as much as $4,000 per person, embassy personnel brokered deals to sell the women back to their abusive employers.
It was only after one of them was able to escape and contact family back home that arrangements were made for their return to the Philippines. Trafficked twice over, the pleas of Ortega the rest of the women, for their abusers to be held accountable, remain unheard. 
Late last month, the Inter-Agency Council Against Trafficking (IACAT) released new travel guidelines to crack down on human traffickers. In addition to basic travel documents, immigration officers are emboldened to ask for additional verification such as proof of accommodation, financial capacity, employment, income, first-degree relations to the person being visited, marriage or birth certificates, and a host of other matters.
"It's just for when there are red flags, when inconsistencies are noted in accounts or the standards of immigration officers aren't met. That's when they'll ask," clarified Crispin Remulla, secretary of the Department of Justice (DOJ) and one IACAT's heads. 
He said that around 95 percent of travelers won't be affected.
The guidelines were slated for implementation on September 3. But after a public backlash and the Senate standing against the measures, IACAT suspended the move pending a review. 
"It's, on its face, unconstitutional. Imagine a Filipino cannot travel in the absence of a consularized affidavit of support from a relative," said Senator Aquilino Pimentel III. 
The DOJ maintains its intent to craft stricter rules for traveling and hopes to have new rules in place soon. In a statement, the agency deemed it "necessary to thoroughly clarify the issues surrounding the revised guidelines to both the senators and the public."
DOJ Assistant Secretary Mico Clavano mentioned that the proposal came under recommendations from the office of the president. 
"We have to understand that our population is a very migratory population. Around 10 percent of our population seeks to travel abroad and find their opportunities abroad and this is very specific to our country," he explained. 
Besides troublesome paperwork, Ortega feels that the real criminals are being left out of the equation. She urged the government to focus on bringing syndicates to justice and helping human trafficking victims instead of burdening would-be tourists. 
Ortega and the victims filed a complaint against Lamadrid in June. The ambassador has since been reassigned to a different post inside the Department of Foreign Affairs.
"They ignored us. Instead they want new guidelines, but they forget about the victims who need justice in the first place. Why are we going after tourists and letting the big criminals get away?" cried Ortega. 
Migrante Philippines, a coalition of OFWs, said the blanket approach is fundamentally flawed as it presumes outgoing travelers are all guilty until proven innocent instead of the other way around. 
Labeling it "discriminatory," Migrante said that the new guidelines allow officials to escape scrutiny when many of them are the offenders in the first place. 
"The women trafficked into Syria had legitimate documents because their recruiters often have connections in government. It's systematic and without investigating immigration and diplomatic officials, the problem will continue," said Arman Hernando, Migrante's chairperson. 
In 2020, immigration officials were revealed to be accepting bribes to allow special processes for arriving Chinese nationals. This year, it was revealed that a former city councilor, an ally of the president, had masterminded a recruitment scam extorting thousands of dollars in exchange for "promo" Canadian visas. 
The agency which recruited Ortega is still operational and licensed by the government. Nobody has done any jail time.
Human rights lawyer Edre Olalia often takes on trafficking victims as clients. He observed how immigration questioning can unnerve travelers, usually those from lower income backgrounds. The guidelines aren't introducing a new practice, he says, but institutionalizing an old one.
"It can be anti-poor by giving too much discretion for extra, albeit discriminatory, attention for first-time travelers. But even regular travelers are at risk of arbitrary questioning. It leads to subjective profiling or for 'red flagged' destinations," said Olalia. 
Olalia also noted that there aren't many indicators for success in offloading potential passengers involved in illegal activity. 
Data from the Bureau of Immigration (BI) shows that 32,404 passengers missed their flights last year because they were offloaded by immigration officers. Only 1.42 percent or 472 of them were found to be victims of human trafficking. 
In March of this year, Cham Tanteras' rant on Tiktok about the treatment she received at the airport went viral. Tanteras missed her flight to Israel after being subjected to hours of questioning. Airport officials even requested copies of her college yearbook and her parent's marriage certificate. Despite her demands, the BI said it would not compensate her for the missed flight. 
"People aggrieved by procedures and human trafficking victims especially must be aided in seeking accountability. In the long term, we need to look at approaching this by removing the vulnerabilities that induce this kind of exploitation," said Hernando. 
Meanwhile Olalia recommends officials take the lead in this matter and showcase their own efforts at the top level of policymaking. "Filipino diplomatic and consular posts should undertake preventive and remedial measures from their end. This can lead to punishing the trafficker, not the victim," he said. 
IACAT maintains its intent to implement greater restrictions. In a statement, the task force said it "shall further strengthen its information and education campaign to convey to the public the essential purpose and grave concerns that the 2023 Guidelines seek to address."