Will Russia and China Agree to the Power of Siberia 2? 
The proposed pipeline has astonishingly poor project economics. It might be built regardless.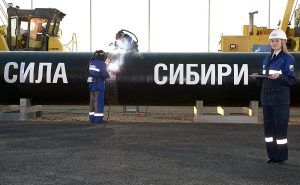 There are reports that Russian President Vladimir Putin and Chinese leader Xi Jinping will announce an agreement to build the Power of Siberia-2 natural gas pipeline as early as October, during Putin's planned visit to China. Construction of the pipeline appears unlikely but can't be ruled out. 
The Power of Siberia 2 pipeline faces daunting financing, technical, and economic challenges. Over the long term, China's natural gas demand will face severe pressure from renewables and heat pumps, especially in the wind- and solar-rich north. If the pipeline is built, Russia could be stuck with a stranded asset or forced to renegotiate the contract on even more unfavorable terms. 
The Power of Siberia 2 (PoS-2) pipeline's fundamental problem is its uncertain future revenue streams. The pipeline seeks to satisfy natural gas demand in north China, home to the country's best renewables potential for solar and onshore wind. The PoS-2 will compete with Chinese renewables and heat pumps, and probably lose. 
China's domestic solar capacity is expected to more than double to 1,000 gigawatts (GW) by 2026, while its combined domestic solar and wind capacity could exceed 3,300 GW by 2030, up from 759 GW in 2022. 
While China's solar deployment has often been deeply irrational from an economic or environmental perspective, it will, at some point, be forced to site incremental solar and wind capacity in China's sun-soaked and wind-rich northern provinces. 
Add in Mongolia's substantial renewables potential, soft Chinese electricity demand growth, and wind and solar "enablers," such as batteries and pumped hydro storage, and northern China could soon be awash in renewable electricity.
North China's local renewables electricity generation will impact its natural gas demand. 
While heating and industrial usage – not electricity generation – comprise the majority of Chinese natural gas demand, especially in north China, renewable electricity generation could power alternatives. 
Renewables feedstock for heat pumps and green hydrogen could sharply cut into natural gas demand for heating and industrial usage, respectively. China's cumulative heat pump installations in 2030 are expected to rise 358 percent from 2021 levels, according to the International Energy Agency, impacting natural gas demand. China's nascent green hydrogen sector could also expand.
Moreover, China's massive deployment of renewables capacity and heat pumps will likely take place before the Power of Siberia 2 is even operational. Even relatively optimistic estimates hold that the pipeline could take five or six years before it starts shipments, while the PoS-2's construction route will transit Mongolia, posing huge schedule risks. China's domestic renewables and heat pumps production will have a running head start in their competition with foreign natural gas supplied from the PoS-2.
While PoS-2's revenues are uncertain, its costs will be substantial. The pipeline's 50 billion cubic meter per year (Bcm/yr) planned length has more capacity than its forerunner, the 38 Bcm/yr PoS-1; it's also about 1,400 kilometers longer. Consequently, the PoS-2's longer, larger pipeline will necessitate the use of considerably more steel than the PoS-1. The PoS-2's greater material needs and Russia's ongoing labor shortages will likely substantially raise costs compared to its forerunner.
Financing the PoS-2 project will be difficult. That was a major sticking point in negotiations over the original Power of Siberia pipeline: The Russians wanted the Chinese to finance the project, but ultimately caved and took out the vast majority of the loans themselves. It's not clear why the Chinese would finance the new project when they have even greater leverage than before.
If the new project is determined by commercial logic, rather than raw geopolitics, Russia will be forced to finance the project again. The Russian central bank recently raised interest rates to 13 percent, increasing the burden of repayment.
To build the pipeline, Russia will likely have to take on huge debt, at high interest rates, for a project that could conceivably be obsolete by the time it is constructed.
The Power of Siberia 2 faces daunting commercial prospects. Renewables and heat pumps deployments in north China threaten the pipeline's future revenue streams; Gazprom's ability to execute a massive, multinational complicated infrastructure project is uncertain; and financing costs will be considerable. 
None of that may matter, ultimately. It's possible that Putin and Xi will agree to the pipeline despite its glaring commercial faults. As Beijing and Moscow demonstrate repeatedly, geopolitics often trumps economics.