China, Europe, and the Great Electric Vehicle Race
Chinese EVs are gaining market share around the world, but Europe is putting on the brakes.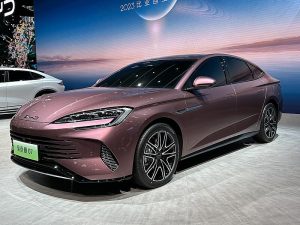 The electric vehicle (EV) sector has become a cornerstone of the EU's environmental policy, as made evident by the establishment of the Fit for 55 legislation review package. The package set the ambitious targets of a 55 percent reduction in car emissions and a 50 percent reduction in van emissions by 2030. This policy was reinforced by the 2035 pledge to eliminate CO2 emissions for new cars and vans. The EU can no longer put off the development of its EV sector, despite complications caused by conflicting interests from the EU automotive sector and from security and self-sufficiency concerns derived from overdependence on imported materials and components required to build EVs.
In China, the EV sector has been subject to extensive economic planning. Beijing has released two ad hoc policy plans, one in 2012 and the other in 2021, through which it has sought to establish the conditions of development for the sector. Chinese EVs received substantial subsidies that kept prices low, granting them a comparative advantage in foreign markets, while limiting foreign EV access to its own market. As a result, China has produced EVs that are not only 10,000 euros cheaper on average than their EU counterparts, but also more compact and easier to maneuver. Additionally, Chinese access to rare earths and other key materials and components, as well as the amount of patents for EV production they hold, grant Beijing a marked cost advantage in the face of states that rely heavily on imported components and raw materials. 
All these factors have been increasingly perceived as a serious threat to other markets' impetus for development, exacerbated in the case of the EU by its own increasing requirements for EVs. Hindering the EU's domestic EV production could also have cascading effects, impacting sectors that are also essential parts of the Union's attempts to minimize strategic vulnerabilities, such as the electric battery industry.
It should be noted that Chinese EV exports are still dominated by foreign carmakers, with Tesla accounting for 49 percent of 2021 exports, European joint ventures and Chinese-owned European brands covering another 49 percent, and "purely" Chinese brands comprising only 2 percent. Regardless, cheaper and smaller EVs sourced from China seem better aligned with the objectives of the Fit for 55 framework. Yet the EU automotive sector has raised concerns regarding unfair competition from Chinese automakers, whose growth was heavily aided by a rigorous system of economic planning. 
In recent months, EU policies and regulatory proposals have aimed to promote EV self-sufficiency by tackling overreliance on imported materials and components. This includes the proposed Critical Raw Materials Act, along with circularity-focused policies such as the new Battery Recycling Regulation, which entered into force in August 2023. However, European EVs still lack robust subsidy programs and funding to back the growth of the sector comparable to those in place in China. 
EU efforts focus instead on safeguarding its internal market and implementing measures to mitigate the negative impact of widespread incorporation of Chinese cars in the EU market. Discussions regarding tariff-style measures were already underway even before European Commission President Ursula von der Leyen announced a Commission-led investigation into Chinese EVs in the EU market and the potential distortive effects for the sector during her recent State of the EU (SOTEU) address. The findings of the investigation could determine whether the Union will decide to raise tariffs on Chinese EVs, which are currently taxed at only 10 percent, well below the 27.5 percent tariff set by the United States. Debate has intensified since the announcement, however, with many EU member states still undecided on the topic.
France had already been actively advocating for a close EU-level examination of the subsidies contributing to the success of Chinese EVs in the European market. Paris has begun imposing national-level measures in an attempt to level the playing field, such as factoring energy use throughout the EV manufacturing process as a new criterion to determine eligibility for economic bonuses. This adjustment makes it more challenging for Chinese automakers, who rely heavily on coal-generated electricity, to access such funds. 
France's concerns are not limited to China, however. French President Emmanuel Macron has expressed dissatisfaction with similar subsidy-based approaches to the EV sector used in the United States. He critiqued the Inflation Reduction Act, which established subsidies to encourage consumption linked to U.S.-produced goods while pushing for green products.
France is not the only EU member state to have openly welcomed the probe into the Chinese EV sector. Italian authorities, such as Transport Minister Matteo Salvini, celebrated the announcement. However, the president of Italy's automotive industry association considered it to be too little, and at least a year and a half too late. Instead, he emphasized the importance of analyzing Europe's future competitiveness, as requested by Von der Leyen during the SOTEU address, which he sees as a step toward overcoming partisan positions within the EU.
The German stance seems mixed, with the Ministry of Economic Affairs initially endorsing the investigation, while automakers expressed concerns about potential retaliations derived from the investigation and the negative impact they could have on German carmakers' trade with China. German Finance Minister Christian Lindner recently traveled to Beijing to reaffirm Germany's continued support for the Asian Infrastructure Investment Bank (AIIB). While there, he personally cautioned EU Trade Commissioner Valdis Dombrovskis against establishing any additional tariffs. 
German authorities and carmakers have also called for a three-year delay on tariffs on EV sales between the United Kingdom and the EU. Automakers have argued that implementing the 10 percent tariff would also create a significant opening in the EU and U.K. auto industries, which global manufacturers, including those of Chinese origin, might seek to exploit and benefit from. 
Smaller EU member states have expressed concerns that the subsidy investigation, and any subsequent measures, might prioritize German and French interests. Nevertheless, many of these states play key roles in the European automobile value chain, to the extent that any trade defense instruments deployed could be advantageous for them as well.
The EV sector has emerged as a central focus of EU policy toward China and a significant indicator of the souring of their reciprocal relations. The EU's long-standing trade deficit with China has now taken center stage, and critical sectors are increasingly likely to be subject to measures meant to preserve the stability of the internal market. Although China's response to the announcement of the investigation stated that the economic planning for the sector is meant to ensure competitiveness vis-a-vis internal combustion cars in general, there is also evidence that this sector is becoming an increasingly important gateway for Chinese cars to access the EU market.
The challenges faced by the EV industry closely mirror the broader situation of China-EU relations, characterized by the coexistence of deep trade ties and political divergences. Von der Leyen's "de-risk, not de-couple" approach presents a complex situation for the EU automotive industry, which holds significant interests in China. Just this summer, Volkswagen invested $700 million in the Chinese EV maker Xpeng while also committing to maintaining a close partnership. 
Moreover, the EU presently relies on China in order to meet its environmental targets, as the Union's current approach is broadly seen as inadequate when it comes to achieving self-sufficiency in the EV sector in time for its 2030 and 2035 vehicle emissions goals. However, hitting the brakes on its ambitious environmental policy could potentially impact the overall image of the EU as a leading global environmental actor, which goes against von der Leyen's words in the SOTEU address: "From wind to steel, from batteries to electric vehicles, our ambition is crystal clear: the future of our clean tech industry has to be made in Europe."
The EU's response to a potential influx of Chinese EVs thus reflects several points of concern related to the overall China-EU relationship: trade dependencies, what constitutes a "free market," and the future of European industry. How this particular issue is handled by both sides will thus be a microcosm of the future of China-EU relations.