Mimrah Abdul Ghafoor on Maldives' Presidential Election
What does Maldives' new president mean for the country's future?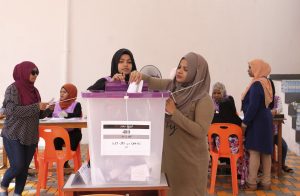 On September 9, Maldives went to the polls to vote for the country's next president. A record eight candidates were in the fray, with three looming largest: incumbent President Ibrahim Solih of the Maldivian Democratic Party (MDP), Malé Mayor Mohamed Muizzu representing the Progressive Party of Maldives (PPM) and People's National Congress (PNC) coalition, and Ilyas Labeeb of the Democrats, a breakaway faction of the MDP affiliated with Speaker of Parliament Mohamed Nasheed. 
Muizzu won the first round, but did not secure the majority needed to prevent a runoff. He faced off against Solih in a second and final round of voting on September 30, where he again prevailed by a sizable margin, garnering 54 percent of votes to Solih's 46 percent. That means Muizzu will ascend to the presidency, with coalition partner – and former president – Abdulla Yameen looming in the background of the new administration. 
To understand the implications of the presidential race, The Diplomat's Editor-in-Chief Shannon Tiezzi spoke with Mimrah Abdul Ghafoor, a regular columnist on Maldives politics and society. Ghafoor, who has worked in Maldives' President's Office and Ministry of Foreign Affairs, explained the political dynamics shaping the race and the implications for Maldives' democracy and geopolitical positioning.
What can we expect from Muizzu's presidency?
Muizzu is poised for a challenging presidency from the very beginning. First and foremost, although he has won the presidential seat, the MDP still largely controls the parliament. Navigating this legislative gridlock will be a considerable challenge. The ability of the PNC-PPM coalition to secure a legislative majority remains uncertain, with parliamentary elections scheduled for March of next year. 
Another crucial consideration is former President Abdulla Yameen's role going forward. Yameen has the potential to become a rival, given the significant loyalty he commands within the PNC-PPM base. How Muizzu plans to address this potential internal challenge remains an open question, as does his commitment to fulfilling promises of securing Yameen's release from prison.
On the economic front, Muizzu assumes leadership at a critical juncture. Maldives is still recovering from the economic shocks induced by the COVID-19 pandemic and is burdened with rising debt-servicing obligations.
Finally, in terms of foreign policy, Muizzu can be expected to moderate the "India Out" rhetoric now that he is in office. However, he will need to navigate a complex relationship with India, which has reacted unfavorably to such rhetoric. This situation may compel him to foster closer diplomatic and commercial ties with China.