Mysterious Border Protocol Signed Between Kyrgyz and Tajik Security Chiefs
The details of "Protocol No. 44" are unknown, but both sides clearly want to portray some kind of progress in their drawn-out border negotiations.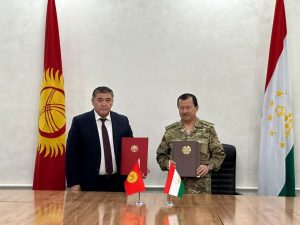 On October 2 in Batken, Kyrgyzstan, the heads of the Kyrgyz and Tajik security services reportedly signed a protocol that "gives us the basis to resolve all border issues," as Kamchybek Tashiev, head of Kyrgyzstan's Committee for National Security (SCNS or GKNB) put it. Although authorities in both countries released identical statements, neither has published or disclosed the actual details of "Protocol No. 44," signed amid a regular meeting of an intergovernmental commission that has sought to resolve the two countries' long-standing border disputes.
In Kyrgyzstan, 24.kg reported that "pro-government bloggers" had begun chattering about a "historic decision" on the border in advance of any official statements from the government. On Facebook, Nurgazy Anarkulov – who, Kloop noted, is a former head of the presidential information policy department and "close to Tashiev" – had proclaimed, "The Kyrgyz-Tajik border dispute has been put to an end!" Anarkulov's post is critical of the Tajik side – for "trying to solve the problem in its favor by breaking us in various ways, including using the force of arms" – and positively glowing in its appraisal of Tashiev: "Sometimes we had to speak in soft, sometimes in diplomatic language, and most of the time in a sharp ultimatum." Ultimately, Anarkulov claimed that the Tajik side had "given up" all its claims – quite a claim to make.
When the Kyrgyz Cabinet of Ministers weighed in, it was to clarify that the meeting was mostly routine. In more restrained language, the cabinet said that "during the meeting, a detailed exchange of views took place on the issue of delimitation of the Kyrgyz-Tajik state border. The heads of the delegations, expressing full mutual understanding about the need to intensify further description of the passage of the project line of the Kyrgyz-Tajik state border in the remaining sections, gave appropriate instructions to the working groups… Following the results of the joint meeting, a protocol was signed."
Nazirbek Borubaev, the special representative of the Cabinet of Ministers for delimitation and demarcation of borders, further clarified in statements to Maral, a radio station. Borubaev, who participated in the negotiations, said, "The border problem has not yet been completely resolved; it cannot be resolved overnight." He added that in the October 2 meeting "only the principles were agreed upon" and said that negotiations are underway.
"I cannot give more detailed information. If I give information, it will affect the negotiations," he concluded.
Negotiations, Borubaev said, would continue on October 8. 
Saimumin Yatimov, the chairman of Tajikistan's State Committee for National Security, said while standing next to Tashiev following the meeting that the ongoing work to resolve the border issues between Kyrgyzstan and Tajikistan had made progress. "Conflicts are always less [important] than [historical ties]," he said. "That's why we have signed Protocol No. 44." He went on to say, "We will diligently and constructively implement it step by step, aiming to reach a comprehensive and fundamental agreement in the shortest possible time."
What to make of this news? As noted above, the actual contents of the protocol are unknown.
That lack of transparency is fertile ground for speculation, especially given the sensitivity to borer issues in both Kyrgyzstan and Tajikistan. It did not take long for the Kyrgyz State Committee for National Security to issue a statement urging people to not believe information on social media about the rumored transfer of Kyrgyz land in the Chon-Alai region to Tajikistan. It is perhaps important to note that an agreement regarding a different border – that with Uzbekistan – triggered a serious political crackdown in Bishkek, with 27 politicians, journalists, and activists currently on trial for agitating against the Kempir-Abad deal.
What we do know is that both Kyrgyzstan and Tajikistan are are keen on portraying some kind of progress in the drawn-out battle over the border. Given significant escalations of violence along the border in 2021 and 2022, there is domestic pressure on both sides to have the border issue settled. But that domestic pressure – and the nationalistic tones with which the border issue is discussed in both countries – makes the hard decisions, the trade-offs that may be necessary to reach an agreement, even more difficult.
"We will soon make a final decision on defining state borders," Tashiev optimistically said after the meeting, an attitude mirrored by his Tajik counterpart.
The Kyrgyz-Tajik border is about 975 kilometers long (sometimes reported as 972 km) and as of 2020, it was reported that 519 km had been defined. In 2022, after a meeting between Kyrgyz President Sadyr Japarov and Tajik President Emomali Rahmon, the two sides said 664 km had been resolved. But as RFE/RL noted, in January Rahmon seemed to walk that number back to 614 km. That it's unclear precisely how much of the border is defined is illustrative of the murky nature of the negotiations between Kyrgyzstan and Tajikistan and a lack of transparency in both countries surrounding the issue.
A final note, perhaps a cautionary one: In early September, the leader of opposition party Butun Kyrgyzstan, Adakhan Madumarov, was detained by the State Committee for National Security amid an investigation into charges of fraud and treason related to a 2009 protocol he signed with Tajikistan as part of a government delegation seeking to deal with, you guessed it, the Kyrgyz-Tajik border impasse. The case, now classified as "secret" has been transferred to the prosecutor general.